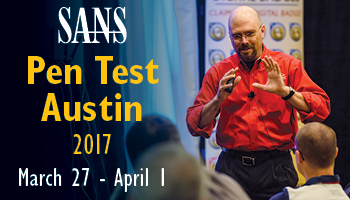 Welcome to Pen Test Austin 2017
9 courses
9 instructors
1 disciplines
Penetration Testing, Ethical Hacking, and Exploit Development training is coming to Austin, TX from SANS Institute, the global leader in information security training.
"Hackers" - individuals who enjoy the intellectual challenge of creatively overcoming and circumventing limitations of systems to achieve novel and clever outcomes.
If this sounds like you, you can't afford to miss SANS Pen Test Austin 2017. There will be six-days of nonstop in-depth hands-on ethical hacking, penetration testing, and exploit development training.
Every organization needs skilled people who know how to find vulnerabilities, understand risk, and help prioritize resources based on mitigating potential real-world attacks. That's what SANS Pen Test Austin is all about! If you like to break things, put them back together, find out how they work, and mimic the actions of real-world bad guys, all the while providing real business value to your organization, then this event is exactly what you need.
This SANS training event isn't just for penetration testers & red team members; it is for any information security professional who wants to understand the mindset, tools, and techniques used by the ones who intrude where they don't belong.
What's special about SANS Pen Test Austin?
SANS Training: Learn hands-on skills that you can directly apply the day you get back to your job. Courses are for every level of information security practitioner, from SEC401 (Introductory) to SEC660 (Advanced Pen Test).
The NetWars Experience (version 4.0): Enjoy three exciting nights of the SANS NetWars Experience, where you can have some fun while building serious InfoSec skills.
Coin-A-Palooza: Earn up to five additional SANS Pen Test Challenge Coins (each with an integrated cipher challenge) based on your performance in the SANS NetWars Experience!
SANS CyberCity Missions: Hone your skills as you protect the fictional citizens of CyberCity from the threat of nefarious cyber-attackers insides this real physical model city. You'll see what it looks like to hack a modern city.
Much more...
I urge you to check out all the great stuff we are offering at this event. It's a truly special SANS training experience, and I hope to see you there! Ed Skoudis SANS Pen Test Curriculum Lead