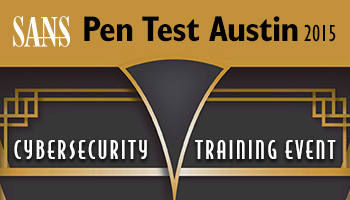 Welcome to Pen Test Austin 2015
6 courses
9 instructors
1 disciplines
We've got a really special event brewing for you at SANS Pen Test Austin 2015, and you've gotta check it out. Every organization needs skilled people who know how to find vulnerabilities, understand risk, and help prioritize resources based on mitigating potential real-world attacks. That's what SANS Pen Test Austin is all about! If you like to break things, put them back together, find out how they work, and mimic the actions of real-world bad guys, all the while providing real business value to your organization, then this event is exactly what you need.
Every security professional needs to understand how to get the most out of penetration tests and vulnerability assessments. The SANS Pen Test Austin 2015 event is a focused on helping you build world-class security assessment and penetration testing skills to do just that. This event is an IDEAL way to take your penetration testing and vulnerability assessment skills to an entirely new level. We're bringing our most popular pen test courses, instructors, and bonus sessions together in one place to offer one of SANS most comprehensive Pen Test training experiences ever.
At the SANS Pen Test Austin 2015 event you will not only learn vital and in-demand skills and abilities, but also network with like-minded security professionals that also see the benefit in taking their Pen Test artistry to the next level.
What's special about SANS Pen Test Austin?
SANS Top Courses focused on Pen Testing: Learn hands-on skills that you can directly apply the day you get back to your job.
NetWars, NetWars, NetWars: Enjoy three exciting nights of NetWars challenges, where you can have some fun while building serious infosec skills.
Coin-a-palooza: Earn up to four additional SANS pen test challenge coins (each with an integrated cipher challenge) based on your performance in SANS NetWars!
CyberCity Missions: Work through an evening of cyber missions that have a direct kinetic impact on the miniature CyberCity environment that SANS built with a real power grid, water reservoir, military base, and more!
I urge you to check out all the great stuff we are offering at this event. It's a truly special SANS conference, and I hope to see you there!
--Ed Skoudis SANS Pen Test Curriculum Lead