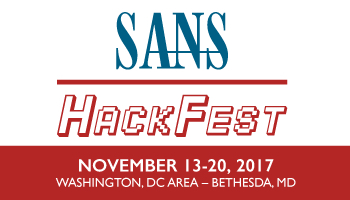 Welcome to Pen Test HackFest Summit & Training
2 days of in-depth Summit talks
8 hands-on pen test courses
3 nights of NetWars and Coin-A-Palooza
Save 400 USD when purchasing the Summit & a 4-6 day SANS course. Discount automatically applied at registration.
Or Save 400 USD off any 4-6 day course or save up to 200 USD off the Summit. Enter code "EarlyBird17" & pay by September 27 (offers cannot be combined)
Pen Test Hackfest Summit & Training
Summit Dates: November 13-14, 2017
Training Course Dates: November 15-20, 2017
SANS Pen Test HackFest Summit & Training is headed back to Washington DC for another year of mind blowing and exciting hands-on learning opportunities! This year's HackFest Summit will feature two days of talks from top experts followed by eight hands-on, immersion-style pen test training courses! Learn and develop your offensive techniques as you strive to secure organization.
Whether you are a penetration tester, red team member, a forensics specialist, or cyber defender, the techniques covered at SANS Pen Test HackFest represent the latest and most powerful attacks every organization needs to thwart. You NEED to be there!
The Pen Test HackFest agenda is packed with bonus sessions and community-building events designed to help you strengthen your hands-on skills and network with fellow information security professionals!
NetWars, NetWars, NetWars! (Version 4.0) This event will include THREE full evenings of SANS NetWars challenges, increasing the amount of NetWars time over a traditional SANS live training event. NetWars is an action-packed challenge environment where people can build their skills while having friendly and competitive fun. Participants can now play with up to 5 players on a team or they can continue to play solo. It's totally up to you!
Coin-A-Palooza: Here is your chance to earn up to five SANS Pen Test Challenge Coins that are normally only available to the winners of the six-day CtF in each of our courses. If you've ever taken a SANS Pen Test course and either earned your coin or didn't, this is your chance to earn up to five coins by participating in SANS NetWars.
Super-Secret Challenge: Last year, HackFest hit the road for a tour of Mount Vernon. After the tour, we had the entire Mount Vernon Museum to ourselves and worked in teams to solve a series of fun puzzles and crypto-challenges designed by the creators of NetWars and CyberCity, all while enjoying drinks, home-made cookies, and ice cream. Stay tuned for this year's plans!
Much more...