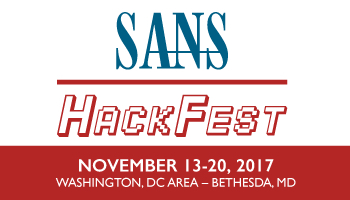 Pen Test HackFest Summit & Training
2 days of in-depth Summit talks
8 hands-on pen test courses
3 nights of NetWars and Coin-A-Palooza
Pen Test HackFest Summit & Training
Chairman: Ed Skoudis
CPE Credits: 16
Summit Dates: November 13-14, 2017
Training Course Dates: November 15-20, 2017
"I have had nothing but great experiences with SANS and always come away from classes and Summits with a TON of new things to read, research, and play with that makes me a better security professional." - Daniel Bougere, Securicon, LLC
Add new skills to your security arsenal by attending the most offense-focused training event of the year. At Pen Test HackFest, you'll enjoy two days of in-depth Summit talks, three nights of NetWars, one night of CyberCity missions, and a Summit field trip, all alongside world-class SANS courses taught by our top SANS Pen Test course authors and instructors.
Pen Test HackFest Sneak Peek
Our one-track of HackFest Summit presentations are curated by SANS Fellow Ed Skoudis, and are designed around a central offensive security theme. Whether you have red team, penetration testing, forensics, or cyber defense experience, the comprehensive lineup of talks and panel discussions will broaden your knowledge base and help you better protect your organization.
Don't miss this chance to get away from the office, gain a fresh perspective, network with like-minded individuals, play NetWars, challenge yourself with a custom CtF from Counter Hack (makers of NetWars, CyberCity, and the SANS Holiday Hack Challenge), and learn the skills you'll need to face the attacks coming your way.
"The knowledge and breadth of the speakers are well beyond many of the other events. The Summits by SANS bring together some of the best minds in security. I always learn new things to bring back to my team. It is money well spent." - Peter Kuzmiskas, Prudential
Bonus Sessions:
NetWars, NetWars, NetWars! (NEW v5.0): This event will include THREE full evenings of SANS NetWars challenges, increasing the amount of NetWars time over a traditional SANS live training event. NetWars is an action-packed challenge environment where people can build their skills while having friendly and competitive fun!
Coin-A-Palooza: Here is your chance to earn up to five SANS Pen Test Challenge Coins that are normally only available to the winners of the six-day CtF in each of our courses. If you've ever taken a SANS Pen Test course and either earned your coin or didn't, this is your chance to earn up to five coins by participating in SANS NetWars.
CyberCity: Take the opportunity to see the physical effects of a hack - meaning when you hack something, you'll see the power grid go out, the train derail, and the missile fire.
Summit field trip and challenge: Enjoy a night of fun, networking, and a custom CtF challenge.
Much more...