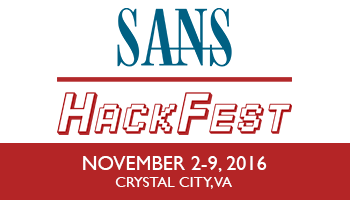 Welcome to Pen Test HackFest Summit & Training
8 courses
8 instructors
1 disciplines
Pen Test Hackfest Summit & Training
Summit Dates: November 2-3, 2016
Training Course Dates: November 4-9, 2016
Offense informs Defense!
SANS Pen Test HackFest Training & Summit is coming back for another year of mind blowing and exciting hands-on learning opportunities! This year's HackFest Summit features two days of leading talks from top experts and then six days of hands-on, immersion-style pen test training in one of our seven courses to choose from!! Learn and develop your offensive techniques as you strive to better defend your environment. Whether you are a penetration tester, red team member, a forensics specialist, or cyber defender, the techniques covered at HackFest represent the latest and most powerful attacks every organization needs to thwart. You NEED to be there!
In addition to world-class SANS training, the Pen Test HackFest schedule is packed with evening bonus sessions designed for you to build and strengthen your hands-on skills as well as network with fellow information security professionals!
NetWars, NetWars, NetWars!

This event will include THREE full evenings of SANS NetWars challenges, increasing the amount of NetWars time over a traditional SANS live training event. NetWars is an action-packed challenge environment where people can build their skills while having friendly and competitive fun. Participants can now play with up to 5 players on a team or they can continue to play solo. It's totally up to you!

Coin-A-Palooza:

Here is your chance to earn up to five SANS Pen Test Challenge Coins that are normally only available to the winners of the six-day CtF in each of our courses. If you've ever taken a SANS Pen Test course and either earned your coin or didn't, this is your chance to earn up to five coins by participating in SANS NetWars.

SANS CyberCity:

SANS CyberCity is a 1:87 scale ICS/SCADA enabled model city, with 15,000 fictional residents, that need your help stopping nefarious attackers from wreaking havoc with the city's power grid, traffic lights, water reservoir, hospital, and more. This event will include a full evening session of CyberCity missions. This is one of the few annual events where you have hands-on access to CyberCity.

Super-Secret Field Trip:

Last year's field trip to the Smithsonian Air & Space Museum was incredible. We had the entire Museum to ourselves and worked in teams to solve a series of fun puzzles and crypto-challenges designed by the creators of NetWars and CyberCity, all while enjoying drinks, home-made cookies, and ice cream among the amazing historical exhibits. This year, we've got even bigger plans for an awesome experience full of learning and networking!
What are you waiting for? Please register now.