Pentesting Smart Grid and SCADA
Thu, February 14 - Fri, February 15, 2013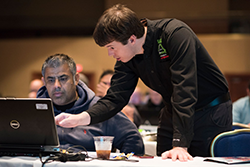 The Smart Grid brings great benefits for electric utilities and customer alike, however these benefits come at a cost from a security perspective. With increased functionality and addition inter-system communication, Smart Grid brings with it a greater risk of compromise that both Utilities and Customers must accept. To minimize this risk, penetration testing must be performed to minimize the exposed vulnerabilities before attackers can exploit this critical infrastructure that exist in all countries around the world.
This course provides a chance to perform hands-on penetration testing of the hardware, network protocols, and controlling servers of four of the most important systems in the Smart Grid, namely smart meters, Home Area Networks (HAN), SCADA, and synchrophasors. The course will be structured around the formal penetration testing methodology created by the National Energy Sector Cybersecurity Organization Resource (NESCOR), a United States Department of Energy project. Using this methodology, we'll look at the common features provided by AMI "smart" meters, dissect the ANSI c12 family of protocols they use, and the systems they connect to. From there we'll work with Home Area Networks, discuss how they are commonly deployed, capture and exploit their ZigBee communications, and discuss the impact for end users and utilities. Next we'll look the three most common SCADA protocols used in the Smart Grid (ModBus, DNP3, and IEC 61850), play with the devices they control such as PLCs, and examine the infrastructure used for substation automation. Finally we'll look at synchrophasor architectures, look at their most common protocol (C37.118), and discuss how they are used in Wide-Area Monitoring, Protection, and Control (WAMPAC), and the vulnerabilities we should be testing for. The course exercises will be performed on a mixture of real world and simulated devices to give students the most realstic experience as possible in a portable classroom setting.
Attendees will be able to explain the steps and methodology used in performing Smart Grid penetration tests.
Attendees will be able to use the free and open source tools on the course pentesting distribution to discover and identify vulnerabilities in web applications.
Attendees will be able to exploit several hardware, network, and server-side vulnerabilities.
Overview of Smart Grid Architecture
Overview of Penetration Testing Methodology
Architectural Overview of AMI Smart Meters
Architectural Overview
Functions & Data Flows Breakdown
ANSI C12.xx

Deep dive into SCADA

Architectural Overview
Functions & Data Flows Breakdown
DNP3 & IEC 61850

Deep dive into Sycnrophasors

Architectural Overview
- Functions & Data Flows Breakdown
- IEEE C12.118

Embedded Hardware Pentesting

Flash/EEPROM Dumping
Bus Sniffing
Key Extraction

Conclusions and Wrap-up
Notice:
SANS Hosted are a Series of Classes Presented by Other Educational Providers to Complement Your Needs for Training Outside of our Current Course Offerings.
Course Syllabus
Additional Information
Laptop with a functional DVD drive
Latest VMware Player, VMware Workstation, VWware Fusion installed. Other virtualization software such as Parallels or VirtualBox will probably work if the attendee is familiar with its functionality, however VMware Player should be prepared as a backup just in case.
Ability to disable all security software on their laptop such as Antivirus and/or firewalls
At least four (4) GB of hard drive space
At least two (2) GB of RAM
If you have additional questions about the laptop specifications, please contact laptop_prep@sans.org.
Basic penetration testing experience is desirable, but not required. It is assumed that attendees will have no knowledge of Smart Grid, SCADA, or critical infrastructure. This course is designed for intermediate level security professionals, be they developers, managers, or penetration testers.
Power for your laptop
Internet connectivity may or may not be available depending on the facility hosting the course
ISO of the latest version of Samurai Smart Grid Testing Framework (Samurai-SGTF)
PDF version of the course slide deck