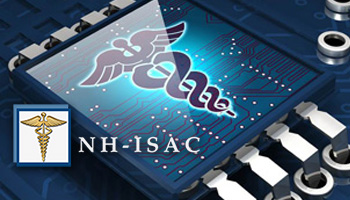 Welcome to Healthcare Cybersecurity Summit
4 courses
4 instructors
1 disciplines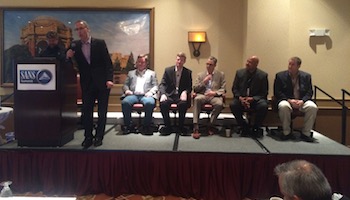 Summit
Chairman: Jim Routh
CPE Credits: 16
Summit Dates: May 12-13, 2015
Training Dates: May 14-19, 2015
SANS and the National Health Information Sharing & Analysis Center (NH-ISAC) are pleased to announce the 3nd Annual Healthcare Cyber Security Summit.
Healthcare is undergoing major changes. Patients are demanding more convenient and personalized care. Digital health is changing the way that doctors and patients interact. New technologies allow patients to track their own health and generate data that was previously not available to care providers. Additionally, health information exchanges are being created to enable access to electronic medical records across disparate organizations.
Hospitals, clinics, and health plans are faced with the challenge of reducing costs while maintaining quality. With the number of patients expected to rise how can hospitals treat patients with the limited number of beds and staff on hand?
Patient Centered Disease Management, shifts care delivery away from traditional hospitals to ACO's and PCMH environments, by leveraging technologies such as telemedicine in the cloud environment.
Medical Devices that offer life giving or life sustaining benefits are vulnerable with thousands of smart phones accessing the IDN's Wi-Fi-environment every day.
Moreover, new regulations are having a big effect on health insurance plans, requiring coordination with state health insurance exchanges.
Healthcare Cyber Security Summit
With these new business opportunities come new challenges.
How can security teams continue to defend the organization against conventional threats while evolving to meet nefarious threats from Nation States?
What can security do to proactively enable new business opportunities? How can you get the business to trust security enough to get a seat at the table?
At this unique event, security experts from leading health care companies will discuss proven approaches for securing and succeeding in the new health care environment. Meet leaders from the top health care organizations and see what really works in securing health care. The Summit is the place to come and learn how health care organizations can balance the security, compliance, and innovation required to thrive in the quickly changing market. Sharing cyber security intelligence is essential to improving industry resilience in the face of nation state sponsored threat actors. The NH-ISAC offers unique capabilities with its Threat Intelligence Platform with Threat Incidence sharing.
This Summit provides NH-ISAC members and attendees an opportunity to establish and eventually build trusted relationships, allowing them to share trusted information vital to improving cyber security resiliency.
Topics will include:
Cyber security incident response cases for healthcare
Supply chain controls that work for medical device vulnerability management in healthcare
Software security best practices
Experience using effective enterprise-wide controls for in-bound phishing emails
ISAC information sharing practices and examples
Mobile security ecosystem controls
E-mail security capabilities
Game-changing security control technologies with practical applications today
Techniques for board level communication
Effective business cases for significant investments in cyber security capability
Behavior-based authentication capabilities for pharmas, providers, payers and consumers
Techniques for effective interaction with senior business leaders and Board members.
Who should attend?
Chief Information Officers (CIO)
Chief Technology Officers (CTO)
Chief Information Security Officers (CISO)
Cyber security professionals
Security architects
Security risk managers
Compliance professionals
NH-ISAC through its unique Threat Intelligence Platform, available at no additional cost to its members, offers users the ability to become resilient across the Healthcare Security ecosphere. The TIP (Threat Intelligence Platform) shrinks the vulnerable hiding areas for Cyber Attackers by sharing trusted threat indicator data, within the NH-ISAC Trusted Circle.
One NH-ISAC organization's threat response becomes the next NH-ISAC organization's automated defense. Multiply this circle of trust process many times over, Cyber Criminals have limited opportunities and higher programming costs, while NH-ISAC members' defense costs are reduced while becoming increasingly resilient.
NH-ISAC, a non-profit health sector-led organization is recognized by the nation's health sector, the US Department of Health and Human Services (HHS), the US Department of Homeland Security (DHS), the National Security Agency (NSA), FBI, and the National Council of ISACs (NCI Directorate) representing all national critical infrastructures. NH-ISAC has over 150 member firms sharing cyber security information exclusive to the healthcare industry.
More information regarding NH-ISAC and the TIP can be found here http://www.nhisac.org/