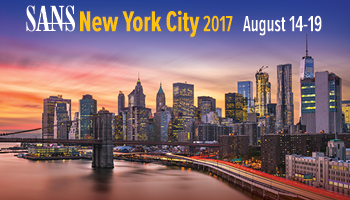 Cybersecurity training in New York City
Choose from 6 of SANS Institute's most popular training courses
Learn directly from the world's top cybersecurity practitioners
Attend the bonus session: One Tool Can't Solve All Your Problems, But You Can! with Heather Mahalik
Information Security Training in New York City, NY
Be better prepared for cyber-attacks and data breaches. At SANS New York City 2017 (August 14-19), we offer training with applicable tools and techniques for effective cybersecurity practices. Gain the skills and tools you need to win the battle against the wide range of cyber adversaries who want to harm your environment.
"The training was top-notch. SANS provides the education that any and all security organizations absolutely must have to succeed." - Thomas L., US Air Force
Take advantage of these opportunities to get the most out of your training:
Distinguish yourself as an information security leader by preparing for your GIAC Certification.
Network with like-minded security professionals facing similar challenges.
Attend evening bonus sessions led by SANS instructors and gain insight into the latest cybersecurity topics. Keynote will be "Emerging Threats in Cybersecurity" by Jake Williams.
Extend your SANS course by four months with an OnDemand Bundle.
This new SANS training event will prepare you to meet today's threats and tomorrow's challenges. Register now.
"This training presents a unique opportunity to learn the broad scope of information security with a knowledgeable instructor and superior training material." - Ira Hubert, FedEx
To follow or tweet about this event, use hashtag #SANSNYC. Follow SANS at http://twitter.com/SANSInstitute