Solving Network and Security Challenges with SASE
Nitin Kumar, Eric Trolan

Tuesday, September 22nd, 12:30pm - 1:15pm
Threats, network complexity, and inefficient tools are driving the need for a new approach to network security. With more mobile devices, more cloud access, and a wide assortment of point tools, itās hard for organizations to get a handle on threats and respond quickly. Find out why migrating your security to the cloud can help. In this presentation, weāll discuss how the secure access service edge (SASE) framework can address complex networking and security challenges, and how Cisco Umbrella cloud-delivered security can provide the flexible protection you need as your network evolves.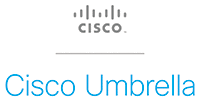 ---
Bonus Sessions
The following bonus sessions are open to all paid attendees at no additional cost. There are many different types of events that fall into these categories:
SANS@Night: Evening presentations given after day courses have ended. This category includes Keynotes.
Special Events: SANS-hosted events and other non-technical recreational offerings. This category includes, but is not limited to, Receptions and Information Tables.