DEV531: Defending Mobile Applications Security Essentials
Sat, September 29 - Sun, September 30, 2018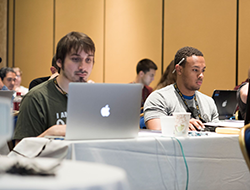 Mobile application development is growing exponentially year over year. As of late 2015, over 3 million apps are deployed in the Apple and Google app stores. These apps are consumed by over 700 million users world-wide and account for 33% of the traffic on the Internet [1]. Average users have over 100 mobile apps installed on their device, many of which provide business critical services to customers and employees.
Unfortunately, these apps are often rushed to market to gain a competitive advantage with little regard for security. As seen in web applications for the past 20 years, software vulnerabilities always exist where code is being written and mobile apps are no different. Mobile apps are vulnerable to a whole new class of vulnerabilities, as well as most traditional issues that have long plagued web and desktop applications. This problem will only continue to grow unless managers, architects, developers, and QA teams learn how to test and defend their mobile apps.
DEV531: Defending Mobile Applications Security Essentials covers the most prevalent mobile app risks, including those from the OWASP Mobile Top 10. Students will participate in numerous hands-on exercises available in both the Android and iOS platforms. Each exercise is designed to reinforce the lessons learned throughout the course, ensuring that you understand how to properly defend your organization's mobile applications.
You Will Learn To:
To maximize the benefit for a wide range of audiences, the discussions in this course cover high-level mobile app defensive strategies, as well as risks specific to both the Android and iOS mobile operating systems. Students will walk away with the knowledge and skills to:
Understand mobile app risks and common vulnerabilities
Find vulnerabilities in their mobile apps before an attacker does
Apply defensive strategies to build secure mobile apps from the beginning
Think different. Think Secure.
[1] http://www.statista.com/markets/424/topic/538/mobile-internet-apps/
Course Syllabus
DEV531.1: Defending Mobile Apps, Section 1
Gregory Leonard
Sat Sep 29th, 2018
9:00 AM - 5:00 PM
---
Overview
On the first day of this course, students will examine some of the most prevalent mobile app vulnerabilities. Starting with the device data storage, students will discover how important it is to secure web APIs that communicate with a mobile app. Students will explore web service API topics including server configuration, session management, and transport layer encryption. Next, students shift their focus to the mobile device and explore all of the locations where data persists within mobile apps. Each section ends with a hands-on exercise where you can see how a vulnerable mobile app responds to an attack and how the app responds after applying the appropriate defensive technique.
Topics
Insecure Device Data Storage

File System Inspection
Local Storage
Android & iOS Hardware Security
SQLite Encryption Extension (SEE)

Device Data Leakage

3rd Party Keyboards
URL Caching
Application Screenshots
Clipboard Caching
Insecure Logging

Transport Layer Protection

App Transport Security
Secure TLS Configuration
Certificate Validation
Certificate Pinning

Mobile Web Services

Web service hardening
Secure configuration
API Authentication
Session Expiration
Session Fixation
Weak Session Tokens
DEV531.2: Defending Mobile Apps, Section 2
Gregory Leonard
Sun Sep 30th, 2018
9:00 AM - 5:00 PM
---
Overview
The second day continues dissecting vulnerabilities that mobile app development teams must keep in mind when writing a mobile app. More complex topics such as mobile cryptography, authentication and authorization, client side injection, inter-process communication, and binary protections are covered in detail to continue creating secure mobile apps. Each section ends with a hands-on exercise where you can see how a vulnerable mobile app responds to an attack and how the app responds after applying the appropriate defensive technique.
Topics
Broken Cryptography

Weak Cryptographic Algorithms
Secure Random Number Generation
Secure Secrets Management
Android Keystore
iOS Keychain

Authentication & Authorization

Mobile Form Factor
Enterprise Mobility Management (EMM)
Mobile Device Management (MDM)
Mobile App Management (MAM)
Android Fingerprint Manager
iOS Local Authentication
iOS Touch ID

Client Side Injection

SQL Injection
Mobile User Session
Binary Code Injection
XML Injection
Format String Injection

Inter-Process Communication

Android IPC
iOS URL Schemes
iOS Universal Links
iOS Activity Sharing
iOS Extensions

Lack of Binary Protections

Binary Inspection
Reverse Engineering
Jailbreak Detection
Code Obfuscation
Checksum Controls
Additional Information
!!IMPORTANT - PLEASE PLAN ON ARRIVING AT CLASS AT LEAST 30 MINUTES EARLY THE FIRST MORNING TO SET UP THE VIRTUAL MACHINE BEFORE CLASS STARTS. BRING YOUR OWN LAPTOP CONFIGURED USING THESE DIRECTIONS!!
A properly configured system is required for each student participating in this course. Before coming to class, carefully read and follow these instructions exactly.
Please download and install VMware Workstation, VMware Fusion, or VMware Workstation Player on your system prior to arriving at class. If you own a licensed copy of VMware, make sure it is at least VMware Workstation 11, VMware Workstation Player 7.0, or VMware Fusion 7.0. If you do not own a licensed copy of VMware, you can download a free 30-day trial copy from VMware. VMware will send you a time-limited serial number if you register for the trial at their web site.
VMware Workstation Player is a free download that does not need a commercial license. Most students find VMware Workstation Player adequate for the course.
Mandatory Host Hardware Requirements
CPU: 2.5+ GHz multi-core 64-bit processor or higher
Memory:

16GB of RAM is recommended to run both the Android and iOS VMs simultaneously
8GB of RAM is recommended to run only 1 VM at a time

Hard Disk: 75GB of free disk space minimum
Working USB 2.0 or higher port
The student should have Local Administrator access within their host operating system
Mandatory Host Software Requirements
VMware Workstation 11+, VMware Workstation Player 7+, or VMware Fusion 7+
Zip File Utility
Mandatory Host Operating System Requirements
Mac OS X (El Capitan, Sierra) *
Windows (7, 8, or 10)
* The course exercises contain examples written for both the Android and iOS mobile operating systems. To run the iOS exercises, students must bring a laptop running Mac OS X. If a student does not have access to Mac OS X, Windows can be used to complete all of the Android exercises.
IN SUMMARY, BEFORE YOU BEGIN THE COURSE YOU SHOULD:
Bring a laptop with the required system hardware and operating system configuration
Install VMware (Workstation, workstation Player, or Fusion)
Make sure you have a working USB drive capable of mounting exFAT file partitions. The course VM files will be copied onto your laptop from a USB key provided by SANS.
If you have additional questions about the laptop specifications, please contact laptop_prep@sans.org.
Mobile application developers
Mobile app development managers
Mobile app architects
Quality assurance testers
Penetration testers who are interested in mobile app defensive strategies
Auditors who need to understand mobile app risks and defensive controls
Application security managers
This class requires a basic understanding of mobile application development, server side APIs, and the HTTP protocol.
Other Courses People Have Taken
Related Courses
Courses that lead-in:
Courses that are good follow-ups:
Course books
Lab workbook with step-by-step instructions for completing the Android and iOS exercises
USB containing virtual machines for Android and iOS
Identify sensitive information stored insecure on a mobile device
Sniff mobile app traffic using Wireshark
Test a mobile app for certificate pinning protections
Use a web application proxy to test mobile app APIs for vulnerabilities
Leverage built-in fingerprint authorization APIs from your custom apps
Understand industry cryptography best practices (NIST, PCI) for encryption, hashing, and random number generation on mobile platforms
Secure Android IPC and iOS URL schemes
Inspect mobile app binaries and obtain sensitive information
Find sensitive information on the mobile file system
Prevent mobile app data leakage
Securely store data on the file system
Intercept mobile app communications
Secure mobile app communications
Enable certificate pinning
Test server side mobile APIs
Implement custom app encryption
Use the Android Keystore and iOS Keychain
Defend against client side injection
Configure secure Android IPC services
Secure URL schemes and Universal Links
Perform binary analysis
Implement reverse engineering defenses
"Mobile DEV security is extremely important and yet very rarely covered in other courses. Excellent course, and very valuable." - Mark Geeslin
Author Statement
Mobile apps are changing the way organizations do business by replacing traditional web applications. Instead of using a laptop's web browser to access sensitive resources (e.g. prescriptions, financials, sales quotes, etc.), apps that perform the same functionality are being installed on the end user's mobile device.
Mobile apps, which often rely on backend web service API's that are exposed over the Internet, require development teams to understand a new set of security issues including protecting data stored locally on the device, defending against reverse engineering, deploying secure web API's, and many more.
This course is designed to teach students how to attack their mobile applications, learn the mitigation strategies required to fix common vulnerabilities, and further their understanding through hands-on exercises. Take part in this exciting course and learn to defend your mobile applications!
- Eric Johnson & Greg Leonard