MGT517: Managing Security Operations: Detection, Response, and Intelligence
Waitlist
Mon, September 11 - Fri, September 15, 2017
MGT517 is crucial to understanding how to improve an organizations security posture.

MGT517 is simply outstanding! It pulls together best practice, standards, procedures and materials framework to establish and manage a world-class security operational SOC.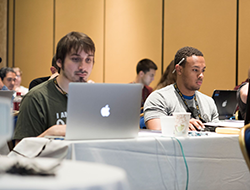 Managing Security Operations entails the design, build, operation and ongoing growth of all facets of the security capability of the organization. An effective SOC has many moving parts and must be designed with the ability to adjust and work within the constraints of the organization. To run a successful SOC, managers need to provide tactical and strategic direction and inform staff of the changing threat environment as well as provide guidance and training for employees. This course covers design, deployment and operation of the security program to empower leadership through technical excellence.
The course covers the functional areas: Communications, Network Security Monitoring, Threat Intelligence, Incident Response, Forensics, and Self-Assessment. We discuss establishing Security Operations governance for:
Business alignment and ongoing adjustment of capabilities and objectives
Designing the SOC and the associated objectives of functional areas
Software and hardware technology required for performance of functions
Knowledge, Skills and Abilities of staff roles as well as hiring and cultivating staff
and execution of ongoing operations.
You will walk out of this course armed with a roadmap to design, build and operate an effective SOC tailored to the needs of your organization.
Course Content Overlap Notice:
Please note that course material for MGT517 and MGT535 overlaps. Days 4 and 5 of MGT517 contain material that is covered in MGT535. We recommend MGT517 for those interested in managing security operations overall in addition to incident response. MGT535 only covers managing incident response.
Course Syllabus
Additional Information
Students need to bring a computer to class with Microsoft Office 2010 (or later) installed on it. The ability to open Microsoft Excel files is a must. Students may choose to bring a computer with another spreadsheet program installed on it, however the tools provided in class have only been thoroughly tested with Microsoft Office products, and certain functionality in the tools will not work properly with other spreadsheet programs. Therefore it is recommended that students bring a copy of Microsoft Office 2010 or later installed on their machine.
If you have additional questions about the laptop specifications, please contact laptop_prep@sans.org.
Information security managers
SOC Managers, Analysts & Engineers
Information security architects
IT managers
Operations managers
Risk management professionals
IT/system administration/network administration professionals
IT auditors
Business continuity and disaster recovery staff
No specific prerequisites exist for the class. However, it is presumed the attendee has knowledge of information assurance and management principles. The class briefly addresses basics of each but focuses on the application of those principles to accomplish security operations. Detailed technical knowledge is not necessary, but is helpful when attempting to decide the best course of action.
You Will Receive With This Course
Course material with detailed notes
Electronic versions of diagrams depicting the relationships and data flow
MP3 audio files of a recording of the course
This Course Will Prepare You To:
Design security operations to address all needed functions for the organization
Select technologies needed to implement the functions for SOC
Maintain appropriate business alignment with the security capability and the organization
Develop and streamline security operations processes
Mature capability
Collect data for metrics and report meaningful metrics to the business as well as maintaining internal SOC performance metrics
Hire appropriate SOC staff and keep existing SOC staff up to date
Author Statement
The inclusion of all functional areas of security operations is intended to develop a standardized program for an organization and express all necessary capabilities. Admittedly ambitious, the intention of the class is to provide a unified picture of coordination among teams with different skillsets to help the business prevent loss due to poor security practices. I have encountered detrimental compartmentalization in most organizations. There is a tendency for a specialist to look only at her piece of the problem, without understanding the larger scope of information security within an organization. Organizations are likely to perceive a security operations center as a tool, and not the unification of people, processes, and technologies.
This course provides a comprehensive picture of what a Cyber Security Operations Center (CSOC or SOC) is. Discussion on the technology needed to run a SOC are handled in a vendor agnostic way. In addition, technology is addressed in a way that attempts to address both minimal budgets as well as budgets with global scope. Staff roles needed are enumerated. Informing and training staff through internal training and information sharing is addressed. The interaction between functional areas and data exchanged is detailed.
After attending this class, the participant will have a roadmap for what needs to be done in the organization seeking to implement security operations.
- Christopher Crowley