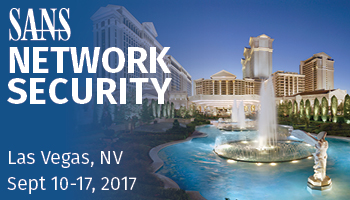 Welcome to Network Security 2017
Choose from 50 hands-on InfoSec courses taught by the industry's top instructors
Core NetWars Experience, Cyber Defense NetWars & DFIR NetWars Tournaments: Sept 13 - 14
New courses available including SEC555: SIEM with Tactical Analytics
Information Security Training in Las Vegas, NV
SANS is recognized around the world as the best place to develop the deep, hands-on cybersecurity skills most in need right now. Network Security 2017 offers more than 45 information security courses taught by SANS' world-class instructors, with dynamic content on the hottest information security issues.
In addition to SANS classroom training and development, you can also test your security defense skills at the Core NetWars Experience, DFIR NetWars Tournament, and the all-new NetWars Defense Competition. And enhance your SANS training experience by attending evening talks by our instructors and selected subject-matter experts. These presentations give you access to voices that matter in computer security, broaden your knowledge, and help you get the most for your training dollar.
Join us for immersion training that will provide you with the cutting-edge skills to defend your organization against security breaches and prevent future attacks.
Event Schedule
Please check the schedule for course dates, many courses begin and end on different days during the week of training.
Two-Day Courses Begin: Saturday, Sept. 16
Four- and Five- Day Courses Begin: Monday, Sept. 11
Six-Day Courses Begin: Sunday, Sept. 10 except SEC501 and SEC660 begin on Monday, Sept 11
NetWars Tournaments: Wednesday, Sept. 13 & Thursday, Sept. 14
To follow or tweet about this event, use hashtag #SANSNetworkSecurity. Follow SANS at http://twitter.com/SANSInstitute
Nothing beats the SANS live training experience but if you are unable to attend learn how you can
attend remotely
.
Available Courses
Title
Certification
Instructor

New

SEC503: Intrusion Detection In-Depth
GCIA
David Hoelzer


Waitlist

SEC555: SIEM with Tactical Analytics

—

Justin Henderson


New

SEC573: Automating Information Security with Python
GPYC
Michael Murr


New

SEC617: Wireless Penetration Testing and Ethical Hacking
GAWN
Larry Pesce


New

FOR508: Advanced Digital Forensics, Incident Response, and Threat Hunting
GCFA
Rob Lee


New

FOR572: Advanced Network Forensics: Threat Hunting, Analysis, and Incident Response
GNFA
Philip Hagen


New

FOR610: Reverse-Engineering Malware: Malware Analysis Tools and Techniques
GREM
Lenny Zeltser


New

DEV534: Secure DevOps: A Practical Introduction

—

Frank Kim

SEC301: Intro to Information Security
GISF
Keith Palmgren

SEC401: Security Essentials Bootcamp Style
GSEC
Stephen Sims

SEC501: Advanced Security Essentials - Enterprise Defender
GCED
Paul A. Henry

SEC504: Hacker Tools, Techniques, Exploits, and Incident Handling
GCIH
John Strand

SEC505: Securing Windows and PowerShell Automation
GCWN
Jason Fossen

SEC506: Securing Linux/Unix
GCUX
Hal Pomeranz

SEC511: Continuous Monitoring and Security Operations
GMON
Bryan Simon

SEC542: Web App Penetration Testing and Ethical Hacking
GWAPT
Eric Conrad

SEC546: IPv6 Essentials

—

Dr. Johannes Ullrich

SEC560: Network Penetration Testing and Ethical Hacking
GPEN
Ed Skoudis

SEC566: Implementing and Auditing the Critical Security Controls - In-Depth
GCCC
James Tarala

SEC575: Mobile Device Security and Ethical Hacking
GMOB
Joshua Wright

SEC580: Metasploit Kung Fu for Enterprise Pen Testing

—

Bryce Galbraith

SEC642: Advanced Web App Penetration Testing, Ethical Hacking, and Exploitation Techniques

—

Adrien de Beaupre

SEC660: Advanced Penetration Testing, Exploit Writing, and Ethical Hacking
GXPN
James Lyne

SEC760: Advanced Exploit Development for Penetration Testers

—

Jake Williams

FOR500: Windows Forensic Analysis
GCFE
Chad Tilbury

FOR518: Mac Forensic Analysis

—

Sarah Edwards

FOR526: Advanced Memory Forensics & Threat Detection

—

Alissa Torres

FOR578: Cyber Threat Intelligence
GCTI
Robert M. Lee

FOR585: Advanced Smartphone Forensics
GASF
Heather Mahalik

MGT414: SANS Training Program for CISSP® Certification
GISP
Seth Misenar

MGT415: A Practical Introduction to Cyber Security Risk Management

—

James Tarala

MGT433: Securing The Human: How to Build, Maintain and Measure a High-Impact Awareness Program

—

Lance Spitzner

MGT512: SANS Security Leadership Essentials For Managers with Knowledge Compression™
GSLC
G. Mark Hardy

MGT514: IT Security Strategic Planning, Policy, and Leadership
GSTRT
Frank Kim

MGT525: IT Project Management, Effective Communication, and PMP® Exam Prep
GCPM
Jeff Frisk

DEV522: Defending Web Applications Security Essentials
GWEB
Dr. Johannes Ullrich

AUD440: Critical Security Controls: Planning, Implementing, and Auditing

—

Chris Christianson

AUD507: Auditing & Monitoring Networks, Perimeters & Systems
GSNA
Clay Risenhoover

LEG523: Law of Data Security and Investigations
GLEG
Benjamin Wright


Waitlist

ICS410: ICS/SCADA Security Essentials
GICSP
Justin Searle

HOSTED: Physical Security Specialist - Full Comprehensive Edition

—

The CORE Group

Core NetWars Tournament - Add-on
(FREE with any 4-6 Day SANS Course Registration)

—

Tim Medin

Cyber Defense NetWars Tournament - Add-on
(FREE with any 4-6 Day SANS Course Registration)

—

Eric Conrad
Seth Misenar

DFIR NetWars Tournament - Add-on
(FREE with any 4-6 Day SANS Course Registration)

—

Heather Mahalik
Sarah Edwards