SEC579: Virtualization and Private Cloud Security
Mon, September 16 - Sat, September 21, 2013
SEC579 is the absolute best virtualization security information available! And it is immediately usable.

SEC579 actually provides pertinent information outside what is freely available and is applicable to securing my organization's virtual infrastructure.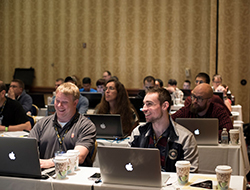 One of today's most rapidly evolving and widely deployed technologies is server virtualization. Many organizations are already realizing the cost savings from implementing virtualized servers, and systems administrators love the ease of deployment and management for virtualized systems. There are even security benefits of virtualization - easier business continuity and disaster recovery, single points of control over multiple systems, role-based access, and additional auditing and logging capabilities for large infrastructures.
Server virtualization vulnerabilities
With these benefits comes a dark side, however. Virtualization technology is the focus of many new potential threats and exploits and presents new vulnerabilities that must be managed. In addition, there are a vast number of configuration options that security and system administrators need to understand, with an added layer of complexity that has to be managed by operations teams. Virtualization technologies also connect to network infrastructure and storage networks and require careful planning with regard to access controls, user permissions, and traditional security controls.
In addition, many organizations are evolving virtualized infrastructure into private clouds - internal shared services running on virtualized infrastructure. Security architecture, policies, and processes will need to adapt to work within a cloud infrastructure, as well, and there are many changes that security and operations teams will need to accommodate to ensure assets are protected.
Virtualization and private cloud security architecture and design
The class starts out with two days of architecture and security design for both virtualization and private cloud infrastructure. The entire gamut of components will be covered ranging from hypervisor platforms to virtual networking, storage security to locking down the individual virtual machine files. We'll describe how to secure the management interfaces and servers, delve into Virtual Desktop Infrastructure (VDI), and go in-depth on what to consider when building a private cloud from existing virtualization architecture. Finally, we'll look at integrating virtual firewalls and intrusion detection systems into the new architecture for access control and network monitoring.
Virtualization infrastructure, policy, and auditing
The next two days we'll go into detail on offense and defense - how can we assess virtualized environment using scanning and pen testing tools and techniques, and how do things change when we move to a cloud model? We'll cover a variety of scanners and vulnerability management tools and practices, and then take a hard look at virtualization vulnerabilities, exploits, and toolkits for pen testing that we can put to use in class.
Once we cover the offense, we'll take the opposite approach and go into detail on performing intrusion detection and logging within the virtual environment, as well as covering anti-malware advances and changes within virtual infrastructure. We'll wrap up the session with coverage of incident handling within virtual and cloud environments, as well as adapting forensics processes and tools to ensure we can maintain chain-of-custody and perform detailed analysis of virtualized assets.
Vulnerability management, pen testing, and intrusion detection
During day 5, we will help you adapt your existing security policies and practices to the new virtualized or cloud-based infrastructure. We'll show you how to design a foundational risk assessment program and then build on this with policies, governance, and compliance considerations within your environment. We'll cover auditing and assessment of your virtualized assets, with a session on scripting that will help you put this into practice right away. Then we'll go in-depth into data security within a private cloud environment, discussing encryption and data lifecycle management techniques that will help you keep up with data that is much more mobile than ever before. Identity and Access Management (IAM) within a virtualized/cloud environment will be touched on, and we'll wrap up with a thorough session on disaster recovery and business continuity planning that leverages and benefits from virtualization and cloud-based technology.
On day 6, we'll cover the top virtualization configuration and hardening guides from DISA, CIS, Microsoft, and VMware, and talk about the most important and critical things to take away from these to implement. We culminate with data security and encryption, and Identity and Access Management (IAM) and Disaster Recovery (DR) and Business Continuity Planning (BCP).
Notice:
*For SEC579 Virtualization and Private Cloud Security courses conducted in the United States, a Laptop will be provided for class use. However, for International events, Onsite Classes, and Online Students, a Hard Drive will be provided for class use.
Course Syllabus
Additional Information
Laptops for SEC579 lab exercises will be provided for students to use during class.* Students will be given CDs with labs loaded to take home after class.
*For SEC579 Virtualization and Private Cloud Security courses conducted in the United States, a laptop will be provided for class use. However, for International events and Onsite Classes, a Hard Drive will be provided for class use.
For those classes where students are required to provide their own laptop, students will need a laptop with:
250 GB hard drive (with a minimum of 100GB of free space)
Windows Vista/7
64-bit OS required
Optical drive to read the DVDs
8 GB RAM or more
Intel i5/i7 or equivalent processor
Also, be sure to use Intel's CPU Processor Identification utility to verify VT-x support in your chipset.
Students must be able to disable AV, firewall, and any media - usb protections.
Please see your event description for more details.
If you have additional questions about the laptop specifications, please contact laptop_prep@sans.org.
Security personnel who are tasked with securing virtualization and private cloud infrastructure.
Network and systems administrators who need to understand how to architect, secure, and maintain virtualization and cloud technologies.
Technical auditors and consultants who need to gain a deeper understanding of VMware virtualization from a security and compliance perspective.
Lock down and maintain a secure configuration for all components of a virtualization environment
Design a secure virtual network architecture
Evaluate virtual firewalls, intrusion detection and prevention systems, and other security infrastructure
Evaluate security for private cloud environments
Perform vulnerability assessments and pen tests in virtual and private cloud environments, and ac- quire forensic evidence
Perform audits and risk assessments within a virtual or private cloud environment