MGT305: Technical Communication and Presentation Skills for Security Professionals
This course helps define and refresh the best writing and speaking techniques.
Christopher Hills, Charles Schwab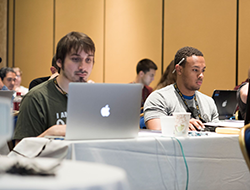 This course is designed for every IT professional in your organization. In this course we cover the top techniques that will show any attendee how to research and write professional quality reports, and how to create outstanding presentation materials. Attendees will also get a crash course on advanced public speaking skills.
Writing reports is a task that many IT professionals struggle with, sometimes from the perspective of writing the report and other times from the perspective of having to read someone else's report! In the morning material we cover step by step how to work through the process of identifying critical ideas, how to properly research them, how to develop a strong argument in written form, and how to put it all down on paper. We also discuss some of the most common mistakes that can negatively impact the reception of your work and show how to avoid them. Attendees can expect to see the overall quality of their reports improve significantly as a result of this material.
After writing a meaningful report, it is not uncommon to find that we must present the key findings from that report before an audience, whether that audience is our department, upper management, or perhaps even the entire organization. How do you transform an excellent report into a powerful presentation? We will work through a process that works to either condense a report into a presentation or can even be used to write a presentation from scratch that communicates your important thoughts in a meaningful and interesting way.
Writing the presentation is only half of the battle, though. How do you stand up in front of a group of five or even five thousand and speak? We will share tips and techniques of top presenters that you can apply to give the best presentation of your career. Additionally, students will have the opportunity to work up and deliver a short presentation to the class followed by some personal feedback from one of SANS' top speakers.
Writing Whitepapers and Business Reports:
How to synthesize a topic
Working with assigned topics
How to research effectively
How to develop a convincing argument
Improving logical development of a topic
How to defend a thesis
How to turn research into a coherent professional quality whitepaper
Writing reports that management can understand
How to succeed at GIAC Gold papers
Hands-on report writing workshop
Creating Presentations
How to create a top quality presentation
How to run a business report into a presentation
How to distill a whitepaper into a presentation
Keys to writing effective slides
Creating slides for a live presentation
Proper use of transitions and artwork
What works and what doesn't in charts and graphs
Hands-on presentation development workshop
Speaking and Presenting to an Audience
Improving verbal communication skills
How to present to an audience with power and skill
Developing audience connections
How to use slides during a live presentation
How to keep your audience interested
Effective storytelling
How to make key points stand out
How to deliver bad news in a business setting
Advanced public speaking techniques and tips
Professionals like you have come to expect the very best in materials and presentation quality from SANS courses. In this course we have distilled the elements that go into writing high-quality material and the skills required to be a top public speaker from nearly two decades of experience. For years students have asked for a course on writing and delivering presentations; this course is the answer!
Instructors
Schedule
G. Mark Hardy
Sun Sep 15th, 2013
9:00 AM - 5:00 PM

Additional Information

Laptop Required

Students can bring any type of laptop with some type of word processing software and any type of presentation tool that will allow them to present a few slides to the class. There is no specific requirement for a particular operating system or office suite.

If you have additional questions about the laptop specifications, please contact laptop_prep@sans.org.

Who Should Attend

All SANS Masters students
Auditors
Security Architects
Managers
Incident Handlers
Forensic Examiners
Any individual seeking to improve his technical writing, presentation and reporting skills
Individuals who write reports or make presentations to management
Awareness trainers, local mentors
Management should strongly consider sending individuals who must write and present reports and project plans to this course.

This course is beneficial to SANS Alumni with a GIAC Gold certification and alumni of SEC401, SEC504, FOR508, AUD507, plus all management courses.

What You Will Receive

In this course, you will receive the following:

MP3 audio files of the complete course lecture