SEC509: Securing Oracle Databases
Mon, September 16 - Sat, September 21, 2013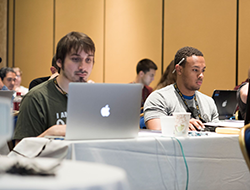 Experts agree that Oracle is one of the most complex software packages available today. Unfortunately, complexity often introduces an increased risk for vulnerabilities. These vulnerabilities are being increasingly targeted by attackers. It is not uncommon for the SANS Internet Storm Center to see hundreds of thousands of hack attempts against Oracle databases each month.
SANS recognizes the need for comprehensive Oracle security training to help organizations protect their most critical information resources. In this course, the student is led through the process of auditing and securing Oracle by defining the risks to data, using techniques for detecting unauthorized access attempts, using Oracle access controls and user management functions, and developing reliable processes to secure the Oracle database, as well as applications.
Throughout the course the student will be exposed to the database as seen through the eyes of an attacker, including public and unreleased techniques that are used to compromise the integrity of the database or escalate a user's privileges. In this fashion, the student gains a better understanding of how an attacker sees a database as a target and how we can configure the database to be resistant to known and unknown attacks.
This course has been updated for versions of Oracle up to and including 11g on Unix and Windows operating systems.
Course Syllabus
Additional Information
Students need to bring a laptop computer with an Ethernet network card and a CD-ROM. Students should use Windows and have a functional Oracle 11gR2 or later client installed with SQL*Plus. The Oracle client software can be downloaded from Oracle's Web site. Students will also need the capability to set an IP address and install tools on the system. Additional tools such as Oracle Enterprise Manager are not required.
If you have additional questions about the laptop specifications, please contact laptop_prep@sans.org.
Author Statement
Database compromises are a significant risk faced by organizations today. Data compromises seem to be constantly occurring, and many of the huge breaches that we know about today resulted because database security was improperly addressed. Databases are key targets because they store one of our most valuable resources - our data. The data needs to be protected. Oracle is one of the most exciting and challenging databases that exists. When it comes to securing an Oracle database, there are many challenges that Administrators and security professionals will face. This course is designed to be a fully comprehensive and intense introduction to planning, auditing, and securing an Oracle database. The course doesn't just mention the vulnerabilities, but it explains why the issues may exist and how an attacker could leverage them. Multiple hands-on exercises reinforce the content we learn in class. This aids the student in thinking like an attacker, which needs to be done to protect the databases. Students are often amazed at the many different ways an attacker might compromise an Oracle database! Ultimately, the goal is to teach how to protect one of the most important organizational assets - the data. This course is an exciting and interesting journey in protecting this critical organizational asset!
- Tanya Baccam