SEC561: Intense Hands-on Pen Testing Skill Development (with SANS NetWars)
New
Mon, September 16 - Sat, September 21, 2013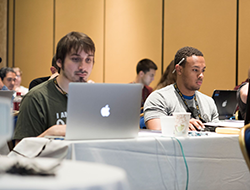 Today, many information security practitioners are expected to leverage cross-disciplinary skills in complex areas. Analysts are no longer able to specialize in just a single skill area, such as vulnerability assessment, network penetration testing, or web app assessment. To face todayâÂÂs threats, organizations need employees that add value to the team across varying focus areas, contributing to both operations and security teams.
Few practitioners have the time to build broad skills across many different security areas. The best way to pick up new skills quickly is to practice them in hands-on, real-world scenarios designed to challenge and guide a participant. The Hands-On Security Practitioner course creates a learning environment where participants can quickly build and reinforce skills in multiple focus areas, including:
Network security assessment, identifying architecture weaknesses in network deployments
Host-based security assessment, protecting against privilege escalation attacks
Web application penetration testing, exploiting common flaws in complex systems
Advanced system attacks, leveraging pivoting and tunneling techniques to identify exposure areas deep within an organization
The Hands-On Security Practitioner course departs from most lecture-based training models to help practitioners quickly build skills in many different information security focus areas. Using the NetWars challenge platform, participants engage in practical and real-world defensive and offensive Capture the Flag (CtF) exercises that are fun and exciting. By maximizing hands-on time in exercises, participants build valuable skills that are directly applicable as soon as they return to the office.
Participants who complete the Hands-On Security Practitioner participate in realistic scenarios to quickly build skills that are difficult to achieve independently. After completing the course, participants will be able to apply these skills to various areas within their own organizations, significantly increasing their ability to take on cross-disciplinary projects and tasks.
Course Syllabus
Additional Information
Throughout the course, students will participate in hands-on lab exercises. Students must bring their own laptops to class that meet the requirements described below.
Windows
Students must bring a Windows 7, Windows Vista, or Windows XP laptop to class, preferably running natively on the system hardware. It is possible to complete the lab exercises using a virtualized Windows installation, however, this will result in reduced performance when running device emulators within the virtualized Windows host. If you are a Windows XP user, make sure you also have the .NET 3.5 framework installed, which can be downloaded from http://www.microsoft.com/en-us/download/details.aspx?id=21 .
Administrative Windows Access
For several tools utilized in the course, students will be required to perform actions with administrative privileges. Students must have administrative access on their Windows host, including the ability to unload or disable security software such as anti-virus or firewall agents as necessary for the completion of lab exercises.
VMware
Students will use a virtualized MobiSec Linux VMware guest for several lab exercises. VMware Workstation or VMware Player is recommended. Note that there is no cost associated with the use of VMware Player, which can be downloaded from the VMware website.
While some students successfully use VMware Fusion for the exercises, the relative instability of VMware Fusion may introduce delays in exercise preparation, preventing the timely completion of lab exercises. VirtualBox and other virtualization tools are not supported at this time.
Hardware Requirements
Several of the software components used in the course are hardware intensive, requiring more system resources than what might be required otherwise for day-to-day use of a system. Please ensure your laptop meets the following minimum hardware requirements:
Minimum 2 GB RAM, 4 GB recommended
Ethernet (RJ45) network interface; students will not be able to complete lab exercises with systems that only have a wireless card, such as the Mac Book Air
1.5 GHz processor minimum
30 GB free hard disk space
DVD drive (not a CD drive)
Minimum screen resolution 1024x768, larger screen resolution will reduce scrolling in for several applications and a more pleasant end-user experience
If you have additional questions about the laptop specifications, please contact laptop_prep@sans.org.
Security professionals that want to expand their hands-on technical skills in new analysis areas such as packet analysis, digital forensics, vulnerability assessment, system hardening, and penetration testing
Systems and network administrators that want to gain hands-on experience in information security skills to become better administrators
Incident response analysts who want to better understand system attack and defense techniques
Forensic analysts who need to improve their analysis through experience with real-world attacks
Penetration testers seeking to gain practical hands-on experience for use in their own assessments
Participants must have introductory-level experience with information security. (SEC401)
Course book
Daily lab answer books detailing all the course challenge exercises
Course DVD and associated software, files, and analysis resources
Use network scanning and vulnerability assessment tools to effectively map out networks and prioritize discovered vulnerabilities for effective remediation
Use password analysis tools to identify weak authentication controls leading to unauthorized server access
Evaluate web applications for common developer flaws leading to significant data loss conditions
Manipulating common network protocols to maliciously reconfigure internal network traffic patterns
Identify weaknesses in modern anti-virus signature and heuristic analysis systems
Inspect the configuration deficiencies and information disclosure threats present on Windows and Linux servers
Bypass authentication systems for common web application implementations
Exploit deficiencies in common cryptographic systems
Bypass monitoring systems by leveraging IPv6 scanning and exploitation tools
Harvest sensitive mobile device data from iOS and Android targets
Author Statement
Hands-on security skills are what employers and security practitioners really need today to fight off increasingly sophisticated attacks. This course teaches in-depth security analysis capabilities through 80% hands-on exercises and labs, the most ever for a SANS course. Students work together with a master instructor to learn how to solve increasingly demanding information security challenges that they can apply the day that they get back to their jobs. -Josh Wright