SEC509: Securing Oracle Databases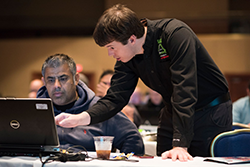 Experts agree that Oracle is one of the most complex software packages available today. Unfortunately, complexity often introduces an increased risk for vulnerabilities. These vulnerabilities are being increasingly targeted by attackers. It is not uncommon for the SANS Internet Storm Center to see hundreds of thousands of hack attempts against Oracle databases each month.
SANS recognizes the need for comprehensive Oracle security training to help organizations protect their most critical information resources. In this course, the student is led through the process of auditing and securing Oracle by defining the risks to data, using techniques for detecting unauthorized access attempts, using Oracle access controls and user management functions, and developing reliable processes to secure the Oracle database, as well as applications.
Throughout the course the student will be exposed to the database as seen through the eyes of an attacker, including public and unreleased techniques that are used to compromise the integrity of the database or escalate a user's privileges. In this fashion, the student gains a better understanding of how an attacker sees a database as a target and how we can configure the database to be resistant to known and unknown attacks.
This course has been updated for versions of Oracle up to and including 11g on Unix and Windows operating systems.
Course Contents
Instructors
Schedule

SEC509.1: Securing Oracle Foundations
Tanya Baccam
Mon Sep 17th, 2012
9:00 AM - 5:00 PM


Overview

The student is introduced to various techniques used by an attacker to compromise the database, including buffer overflows, SQL injection attacks, exploiting Oracle stored procedures, and cross-site scripting attacks. We look at the process of installing the database in a secure fashion after hardening the host operating system with strong file system permissions. An overview of all the Oracle offered security features will be covered.

Topics

Securing Oracle

Oracle architecture
Leveraging SQL scripts
Developing an Oracle security policy
Using commercial and open-source third party tools

Foundations

Oracle CPUs
Configuration Management Pack
Physical and logical configuration and architecture
Documenting software revisions and database configuration
Resources for Oracle Security, including exploits and new vulnerabilities
Using Google to find Oracle components and vulnerabilities
Using My Oracle Support to identify vulnerabilities
Using tools such as OScanner and Scuba to find vulnerabilities

Oracle attack vectors and security features

Inherent issues from a default install
Insecure configurations caused by the organization
Third party application configuration issues
Local and remote attacks
Internal and external threats
SQL injection attacks
Cross-site scripting attacks
Attacking vulnerable software: buffer overflows
Escalation of privileges and Oracle stored procedures
SQL buffer overflows
Oracle security features to combat attack vectors

Host operating system security

Hardening the host OS
Auditing file permissions on Windows and Unix
Important files of interest - control, redo, data, archive, trace, export...
Understanding and exploiting external tables
Deploying host IDS systems
Leveraging network IDS systems

Identifying passwords in the environment

Running batch processes and tools silently
Auditing and securing process lists
Secure methods to stop password exposure
Auditing for password and username leakage
Auditing and understanding clear text authentication

Exercises for day one include

Writing Oracle scripts
Exploiting vulnerabilities to obtain DBA access
Developing a questionnaire to track system configuration
Conducting SQL injection attacks
Identifying and protecting operating system files
Locating exposed passwords on the file system

SEC509.2: Securing Oracle's Authentication Process
Tanya Baccam
Tue Sep 18th, 2012
9:00 AM - 5:00 PM


Overview

Oracle's authentication process has some significant weaknesses that need to be understood to secure the environment. Additionally, 11g made some significant changes to the authentication process. We review the authentication process in detail. Oracle default user accounts, roles, and grants will be reviewed, including audit techniques to identify user accounts with weak passwords. Multiple password cracking techniques and tools will be analyzed. Auditing user accounts and application schema accounts is discussed in detail covering third party authentication, shared accounts, and proxy authentication implemented in third party applications. The day concludes with a complete discussion of password management, including enforcing and creating a password management policy and utilizing profiles to control access to database resources.

Topics

Authentication methods

Understanding proprietary database authentication
Identify weaknesses in the Oracle authentication process
Oracle pass-through OS authentication for Unix and Windows
Configuring and deploying single sign
Oracle Advanced Security and SSL
Third party authentication
Managing SYSDBA, SYSOPER, and INTERNAL
Understand the 11g authentication process

Default users and password audits

The easiest way in - examples
Testing common user accounts
Finding default accounts and passwords
Auditing default roles
Auditing user accounts for weak passwords
Exploring home-grown and commercial password crackers
Using tools such as Hash Attack, CheckPwd, OrakelCrackert, and orabrute
Connection throttling

Schema and application owners

Third party authentication mechanisms
Passwords in the database, access, and encryption
Sharing user accounts
Proxy users
Row level security

Implementing password management

Developing password change and management procedures
Coding password functions and change history management
Auditing database connections - when, where, and by whom

Exercises for day two include

Identifying default username and password accounts
Utilizing network trace capacities to observe database internals
Spoofing operating system authentication
Password cracking for Oracle databases
Auditing stored passwords
Implementing password verification functions
Implementing user profiles

SEC509.3: Oracle Access Controls - Configuration
Tanya Baccam
Wed Sep 19th, 2012
9:00 AM - 5:00 PM


Overview

Access control techniques are used to protect database objects. We cover many of the countless database configuration options with recommendations that make the database more resistant to common attacks, including both intentional and accidental incidents. We also dedicate time to the problems associated with the growing number of PUBLIC privileges including the techniques authenticated users can use to escalate their privilege levels. Tools such as Database Vault and Data Masking are also explored.

Topics

Access and output

Controlling user access to the operating system
Critical packages, configuration settings, and software functionality
Auditing and securing external procedures
Restricting access to critical data
Managing the SYSTEM tablespace
Object ownership in default tablespaces
Leveraging triggers to protect and audit objects
Critical database tables and objects

Roles and users

Oracle Database Vault
Audit users and roles for critical privileges
Designing roles, packages, and triggers for secure data access
Restricting access to roles
Protecting administrative roles
Managing and auditing external users
Consistently deploying the least privilege principle

Configuration

Oracle Data Masking to protect confidential data
Vital documented and undocumented database initialization parameters
Review and secure key parameters
Confirming running parameters match the configuration
Tools to identify and review system configuration
Using bootable CDs, such as Backtrack3, to pen test and review Oracle security configuration

PUBLIC privileges, profiles, packages, and objects

Key public packages
Review public privileges
Access and use of critical packages
Invoker and definer rights issues and risks
Risks associated with dynamic SQL

Exercises for day three include

Analyzing object ownership
Analyzing roles
Implementing a DBA role based on organizational requirements
Analyzing critical system privileges
Undocumented configuration parameters
Auditing configuration parameters
Definer versus invoker rights
Creating Trojanized PL/SQL

SEC509.4: Auditing Oracle
Tanya Baccam
Thu Sep 20th, 2012
9:00 AM - 5:00 PM


Overview

Some organizations think auditing within Oracle's environment is difficult, if not impossible. This day delves into auditing the Oracle environment in a manageable and simple way. We examine the built-in Oracle auditing features, including Fine-Grained Auditing. Audit Vault will also be reviewed. Forensic assessment of Oracle databases is also covered in this day, including data recovery and retracing the steps of an attacker. If your organization is encumbered by federal restrictions and legal requirements in information management, this day will provide vital information that you can deploy immediately after completing this course.

Topics

Oracle auditing - myths and facts

Storage and maintenance of audit records
Configuring audit
Choosing what to audit
Privileged auditing
Basic audit setup - connections, privileges, failures
Auditing to the OS or to the database
Alternative audit options - timestamps, triggers, FGA

Reviewing the audit trail

Develop business procedures for management of the audit trail
Develop process and reports
Identifying suspicious activity
Auditing and reviewing other audit information sources
Oracle Audit Vault

Forensics

Forensics without auditing
Using Oracle LogMiner
Using alert log, trace, listener log, SQL*Net log
Forensic analysis of incidents
Detecting if the audit trail has been altered
Protecting the audit trails

Fine Grained Audit

Introduction to Fine Grained Audit (FGA)
When and how FGA should be used
Implementing FGA
Deploying FGA with examples
Flashback
Total recall

Securing Exposed Services

Bind and Microsoft DNS compared
Running split DNS
The problems with recursion and how to avoid them
Proper Web server permissions and access
Web Application vulnerabilities and how to protect
Logging extended properties with IIS
How to avoid becoming a spam relay
Tools to test your DNS and SMTP setup
Tools to test your web applications
The importance of scrubbing banners

Exercises for day four include

Implementing basic auditing
Conducting and detecting brute force attacks
Developing an audit policy
Developing audit reports
Conducting a forensic assessment
Implementing Fine Grained Auditing

SEC509.5: Networking, Encryption, and Developer Tools
Tanya Baccam
Fri Sep 21st, 2012
9:00 AM - 5:00 PM


Overview

Since the Oracle listener can be the first recipient of attacks from adversaries seeking to compromise the database, we cover topics related to securing the listener. Network design recommendations for the database and administrative workstations are also addressed, including Oracle's Database Firewall. The day continues by discussing the challenges of encryption within the database or outside of the database. Encryption is looked at for both data at rest and data in transit. Finally, we conclude the day by looking at techniques to secure the SQL*Plus and iSQL*Plus tools, including techniques to enforce and restrict the use of specific applications that are allowed to connect to the database.

Topics

Auditing the Oracle listener

Listener configuration
Listener password restrictions
Attacking the listener
Using listener logging and trace functions

Network Access to Oracle

Restricting client access
Firewalls
Web Application Firewalls
Oracle Database Firewall
IDS/IPS
Oracle proxy agents
Protecting administrative clients
Database links
Securing Apache
11g network access controls and parameters
Backup and recovery considerations
Tunneling TNS traffic with SSH
Using sniffers to capture data
Wireshark, tcpdump, windump

Encryption

Properly encrypting data stored in the database
Symmetric versus asymmetric encryption
Key storage and management issues
Circumventing encryption controls
Using dbms_crypto
Transparent data encryption
Encrypting data, columns, and tablespaces

Restricting developer and access tools

Restricting developer tools that can connect
Using Product User Profile (PUP)
Login.sql and glogin.sql files
Leveraging login triggers
Securing iSQL*Plus

Exercises for day five include

Auditing the listener
Securing the listener
Auditing Internet accessibility
Developing a backup procedure
Auditing database links
Sniffing cleartext communications with wireshark
Encrypting data in the database
Encrypting communications with SSH
Restricting developer tools

SEC509.6: Development and Securing Applications
Tanya Baccam
Sat Sep 22nd, 2012
9:00 AM - 5:00 PM


Overview

End-user tools created with PL/SQL and Java can introduce their own security risks. This day covers secure programming for the database including protecting source code confidentiality and integrity and settings resource limits to prevent attacks. Security application roles and other techniques will be explored as options for protecting data. We also look at some of the common Web application vulnerabilities and the affect they can have on the Oracle database. The final module of this intense day covers where we think Oracle security is going, exploring early techniques in the design of viruses and worms specific to Oracle.

Topics

Oracle programming issues

Managing Java and PL/SQL
Wrapping code
Checksums and data integrity
Resource limits
Using public synonyms
Application-based security

Web application vulnerabilities

Common Web application vulnerabilities that affect the Oracle database
Information leakage and improper error handling
Broken authentication and session management
Accessing unauthorized files
Exploiting SQL injection vulnerabilities
Blind SQL injection
Exploiting cross-site scripting vulnerabilities
Cross-site request forgery
Controlling applications
Reviewing what accesses the database

Controlling applications and tools

Decommissioning applications and products
Adding new applications
Movers, leavers, and joiners
Reporting tool interfaces
Secure application roles
Virtual private databases

Controlling application internals

Application file permissions and object privileges
Application authentication mechanisms
Backdoors - viruses and malignant code
Preventing development on production databases
Auditing and preventing ad-hoc queries
Managing development and test databases
Implementing change control management
Reviewing tools for stored passwords
Database information disclosure through public sources

Oracle security future

11g and future databases
Additional resources for database security
Viruses and worms
Oracle rootkit concepts

Exercises for day six include

Wrapping PL/SQL
Exploiting Web application vulnerabilities that affect the database
Implementing a process to track users in the environment
Developing a script to audit for altered PL/SQL code
Create an Oracle rootkit
Identifying sensitive Oracle configuration and vulnerabilities via the Internet

Additional Information

Laptop Required

Students need to bring a laptop computer with an Ethernet network card and a CD-ROM. Students should use Windows and have a functional Oracle 11gR2 or later client installed with SQL*Plus. The Oracle client software can be downloaded from Oracle's Web site. Students will also need the capability to set an IP address and install tools on the system. Additional tools such as Oracle Enterprise Manager are not required.

If you have additional questions about the laptop specifications, please contact laptop_prep@sans.org.