FOR508: Advanced Computer Forensic Analysis and Incident Response
New
Mon, September 17 - Sat, September 22, 2012
If you need to track down what happened in your environments, this is a must have course!

I was surprised and amazed at how easy it is to do memory analysis and how helpful it is.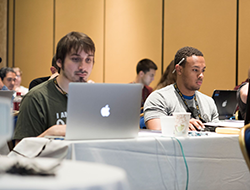 Updated Course / Content Notice
Brand New! Relaunch in 2012 - Entire course materials, exercises, and challenges fully updated to give students experience in investigating real-world advanced attacks and APT-like scenarios in a Windows Enterprise Environment. Don't miss the NEW FOR508!
Overview
Over the past two years, we have seen a dramatic increase in sophisticated attacks against nearly every type of organization. Economic espionage in the form of cyber-attacks, also known as the Advanced Persistent Threat (APT), has proven difficult to suppress. Attackers from Eastern Europe and Russia continue to steal credit card and financial data resulting in millions of dollars of losses. Hackivist groups attacking government and Fortune 500 companies are becoming bolder and more frequent.
Sophisticated hackers can advance rapidly through your network using advances in spear phishing, web application attacks, and custom malware. Incident Responders and Digital Forensic Investigators must master a variety of operating systems, investigative techniques, incident response tactics, and even legal issues in order to combat challenging intrusion cases across the enterprise.
Attackers will use anti-forensic techniques to hide their tracks. They use rootkits, file wiping, timestamp adjustments, privacy cleaners, and complex malware to hide in plain sight and avoid detection by standard host-based security measures. Every action that adversaries make leaves a trace; you merely need to know where to look.
Our adversaries are good and getting better. Are we learning how to counter them? Yes we are. Learn how.
FOR508: Advanced Computer Forensic Analysis and Incident Response will give you the tools and techniques necessary to master advanced incident response, investigate data breach intrusions, find tech-savvy rogue employees, counter the Advanced Persistent Threat, and conduct complex digital forensic cases.
This course uses the popular SIFT Workstation to teach investigators how to investigate sophisticated crimes. SIFT contains hundreds of free and open source tools, easily matching any modern forensic tool suite. It demonstrates that advanced investigations and incident response can be accomplished using frequently updated, cutting-edge open source tools.
FIGHT CRIME. UNRAVEL INCIDENTS... ONE BYTE AT A TIME.
Advanced Use of the SIFT Workstation in investigations
Investigating the Advanced Persistent Threat (APT), Organized Crime Hackers, and Hackivists
Hacker/Breach investigations, intrusion analysis, and advanced investigative strategies
Advanced computer forensics methodology
In-depth Windows FAT and exFAT file system examination
In-depth Windows NTFS file system examination
Remote and complex forensic acquisition/analysis tactics
Advanced memory acquisition and analysis
Live response and volatile evidence collection
System restore points and Volume Shadow Copy Exploitation
File System Timeline Analysis
Super Timeline Analysis
File system and data layer examination
Metadata and file name layer examination
File sorting and hash comparisons
Advanced file recovery
Discovering unknown malware on a host
Recovering key Windows files
Indicators of compromise development and usage
Step-by-Step methodologies to investigate intrusion cases
Course Syllabus
Additional Information
!! BRING YOUR OWN LAPTOP CONFIGURED USING THESE DIRECTIONS!!
A properly configured computer system is required for each student participating in this course. Before coming to class, download the forensic installation document that will describe the steps in detail to follow to complete the installation. If you do not carefully read and follow these instructions exactly, you are guaranteed to leave the course unsatisfied since you will not be able to accomplish many of the in-class exercises.
You will use VMware with preconfigured virtual forensic workstations that will enable you to perform hands-on analysis during class. You must download and install VMware Workstation 7, VMware Fusion 4.0, or VMware Player 4.0 or higher versions on your system prior to class beginning. If you do not own a licensed copy of VMware Workstation or Fusion, you can download a free 30-day trial copy from VMware. VMware will send you a time-limited serial number if you register for the trial at their Web site. VMware Player is a free download.
Due to the hard drive space and processing requirements for the lab exercises, students should bring a laptop meeting the mandatory laptop requirements listed below in order to get the most of the course.
Download and Read FOR508 Install Guide
MANDATORY LAPTOP REQUIREMENTS:
MAC or PC
We recommend that you run MS Windows natively
If MAC, running Windows running via Boot Camp mode is preferred for best results for processing intrusion data during class
CPU: 64bit based 2.0 GHz or higher CPU is required (Multi-Core recommended)
4 Gigabyte of RAM minimum (More RAM is highly recommended)
DVD/CD Combo Drive
2 USB Ports (optional - bring USB Port Replicator)
100 Gigabytes of free space on your Host System Hard Drive
Free space on your host hard drive is critical
INSTALL THE FOLLOWING:
VMware Workstation 7, VMware Fusion 4.0, or VMware Player 4.0 or higher versions
Bring pre-configured Windows OS Virtual Machine
If you attended FOR408 please bring your copy of the FOR408 - Windows SIFT Workstation Virtual Machine
OR create a new Windows OS Virtual Machine Workstation
Install the following on your host Windows machine
Install MS Office 2010 (Demo Version for 60 Day Free Trial - You need EXCEL 2007 or higher for this class - No exceptions)
If you have additional questions about the laptop specifications, please contact laptop_prep@sans.org.
Incident Response Team Members who are responding to complex security incidents/intrusions from sophisticated adversaries and need to know what to really do when examining a compromised system in an enterprise.
Experienced Digital Forensic Analysts who want to solidify and expand their understanding of file system forensics, advanced intrusion investigations, and incident response tactics.
Law Enforcement Officers, Federal Agents, or Detectives who want to master advanced computer forensics and expand their investigative skill set to include data breach investigations, intrusion cases, and tech-savvy users.
Media Exploitation Analysts who need to master Tactical Exploitation and Document and Media Exploitation (DOMEX) operations on systems used by advanced adversaries. Learn how to recover data left behind by anti-forensic and obfuscation techniques, within the compressed timeframes inherent in tactical analysis.
Red Team Members, Penetration Testers, and Exploit Developers who want to learn how their opponents can identify their actions and learn to avoid common mistakes that can compromise operations on remote systems. This course covers remote system forensics and data collection techniques that can be easily integrated into post-exploit operating procedures and exploit testing batteries.
Information Security Professionals with some background in hacker exploits, penetration testing, and incident response.
Students should consider attending FOR408: Computer Forensic Investigations - Windows In-Depth prior to taking this course. A good assessment of the desired knowledge suggested for FOR508 can be found in the FOR408 Assessment Test. A score of 70% or higher on the FOR408 Assessment Test represents the ideal knowledge base recommended for FOR508.
Free SANS Investigative Forensic Toolkit (SIFT) Advanced
As a part of this course you will receive the SANS Investigative Forensic Toolkit (SIFT) Advanced.
The SIFT Advanced Toolkit consists of:
SIFT Workstation Virtual Machine used with many of the class hands-on exercises
TACTICAL enables investigators to access physical drives and physical memory of a remote computer via the network
Gives any forensic tool the capability to be used across the enterprise
The SIFT Workstation is pre-configured to leverage F-Response enterprise capabilities
Perfect for intrusion investigations and data breach incident response situations
Best-selling book "File System Forensic Analysis" by Brian Carrier
Course DVD loaded with case examples, tools, and documentation
Author Statement
Author Statement
"There are people smarter than you; they have more resources than you, and they are coming for you. Good luck with that." Matt Olney said this when describing the Advanced Persistent Threat and advanced adversaries. He was not joking. The results over the past several years clearly indicate that hackers employed by nation states and organized crime are racking up success after success. The Advanced Persistent Threat (APT) has compromised hundreds of organizations. Organized crime utilizing botnets are exploiting ACH fraud daily. Similar groups are penetrating banks and merchants stealing credit card data daily and data breaches and hacks in their annual stockholders reports.
The enemy is getting better, bolder, and their success rate is impressive.
We can stop them. We need to field more sophisticated incident responders and digital forensic investigators. We need lethal digital forensic experts that can detect and eradicate advanced threats immediately. A properly trained incident responder could be the only defense your organization has left during a compromise. Forensics 508: ADVANCED COMPUTER FORENSIC ANALYSIS AND INCIDENT RESPONSE is crucial training for you to become a lethal forensicator to step up to these advanced threats. The enemy is good. We are better. This course will help you become one of the best.
- Rob Lee