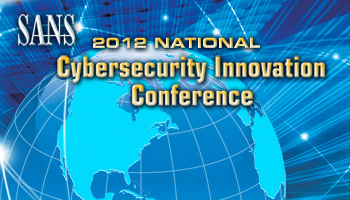 Welcome to NCIC & Awards 2012
2 courses
1 instructors
1 disciplines
October 3rd, 4th & 5th Baltimore Maryland
NCIC Venue

The Baltimore Convention Center
1 West Pratt Street
Baltimore, MD 21201
(410) 649-7000
http://www.bccenter.org/
Available Hotels:
Hyatt Regency Baltimore on the Inner Harbor - reservations available until 5pm Friday, September 14, 2012
Reservations: https://resweb.passkey.com/go/san1 or Call 1-888-421-1442
Baltimore Marriott Inner Harbor at Camden Yards - reservations available until 5pm Friday, September 14, 2012
Reservations: Baltimore Marriott Inner Harbor at Camden Yards or Call 1-800-228-9290 or 1-410-962-0202

October 6th & 7th Baltimore Maryland

Post NCIC Courses

Baltimore Marriott Inner Harbor at Camden Yards
110 South Eutaw Street
Baltimore, MD 21201
1-410-962-0202
http://www.marriott.com/
The 3rd Annual National Cybersecurity Innovation Conference & Awards will take place October 3 - 5, 2012 in Baltimore, MD, with post-conference training courses scheduled for October 6-7, 2012.
The 9 reasons nearly all the federal CISOs and CIOs are sending teams to the National Cybersecurity Innovation Conference (NCIC) and why security integrators and vendors view NCIC as the one program where they can find out what will happen next in federal cybersecurity and how broad international government consensus on the 20 Critical Controls is changing the way cybersecurity is acquired and deployed are listed below.
Here are just a few of the key policy changes and innovations they will learn about:
1. The Senior Federal Executive Panel: The Near Term Future of Federal Cybersecurity Strategy
Federal CIOs and White House cyber officials provide insight into the near term future for FISMA , continuous monitoring and mitigation, minimum standards of due care, NSTIC, NIST guidance and the 20 Critical Controls
2. Blocking Advanced Persistent Threat Techniques: The Breakthrough TTP (Tactics, Techniques, and Procedures) for
Only one national government has found and implemented techniques that actually block both intrusion vectors exploited in nearly all targeted intrusions nicknamed APT. Cybersecurity executives from the lead agency that proved it worked at scale are coming to the US exclusively to speak at the NCIC and accept the 2012 US National Cybersecurity Innovation Award. They have also agreed to conduct an in-depth Q&A workshop so you can get the answers you need to replicate and build on their success.
3. Tony Sager on the New International Governance Consortium for the 20 Critical Controls
Recently retired NSA guru, Tony Sager will introduce you to the public private, international consortium that has taken over responsibility for ensuring the 20 Critical Controls are constantly up-to date with the changing cybersecurity threat picture.
4. Using the 20 Critical Controls in Security Architecture (at a Large Institution)
As the governments of the U.S., U.K., Australia and other allies achieve consensus on the most critical controls, security architects around the world are working diligently to ensure that these controls are built into systems when they are designed and delivered rather than trying to bolt them on. In this session the award-winning team that first showed how to build advanced security architectures using the 20 Critical Controls will show what they did and the lessons they learned along the way,
5. Who Discovered Low Cost Implementation Techniques for Continuous Monitoring and Mitigation
Two agencies have demonstrated that the extraordinary success of automated continuous monitoring and mitigation first proven at the U.S. Department of State can also be gained quickly and inexpensively in smaller organizations. They will show you the tools and techniques - some quite innovative - that they used.
6. How NSA's Non-Persistent Desktop Browsing Effectively Addresses The Rapidly Increasing Security Threat Stemming From Malicious Software
This previously hypothetical approach now has been shown to actually work to stop nation states, cybercrime, and rogue actors, from socially engineering people browsing the Internet to attack and penetrate systems. This is a first line of defense to stop the exfiltration of valuable information for profit or espionage.
7. How the Leading System Integrators are Making the 20 Critical Controls a Centerpiece of Their Cybersecurity Services
Two of the largest federal system integrators have found that the 20 Critical Controls are a good package to illuminate their cybersecurity capabilities. In this session they'll show you how they did that and discuss the impact it is having.
8. Which Security Tools Are Being Effectively Used in Automating the 20 Critical Controls
A series of panels will enable you to find the vendors with the right tools through user case studies where their tools are being used effectively in automating the 20 Critical Controls.
9. The Fall 2012 Updated Cybersecurity Threat Briefing
How have the attacks changed? What are the newest techniques? A fascinating peek inside the attackers' changing toolbox.
Co-located Keynotes and Expanded Expo Hall will Feature Leaders in Cybersecurity and Latest Technologies
The National Cybersecurity Innovation Conference will be co-located with top technology conferences to bring together the leading innovators and executives who are leading the charge, security solution/service providers and agency practitioners. These key players are on the front lines protecting our national cyber infrastructure, and the vendors and integrators who are building the innovative solutions that enable effective security.
The 8th Annual IT Security Automation Conference is the premier meeting of government and industry leaders shaping the future of security automation and continuous monitoring. This 3-day event will include tutorials, conference proceedings, workshops, opportunities to network and exchange ideas with your peers in the federal government and private industry sectors, and an exhibit hall that will offer a chance for the vendors of SCAP compliant tools to demonstrate how their technology meets the standards for developers, integrators and end-users.
Register here - https://itsac.g2planet.com/itsac2012/
The Trusted Computing Group Workshop and Demonstration offers demonstrated evidence that the TCG and its members provide industry accepted security solutions to any platform. Attendees learn how to use a hardware root of trust as an anchor for data leak and malware prevention; platform integrity; device and user identity; and network access.
The Solutions Track will be open to all attendees. Sessions will be hosted by sponsoring solution providers in the federal (and related) space and will highlight customers' innovative uses of technology in solving critical, security-related issues. The track will also explore emerging security trends and technology direction in response to these threats. The moderated panel format will encourage open dialog and Q&A among audience members, panelists and vendors.