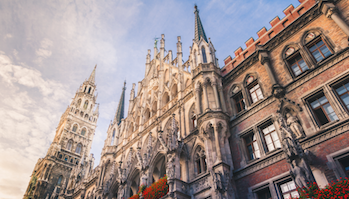 Welcome to Munich Winter 2017
5 courses
5 instructors
2 disciplines
Cyber Security Training In Munich 2017
SANS Munich Winter 2017 takes place on the 13th to the 18th of February and offers five courses from across SANS' Pen Test, Digital Forensics and Incident Response, and Cyber Defence Curricula.
Prepare for GSEC, GMOB, GCFE, GMON or GNFA Certification.
All courses are led by SANS' renowned expert instructors, providing the opportunity to learn new skills and techniques.
Training takes place in a classroom-like environment and is led by a SANS Instructor.
Training takes place at the Munich Marriott Hotel on Berliner Strasse.
Instructors teaching at SANS Munich Winter 2017
The following Instructors are leading training at this event:
Philip Hagen - Philip began his security career in the US Air Force Academy, has worked in IT security since 1998 and is FOR572's co-author.
Tim Medin - Tim is a senior technical analyst at Counter Hack, a company that develops information security challenges for education, evaluation, and competition. He contributes regularly to the SANS Penetration Testing Blog.
Bryan Simon - Bryan is an internationally recognised expert in cybersecurity and has been working in the information technology and security field since 1991. He has received recognition for his work in I.T. Security, and was most recently profiled by McAfee (part of Intel Security) as an I.T. Hero.
Mike Pilkington - Mike has been an instructor for the SANS Institute since 2008. He is currently a senior incident analyst at Shell dealing with malware and intrusion cases.
Paul A. Henry - Paul is a Senior Instructor with SANS and one of the world's foremost global information security and computer forensic experts with more than 30 years of experience covering all 10 domains of network security. Paul began his career in critical infrastructure / process control, supporting power generation and currently manages security initiatives and incident response for Global 2000 enterprises and government organisations worldwide.