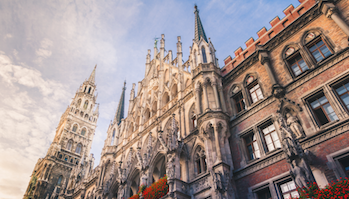 Welcome to Munich Winter 2016
5 courses
5 instructors
2 disciplines
SANS Munich runs from Monday 15th to Saturday 20th February at the Munich Marriott Hotel on Berliner Strasse and hosts 5 courses drawn from across the SANS curriculum. All classes run for 6 days with training being led by SANS Instructors.
Four of the courses have an associated GIAC certification and students can take advantage of a discounted rate for the certification attempt when registering online.
Attend SANS training in Munich, Germany and experience SANS' world-renowned cyber security training. Study in a classroom environment under the guidance of SANS Instructors and make the most of networking opportunities with fellow security professionals and SANS staff.
The demand for places at SANS Munich events is always high so please register online as soon as possible to secure a seat at SANS Munich Winter 2016.
Click on the links below for full course descriptions and reserve your place by clicking Register Now at the top right of the page.