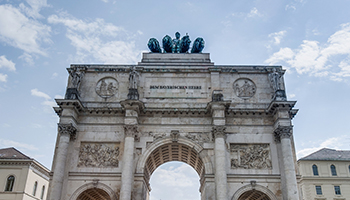 Welcome to Munich Summer 2017
5 courses
5 instructors
2 disciplines
Cyber Security Training in Munich 2017
SANS Munich 2017 takes place 10 - 15 July at the Munich Marriot Hotel.
Choose from 5 hands-on cyber security courses.
Prepare for: GSEC, GCED, GPEN and GICSP Certifications.
Take SANS Training in a classroom-like environment and under the supervision of a SANS Instructor.
The following SANS Instructors will be teaching courses at SANS Munich 2017:
Bryan Simon - Bryan is an internationally recognised expert in cybersecurity and has been working in the information technology and security field since 1991. Bryan's scholastic achievements have resulted in the honour of sitting as a current member of the Advisory Board for the SANS Institute, and his acceptance into the prestigious SANS Cyber Guardian program.
Erik Van Buggenhout - Erik is an instructor for the SANS SEC542 "Web Application Penetration Testing & Ethical Hacking" and SANS SEC560 "Network Penetration Testing & Ethical Hacking" courses. Next to his teaching activities for SANS, Erik is the head of technical security services at nViso. NViso is a Brussels-based IT security firm founded in early 2013.
Adrien de Beaupre - Adrien is a member of the SANS Internet Storm Centre and has worked with SANS since 2000. His expert experience includes technical instruction, vulnerability assessment, penetration testing, intrusion detection, incident response and forensic analysis.
Justin Searle - Justin is a Managing Partner of UtiliSec, specialising in Smart Grid security architecture design, and penetration testing. In addition to electric power industry conferences, Justin frequently presents at top international security conferences such as Black Hat, DEFCON, OWASP, Nullcon, and AusCERT
James Tarala - James is a principal consultant with Enclave Security and is based out of Venice, Florida. He is a regular speaker and senior instructor with the SANS Institute as well as a courseware author and editor for many SANS auditing and security courses.