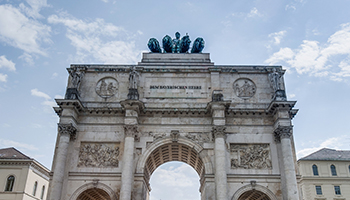 Welcome to Munich Autumn 2016
4 courses
4 instructors
2 disciplines
Cyber Security Training At Munich Autumn 2016
SANS Munich Autumn takes place on 24 - 29 October 2016, at the Munich Marriott Hotel.
Five IT security courses available.
Training takes place in a classroom like environment and is led by SANS Instructors.
Prepare for three GIAC Certifications: GSEC, GCIH and GMOB.
Subway, bus, and Lufthansa Airport Shuttle Bus provide regular links to Munich Airport.
Explore the nearby BMW museum.
Instructors Teaching At SANS Munich Autumn 2016
The following SANS Instructors are leading courses:
Steve Armstrong - Steve began his information security career in 1994 with the RAF and today provides specialist security advice to government departments and to the game, music and film industries.
Tim Garcia - Tim is an information security consultant for Wells Fargo and has extensive experience across systems engineering, compliance and management. Prior to Wells Fargo, Tim served in the military and worked for Intel.
Tim Medin - Tim is a senior technical analyst at Counter Hack, a company that develops information security challenges for education, evaluation, and competition. He contributes regularly to the SANS Penetration Testing Blog.
Raul Siles - Raul has over a decade's experience performing technical security services, and innovating offensive and defensive solutions. He is a GIAC Security Expert.
Jason Dely - Jason is an ICS security consultant for Cylance Inc. He has over 15 years of professional experience in ICS and Critical Infrastructure Security. He is a frequent speaker and holds several GIAC Certifications.
Prove Skills - Get Certified
GIAC is the leading developer and provider of cyber security certifications. GIAC tests practitioners' abilities and holders of GIAC Certifications are recognised as experts in the field of IT security.
Many SANS Training Courses align with GAIC Certifications. Courses taught at Munich Autumn 2016 align with: GSEC, GCIH and GMOB Certifications.
Students who purchase a GIAC Certification attempt and/or an associated OnDemand package with their course receive a discounted rate.