AirWatch
AirWatch is the leader in enterprise-grade mobility management and security solutions. Our highly scalable solution provides a real-time view of an entire fleet of corporate and employee-owned Apple iOS, Android, Windows, BlackBerry and Symbian devices. As the largest MDM provider, AirWatch offers the most comprehensive mobility management solution.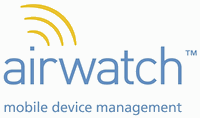 ---
Bonus Sessions
The following bonus sessions are open to all paid attendees at no additional cost. There are many different types of events that fall into these categories:
Special Events: SANS-hosted events and other non-technical recreational offerings. This category includes, but is not limited to, Receptions and Information Tables.
Lunch & Learn: Short presentations given during the lunch break.
Thursday, May 30
| Session | Speaker | Time | Type |
| --- | --- | --- | --- |
| Breakfast & Learn, Presented by Bradford Networks & AirWatch | Michael Killoran, VP Worldwide Sales, Bradford Networks; Rob McLeroy, Channel Manager, AirWatch | Thursday, May 30th, 7:45am - 8:45am | Special Events |
| Lunch & Learn , Presented by Cellebrite | Sonny Farinas, Director, Forensic Sales, Cellebrite USA; Lee Papathanasiou, Technical & Sales Engineer, Cellebrite USA | Thursday, May 30th, 12:30pm - 1:40pm | Lunch and Learn |
Friday, May 31
| Session | Speaker | Time | Type |
| --- | --- | --- | --- |
| Breakfast & Learn, Presented by SAP | Milja Gillespie, Director – Mobility Product Marketing, SAP; Alex Guitman, Head of Global IT Business Continuity, SAP; Tushar Patel, Director – Product Marketing, Mocana; Aaron Ingold, Association Manager – Mobility Development, NuVasive | Friday, May 31st, 7:45am - 8:45am | Special Events |
| Lunch & Learn , Presented by ForeScout & FiberLink | Scott Gordon, CISSP, Vice President, ForeScout and Clint Adams CISSP, Director of Mobile Technology Solutions, MaaS360 by Fiberlink | Friday, May 31st, 11:30am - 1:00pm | Lunch and Learn |