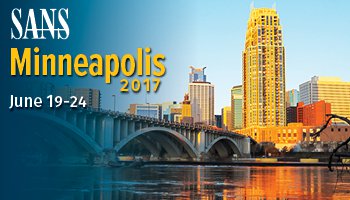 Information Security Training in Minneapolis
Choose from 8 hands-on information security courses aimed at all types of professionals
Participate in the NEW Core NetWars Experience 5.0
Attend the bonus session: Color My Logs: Understanding the Internet Storm Center with Johannes Ullrich, Ph.D.
Information Security Training in Minneapolis, MN
Get relevant, practical cybersecurity training at SANS Minneapolis 2017 (June 19-24). This event features the information needed to build crucial skills in protecting your organization from the latest cyber-attacks. Now is the time to enhance your skills and further your career.
"The subject matter is perfect for today's cybersecurity professionals, and SANS has world-class instructors!" - Gerard Roszak, ASCAP
Take advantage of these opportunities to get the most out of your training:
NEW Core NetWars 5.0! Be among the first to experience the new version premiering at SANS Minneapolis 2017 (FREE with any 4-6 Day SANS Course Registration).
Distinguish yourself as an information security leader by preparing for your GIAC Certification.
Network with like-minded security professionals facing similar challenges.
Attend evening bonus sessions led by SANS instructors and gain insight into the latest cybersecurity topics.
Extend your SANS course by four months with an OnDemand Bundle.
SANS instructors are industry professionals who will ensure you not only learn the material, but you will be able to apply what you learn your first day back in the office. Our outstanding course material and unparalleled instructors make SANS the best choice in IT security education. Register today!
Download the SANS Minneapolis 2017 event brochure for general information, course descriptions, instructor biographies, bonus sessions and more.
"SANS provides you with trainers who have real world experience. They are actively participating in investigations and providing up-to-date research on current trends." Leo Sanchez, Tetra Pak
To follow or tweet about this event, use hashtag #SANSMinneapolis. Follow SANS at http://twitter.com/SANSInstitute