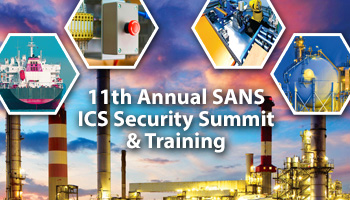 Welcome to ICS Security Summit
9 courses
9 instructors
3 disciplines
ICS Security Summit
Training Course Dates: Feb 16-21 Summit Dates: Feb 22-23
One of the most important developments in ICS security might have recently occurred. Recent local reports have surfaced of a cyber-attack against Ukrainian utilities resulting in a power outage. As a community we feel this incident represents a critical case-study. Attend the ICS Summit and learn what is known about this incident and what we should be doing to protect our systems!
Summit Details
Learn what qualifies as an attack, what does not, and get hands-on with the challenges and skills required to bridge the IT/OT gap and respond to threats at the ICS Security Summit. Industry leaders and in-the-field practitioners will share their experience covering a wide topic of ICS forensics, attack demos, industry trends, and more. Even in the face of determined adversaries the conference's theme of "Defense is Doable!" will showcase the best of the industry.
Why should you attend? Because you can't afford to miss these opportunities:
Training - Nine training classes to choose from.
Summit - Educational session tracks presented by the best minds in the field of SCADA security.
Networking - Opportunities to make connections in the industry with the most innovative minds in the industry.
Special Events!! - Exclusive Events for Summit attendees. Stay tuned for more information in the coming months.
Certification - Global Industrial Cyber Security Professional (GICSP) certification
Test Your Skills
Your chance to win prizes, fame, and bragging rights starts now! The 11th annual ICS Summit will challenge your knowledge for months prior to the event, and then immerse you in hands-on opportunities from the moment you arrive at the event to the very end when you find yourself face to face with the ICS wall! Just remember, participate early, participate often, tell your friends, build your teams, bring your tools, and have fun learning!
Interactive skill-building opportunities include:
KIPS
NetWars CyberCity
WOPR
ICS Wall
Special Offers for All Attendees!
This offer reduces the Summit registration fee from $2,195 to $1695 when purchased in conjunction with a
full price
4-6 day course a savings of $500! The discount is automatically applied when the Summit and a qualifying course are both selected during registration.
Note - Early bird course discounts do not apply with this bundle offer.