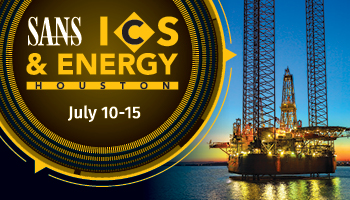 Welcome to ICS Security Training Houston 2017
4 courses
5 instructors
2 disciplines
Training Course Dates: Mon, Jul 10 - Sat, Jul 15, 2017
SANS ICS & Energy - Houston 2017 is the premier training event for ICS practitioners and managers looking to enhance their security knowledge and technical skills. SANS will offer four hands-on, immersion-style information security courses taught be real-world security practitioners.
Recent attacks on energy and utility systems convey a dire need for decision makers to take a closer look at the security of their systems and facilities. SANS ICS & Energy students will learn the latest methods, tools, and techniques for protecting their organizations from targeted attacks through world-class training, SANS@Night talks, and an ICS Security Vendor Briefing.
SANS ICS NetWars
Wednesday, July 12, 2017
ICS NetWars is a suite of hands-on, interactive learning scenarios that enable Operational Technology (OT) security professionals to develop and master the real-world, in-depth skills they need to defend real-time systems.
With the ICS NetWars Cookie Factory, we have maximized hands-on interaction in a factory environment. Participants will learn in a cyber range while working through various challenge levels. These challenges focus on mastering the skills they will need in their jobs every day.
ICS Security Vendor Briefing
Thursday, July 13, 2017
In conjunction with the ICS & Energy event, SANS is pleased to offer the 5th Annual ICS Security Briefing. This event provides the opportunity to engage in dialog around Industrial Control System Security and learn about key solution capabilities.
The Vendor Briefing will address a wide range of topics. Here's a few topics covered at the 2016 Briefing:
Ransomware in ICS/SCADA environments
Key ICS Security Survey findings
Cyber risk assessment and system design
Purdue Enterprise Reference Architecture (PERA) level 1 device protections
Industrial espionage
The ICS Threat Landscape