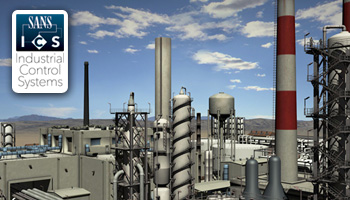 Welcome to ICS Security Training Houston 2015
6 courses
5 instructors
2 disciplines
SANS has joined forces with industry leaders and experts to strengthen the cybersecurity of Industrial Control Systems (ICS). The initiative is turning ICS cybersecurity around by equipping both security professionals and control system engineers with the security awareness, work-specific knowledge, and hands-on technical skills they need to secure automation and control system technology. Register now for these ICS skills based courses: Click here.
Why Is the ICS Initiative Important?
Tremendous gains are being achieved in industrial applications by sharing and analyzing data, but we need professionals who can address the security challenges
Preparation is critical because ICS incidents are occurring with increasing frequency and damaging systems
Control systems are widely deployed and need your attention - there is no such thing as a system that is too small
Up-to-date ICS knowledge and security skills can help keep our critical systems safe
Shared learning translates into results-effective security requires the integration of cybersecurity professionals, ICS support staff, and engineers
GIAC Global Industrial Control Systems Professional (GICSP)
The Global Industrial Cyber Security Professional Certification (GICSP) assesses a base level of knowledge and understanding across a diverse set of professionals who engineer or support control systems and share responsibility for the security of these environments. This certification will be leveraged across industries to ensure a minimum set of knowledge and capabilities that IT, engineer, and security professionals should know if they are in a role that could impact the cyber security of an ICS environment.
For a complete list of GICSP certification objectives, visit www.giac.org.
Industrial Control Systems Security Briefing
Date: June 2, 2015
In conjunction with the ICS - Houston training event, SANS is pleased to offer the 3rd Annual Industrial Control Systems Security Briefing. This event provides the opportunity to engage in dialog around Industrial Controls Systems Security and learn about key solution capabilities.
This event is free to Oil & Gas constituents as well as ICS -Houston training event students.
Agenda
4:00pm - 4:30pm:    

Registration & Networking

4:30pm - 4:45pm:    Opening Remarks                                 Derek Harp, SANS Director - ICS & SCADA
4:45pm - 5:15pm:    Keynote - Oil & Gas Cybersecurity Threats                                 Doug Wylie, Vice President, NexDefense
5:15pm - 6:00pm:    ICS/SCADA/IoT/IDK - Four Steps to Cybersecurity Clarity                                 Matt Luallen, Cybati
6:00pm - 6:15pm:    Networking Break
6:15pm - 7:00pm:    ICS Security Panel - ICS Defense Strategies for 2016:                                 Biggest Bang for your Buck!                                 Moderator:   Derek Harp, SANS Director - ICS & SCADA                                 Panelists:     Huyen Ermel - Palo Alto Networks                                                      Graham Speake, NexDefense                                                      Justin Searle, Utilisec                                                      Additional Panelists TBD
7:00pm - 7:30pm:    TBD
7:30pm - 7:40pm:    Closing Remarks                                Justin Searle, Managing Partner, UtiliSec
7:40pm - ??:            Networking Reception
Briefing Fee
This event is FREE to to Oil & Gas constituents as well as ICS -Houston training event students with Discount Code ICS-01. The fee is $50 for others.
(Note: To enable the Discount Code, enter ICS-01 in the Registration Discount Code block. Pick Check as Payment Method, then click Review Order. $0 fees will be reflected.)
The Industrial Control Systems Security Briefing is a vendor sponsored event. Your contact information will be shared with the sponsoring vendors.