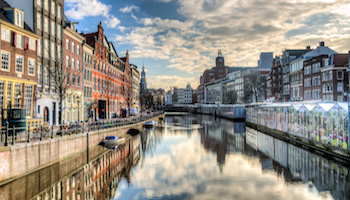 Welcome to ICS Amsterdam 2016
3 courses
3 instructors
2 disciplines
ICS Cyber Security Training In Amsterdam
SANS ICS Amsterdam 2016 takes place from 18th to 22nd April 2016.
** Registrations at SANS ICS Amsterdam are billed without VAT **
Take SANS' new course ICS515: ICS Active Defence and Incident Response.
Prepare for GICSP examination with SANS' course ICS410: ICS/SCADA Security Essentials
Managers and future leaders - take MGT514 IT Security Strategic Planning, Policy & Leadership
Learn in a classroom environment, under the guidance of SANS Instructors.
This event features networking opportunities and supplementary evening cyber security talks and sessions.
Training takes place at the Radisson Blu Hotel, Amsterdam.
See below for course line-up and click on the links for full course descriptions.
Instructors Teaching at SANS ICS Amsterdam
The following three SANS Instructors lead SANS ICS Amsterdam:
Rob M. Lee: Rob is the author of ICS515: Active Defence and Incident Response and leads the course in Amsterdam.
Frank Kim. Frank is the author of popular courseware across strategic planning, leadership, and application security. He is also SANS' CISO.
Justin Searle: Justin specialises in smart grid security, architecture design and penetration testing. He has led and contributed to many high level steering groups and projects within the field of smart grid security.
Prove Skills - Get Certified
GIAC Certification validates cyber security professionals' hands-on skills. Preparing for and achieving a GIAC Certification is a reliable means of ensuring skills are kept up-to-date and aligned with the current threat landscape.
At ICS Amsterdam, students can prepare for GICSP Certification by taking course ICS410. The examination attempt is available at a discounted rate when purchased with training.