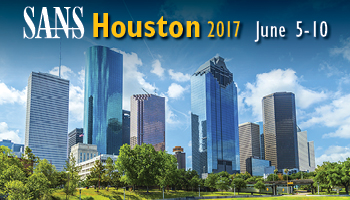 Information Security Training in Texas
8 hands-on information security courses taught by the industry's top instructors
Meet and network with like-minded security professionals facing similar challenges
Attend the bonus session: InfoSec Rock Star: Geek will only get you so far with Ted Demopoulos
Information security training in Houston from SANS Institute, the global leader in security training. At SANS Houston 2017, SANS offers hands-on, immersion-style security, security management, and pen testing training courses taught by real-world practitioners. The site of SANS Houston 2017, June 5-10, is Royal Sonesta Hotel Houston, located in the heart of the Galleria area of Uptown Houston! View the complete schedule.
SANS courses are proven to teach you the skills needed to prevent attacks and defend against breaches and attacks. Join us in Houston to learn about the tools and gain the skills that will help keep your organization's networks secure.
We have selected some of our top information security courses to provide you with the training and certification that you need to boost your career by learning from the best! SANS Instructors are industry professionals who will ensure that you not only learn the material, but that you will also be able to apply what you learn your first day back in the office.
Complete your SANS training experience with a GIAC certification attempt; put the skills you'll learn to practical use and join nearly 74,000 GIAC certified professionals who make the Cybersecurity industry safe. Earn your information security master's degree at SANS Technology Institute (STI). Take classes in Information Security Management (MSISM) or Engineering (MSISE). Apply today!
Here is what SANS alumni have had to say about their SANS conference training experience: "I never thought I could learn so much in such short time without feeling burned out. Great job making it engaging and interesting." - Jeff Eubanks, Mainstream Engineering Corp. "In the 5-6 days I have had at SANS, one thing has consistently impressed me: the caliber of presenters and instructors. They are excellent. This to me is one of the greatest strengths of SANS. Yes, the course content is good, but the instructors make a good course or class into an outstanding one." - Jean C., Navy