ICS Security Essentials
New
Thu, October 17, 2013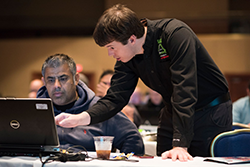 This course focuses on ICS security essentials that will equip both security professionals and control system engineers with the knowledge and skills they need to safeguard our critical infrastructures. While the full course is a 5-day format, SANS will be offering the unique audience of Electric sector cyber security practitioners a sneak peak at the course and specifically the one-day of the course that cyber security professionals do not often get to experience Course Day 2 ICS Attacks. This course day provides the student with an opportunity to learn ICS Attack vectors from the Applications, Control Servers, the network, and all the way out to the remote field devices with hands on labs. This sneak peak will also provide students the opportunity to hear an overview of the course topics covered in the full 5-day course.
Course Syllabus
Additional Information
ICS 410: Industrial Control System Security Essentials course consists of instruction and hands-on sessions. The lab sessions are designed to allow students to utilize the knowledge gained throughout the course in an instructor-led environment. Students will have the opportunity to install, configure, and use the tools and techniques that they have learned.
NOTE: Do not bring a regular production laptop for this class! When installing software, there is always a chance of breaking something else on the system. Students should assume that all data could be lost.
NOTE: It is critical that students have administrator access to the operating system and all security software installed. Changes may need to be made to personal firewalls and other host-based software in order for the labs to work.
Laptop with at least two USB ports (three ports preferred). If you only have two USB ports and they are right next to each other, you will need to bring a USB extension cable.
Latest VMware Player, VMware Workstation, VWware Fusion installed. Other virtualization software such as Parallels or VirtualBox will probably work if the attendee is familiar with its functionality; however VMware Player should be prepared as a backup just in case.
Ability to disable all security software on their laptop such as Antivirus and/or firewalls
At least twenty (20) GB of hard drive space
At least four (4) GB of RAM
If you have any questions, feel free to contact us.
If you have additional questions about the laptop specifications, please contact laptop_prep@sans.org.