FOR526: Memory Forensics In-Depth
Tue, October 8 - Sat, October 12, 2013
Great information that goes beyond other training

I got everything I needed from this course and Alissa [Torres] was a phenomenal instructor!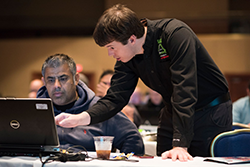 FOR526 - Memory Analysis In-Depth is a critical course for any serious investigator who wishes to tackle advanced forensic and incident response cases. Memory analysis is now a crucial skill for any investigator who is analyzing intrusions.
Malware can hide, but it must run -- The malware paradox is key to understanding that while intruders are becoming more advanced with anti-forensic tactics and techniques, it is impossible to hide their footprints completely from a skilled incident responder performing memory analysis. Learn how memory analysis works through learning about memory structures and context, memory analysis methods, and the current tools used to parse system ram.
Attackers will use anti-forensic techniques to hide their tracks. They use rootkits, file wiping, timestamp adjustments, privacy cleaners, and complex malware to hide in plain sight avoiding detection by standard host-based security measures. Every action that adversaries make will leave a trace; you merely need to know where to look. Memory analysis will give you the edge that you need in order to discover advanced adversaries in your network.
FOR526 - Memory Analysis In-Depth is one of the most advanced courses in the SANS Digital Forensics and Incident Response Curriculum. This cutting edge course covers everything you need to step through memory analysis like a pro.
Course Syllabus
Additional Information
!!IMPORTANT - BRING YOUR OWN SYSTEM CONFIGURED USING THESE DIRECTIONS!!
In the class, you will receive a DVD containing the Ubuntu SIFT Workstation Virtual Machine appliance with updates and evidence files that are specific to the FOR526 Windows Memory Analysis In-Depth class. It is essential that you have VMware installed on your system in order to utilize this VM appliance. Please download and install VMware Workstation 8.0, VMware Fusion 5.0 or VMware Player 5.0 or higher versions on your system prior to class beginning.
(If you do not own a licensed copy of VMware Workstation or Fusion, you can download a free 30-day trial copy from VMware. VMware will send you a time-limited serial number if you register for the trial at their Web site.) VMware Player is a free download that does not need a commercial license and is a viable option for this class.
MANDATORY LAPTOP HARDWARE REQUIREMENTS:
CPU: 2.0+ GHz or higher is recommended (Multi Core preferred)
RAM: 4 Gigabyte of RAM minimum (8GB or higher RAM is recommended to get the most out of the course)
Host Operating System: Any version of Windows or MAC OSX that also can install and run VMware virtualization products (VMware Workstation, VMware Fusion, or VMware Player)
Networking: Wireless 802.11 B/G/N networking capability
DVD/CD Combo drive
Hard Drive Space: ~60 Gigabytes of Free Space on your System Hard Drive (Note: The free space is needed for the SIFT Workstation VM and the evidence we will be adding to your system)
Local Admin: The student should have the capability to have Local Administrator Access within their host operating system
MANDATORY SYSTEM SOFTWARE REQUIREMENTS: (Please install the following prior to the beginning of the class):
√ʬ¬Ę Download and install VMware Workstation 8.0, VMware Fusion 5.0 or VMware Player 5.0 (higher versions are ok)
√ʬ¬Ę Download and install 7Zip
√ʬ¬Ę Bring a Virtual Machine image of Windows XP SP2/SP3 or Windows 7. (This will be used for memory acquisition techniques that are VM specific. In addition, we will be using some memory parsing tools that work solely on Windows. If obtaining a license for either version is not possible, see Lenny Zeltzer√ʬ¬s blog on converting the Windows XP Mode Virtual PC format to VMware.)
If you have additional questions about the laptop specifications, please contact laptop_prep@sans.org.
Incident Response Team Members
Law Enforcement Officers
Forensic Examiners
Malware Analysts
Information Technology Professionals
System Administrators
And anybody who plays a part in the acquisition, preservation, forensics, or analysis of Microsoft Windows computers
All attendees should have some experience with computer networks and computer forensics, as well as some command line experience.
Students should have strong command line skills.
This Course Prepares you to
Preserve and acquire the memory of Windows systems
Conduct brute-force searches for valuable artifacts such as full-content network data and encryption keys
Identify suspicious behavior on Windows system without any prior knowledge of its nature
Recover and investigate programs and drivers to determine their true nature
Begin a detailed analysis of what the machine was truly doing
SANS SIFT Workstation
Course DVD: Loaded with case examples, tools, and documentation
Utilize stream-based data parsing tools to extract AES-encryption keys from a physical memory im- age to aid in the decryption of encryption files & volumes such as TrueCrypt & BitLocker
Gain insight into the current network activity of the host system by retrieving network packets from a physical memory image and examining with a net- work packet analyzer
Inspect a Windows crash dump to discern processes, process objects and current system state at the time of crash through use of various debugging tools such as kd, WinDBG, and livekd
Conduct Live System Memory Analysis with the powerful SysInternal√ʬ¬s tool, Process Explorer, to collect real-time data on running processes allowing for rapid triage
Use the SIFT workstation and in-depth knowledge of PE File modules in physical memory, extract and analyze packed and non-packed PE binaries from memory and compare them to their known disk- bound files.
Discover key features from memory such as the BIOS keyboard buffer, Kernel Debugging Data Block (KDBG), Executive Process (EPROCESS) structures, and handles based on signature and offset search- ing, gaining a deeper understanding of the inner workings of popular memory analysis tools.
Analyze memory structures using high-level and low-level techniques to reveal hidden and terminated processes and extract processes, drivers, and memory sections for further analysis
Use a variety of means to capture memory images in the field, explaining the advantages and limitations of each method
"In our field the recovery of encryption keys is vital and this class not only showed us what was there, but also how to recover them. Additionally it taught me how to track down malware and what effects it was having upon the system and other user data that was capable of being recovered." - Barry Friedman, NY State Police
"It is entirely possible that key evidence, and perhaps, the only evidence on a system, is resident in memory. This class will really help you develop your memory kung fu." - Anonymous
"This class was important to help us fine tune our policies on live memory capture. It introduced some tools and what they're capable of. It's an in depth course that takes you from A to way past Z." - Barry Friedman, NY State Police√ʬ¬Ę
PRESS ARTICLES ABOUT THE FOR526 Windows Memory Forensics In-Depth COURSE:
NetworkWorld √ʬ¬ New course teaches techniques for detecting the most sophisticated malware in RAM only
Security Bistro - New Training From SANS Institute: How To Discover If Malware Is Running In RAM Only On Your Systems
Author Statement
A forensic examiner is defined by their understanding of the technologies they work with. Somebody who understands what is happening under the hood will have an inherent advantage over somebody who does not. Peeking at the underlying data, poking at them manually, and coming to understand what they represent, is what this course is all about. Afterward, there are tools and methods which can automate many of these processes. But the results of those methods are useless if the examiner doesn't understand what they represent. This class will encourage you to try things out and ask questions. The classroom environment is for learning. If you get everything right the first time, you haven't learned anything! Here you will learn by doing, not listening. Memory analysis is the latest frontier in our field and presents opportunities we have not seen in some time. Taking this class is a great way to get started in this exciting new domain. The technologies involved will unlock some valuable doors. We haven't reached the limits of memory analysis by a long shot. In the near future there will be more advanced techniques and available data. It's important to build a strong foundation now!
-- Jesse Kornblum, Kyrus