FOR585: Advanced Smartphone Forensics
Beta
Mon, January 13 - Sat, January 18, 2014
This is the most advanced mobile device training that I know of and is greatly needed. It is currently the only course being taught at this level!

I finally know what I have been missing! I did not know I was ignorant.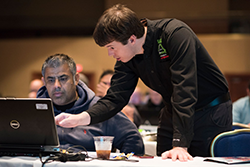 It is rare to conduct a digital forensic investigation that does not include a smartphone or mobile device. Often, the smartphone may be the only source of digital evidence tracing an individual's movements and motives and may provide access to the who, what, when, where, why, and how behind a case. FOR585 teaches real-life, hands-on skills that enable digital forensic examiners, law enforcement officers, and information security professionals to handle investigations involving even the most complex smartphones available today.
FOR585: Advanced Smartphone Forensics focuses on smartphones as sources of evidence, providing the necessary skills to handle mobile devices in a forensically sound manner, understand the different technologies, discover malware, and analyze the results for use in digital investigations by diving deeper into the file systems of each smartphone. Students will be able to obtain actionable intelligence and recover and analyze data that commercial tools often miss for use in internal investigations, criminal and civil litigation, and security breach cases. FOR585, originally conceptualized by Eoghan Casey, Heather Mahalik and Terrance Maguire, addresses today's smartphone technologies and threats by studying real-life investigative scenarios. DonâÂÂt miss the NEW FOR585!
The hands-on exercises in this class cover the best tools currently available to conduct smartphone and mobile device forensics, and provide detailed instructions on how to manually decode data tools sometimes overlook. The course will prepare you to recover and reconstruct events relating to illegal or unauthorized activities, determine if a smartphone has been compromised with malware or spyware, and provide your organization the capability to use evidence from smartphones. This intensive six-day course will take your mobile device forensics knowledge and abilities to the next level. Smartphone technologies are new and the data formats are unfamiliar to most forensic professionals. ItâÂÂs time to get smarter!
FOR585 Will Teach You About:
Smartphone Capabilities: Determine the who, what, when, where, why, and how! Who used a smartphone? What did the user do on a smartphone? Where was the smartphone located at key times? What online activities did the user conduct using a smartphone?
Recovering Deleted Data: Use manual decoding techniques to recover deleted data stored on smartphones and mobile devices.
Detecting Data Stored in Third-Party Applications: Who did the user communicate with using a smartphone and why are these activities sometimes hidden?
Detecting Malware: How to detect smartphones compromised by malware using forensic methods.
Course Topics Include:
Forensic analysis of smartphones and their components
Android devices
iOS devices
Blackberry devices
Windows Phone/Mobile
Nokia (Symbian) devices
Chinese Knock-off Devices
SIM Cards
SD Cards
Deep-dive forensic examination of smartphone file systems and data structures
Recovering deleted information from smartphones
Examining SQLite databases in-depth
Finding traces of user activities on smartphones
Recovering data from third-party applications
Tracing user online activities on smartphones (e.g., messaging and social networking)
Examining event logs
Manual decoding to recover missing data or to verify results
Identification of malware and spyware on smartphones
Determining if malware or spyware exist
Handling isolating the malware
Determining what has been compromised
In-depth usage and capabilities of the best smartphone forensic tools
Data carving
Conducting physical and logical keyword searches
Conducting timeline generation and link analysis using information from smartphones
Reporting
Plotting geolocation information from smartphones and GPS devices
Handling locked devices
Extracting evidence from locked smartphones
Decrypting backups of smartphones
Accessing locked SIM cards
Incident response considerations on smartphones
Notice:
This course does not qualify for any additional discounts as it is being offered at a special beta rate in exchange for your feedback.
Course Syllabus
Additional Information
!!IMPORTANT - BRING YOUR OWN SYSTEM CONFIGURED USING THESE DIRECTIONS!!
A properly configured 64-bit system is required for each student participating in this course. Before coming to class, carefully read and follow these instructions exactly.
You can use any version 64-bit version of Windows, MAC OSX, or Linux as your core operating system that also can install and run VMware virtualization products.
It is critical that your CPU and operating system support 64-bit so that our 64-bit guest virtual machine will run on your laptop. VMware provides a free tool for Windows and Linux that will detect whether or not your host supports 64-bit guest virtual machines. For further troubleshooting, this article also provides good instructions for Windows users to determine more about the CPU and OS capabilities. For Macs, please use this support page from Apple to determine 64-bit capability.
Please download and install VMware Workstation 10.0 or VMware Fusion 6.0 or VMware Player 6.0 on your system prior to beginning the class. (Note: This is required to prevent issues with USB 3.0 ports.) If you do not own a licensed copy of VMware Workstation or Fusion, you can download a free 30-day trial copy from VMware. VMware will send you a time-limited serial number if you register for the trial at their website.
MANDATORY FOR585 SYSTEM HARDWARE REQUIREMENTS:
CPU: 64-bit Intelî x64 2.0+ GHz processor or higher-based system is mandatory for this class (Important - Please Read: a 64 bit system processor is mandatory)
Wireless 802.11 B/G/N Networking Capability
8 gigabyte of RAM minimum (More RAM is recommended due to virtual machine requirements)
100 Gigabytes of free space on your system hard drive
USB 2.0 port(s) or higher
The student should have the capability to have Local Administrator Access within their host operating system.
MANDATORY FOR585 SYSTEM SOFTWARE REQUIREMENTS:
Install the following on your host Windows machine (If MAC/Linux host, install inside Windows VM):
Install MS Office 2010 (Demo Version for 60 Day Free Trial - You need EXCEL 2007 or higher for this class - No exceptions)
Install VMware Workstation 10, VMware Fusion 6.0 or VMware Player 6.0 (higher versions are ok)
Download and install 7Zip
IN SUMMARY, BEFORE YOU BEGIN THIS COUSRE YOU SHOULD:
Bring the proper system hardware (64bit/8GB RAM) and operating system configuration
Install VMware (Workstation, Player or Fusion), MS Office and 7Zip
If you have additional questions about the laptop specifications, please contact laptop_prep@sans.org.
FOR585 â Advanced Smartphone and Mobile Device Forensics is designed for students who are both new to and experienced with mobile device forensics. The course provides the core knowledge and hands-on skills that a Digital Forensic Investigator needs to process smartphones and other mobile devices. The course is a must for:
Experienced Digital Forensic Analysts who want to extend their knowledge and experience to forensic analysis of mobile devices, especially smartphones.
Media Exploitation Analysts who need to master Tactical Exploitation or Document and Media Exploitation (DOMEX) operations on smartphones and mobile devices by learning how individuals used their smartphones, who they communicated with, and files they accessed.
Information Security Professionals who respond to data breach incidents and intrusions.
Incident Response Teams tasked with identifying the role that smartphones played in a breach.
Law Enforcement Officers, Federal Agents, or Detectives who want to master smartphone forensics and expand their investigative skills beyond traditional host-based digital forensics.
IT Auditors who want to learn how smartphones can expose sensitive information.
SANS SEC575, FOR563, FOR408 and FOR508 Graduates looking to take their skills to the next level.
FOR585 Advanced Smartphone and Mobile Device Forensics has something to offer everyone. While FOR408 is not required prior to taking this course, a basic understanding of digital forensic file structures will help the student grasp topics that are more advanced. FOR585 covers advanced topics that should enhance all skill sets of those in and interested in digital forensics.
SIFT Workstation â Smartphone Version Windows Virtual Machine used with all class hands-on exercises. The workstation is used to teach digital forensic examiners and incident responders how to examine and investigate information on smartphones. SIFT contains free and open source tools, easily matching any modern forensic tool suite.
Windows 8 Standard License
Oxygen Forensic Educational License
Microsystemation XRY Demo License
Cellebrite Physical Analyzer Demo License
Course USB loaded with case examples, exercises, and documentation
FOR585 will prepare you to:
Extract and use information from smartphones and mobile devices, including Android, iOS, Blackberry, Windows Phone, Symbian and Chinese knock-off devices
Understand how to detect hidden malware and spyware on smartphones and extract information related to security breaches, cyber espionage, and advanced threats involving smartphones
Prevent loss or destruction of valuable data on smartphones by learning proper handling of these devices
Learn a variety of acquisition methods for smartphones with an understanding of the advantages and limitations of each acquisition approach
Interpret file systems on smartphones and locate information that is not generally accessible to users
Recover artifacts of user activities from third-party applications on smartphones
Recover location-based and GPS information from smartphones
Perform advanced forensic examinations of data structures on smartphones by diving deeper into underlying data structures that many tools do not interpret
Analyze SQLite databases and raw data dumps from smartphones to recover deleted information
Perform advanced data-carving techniques on smartphones to validate results and extract missing or deleted data
Reconstruct events surrounding a crime using information from smartphones, including timeline development and link analysis (who communicated with whom, locations at particular times)
Decrypt locked backup file and bypass smartphone locks
Apply the knowledge you acquire during the six days to conduct a full-day smartphone capstone event involving multiple devices and modeled after real-world smartphone investigations
"The topics covered in the course can be considered advanced but are also very practical. Topics such as parsing and searching devices not supported by commercial tools and digging in hex for deleted artifacts are extremely important and not incredibly intuitive to try to learn through trial and error. The labs are all incredible and the âÂÂanswersâ sections at the back of each lab are perfect. ItâÂÂs another testament as to how meticulous, knowledgeable and detail-oriented the course â and its designers â are."
Author Statement
âÂÂDigital forensic investigations usually involve a smartphone or mobile device. Often, the smartphone is the only form of digital evidence relating to the investigation. Knowing how to recover all of the data residing on the smartphone is now an expectation in our field and examiners must understand the fundamentals of smartphone handling, data recovery, accessing locked devices, and manually recovering data hiding in the background on the device. FOR585: Advanced Smartphone and Mobile Device Forensics provides the required knowledge to beginners in mobile device forensics and mobile device experts. This course has something to offer everyone!â -Heather Mahalik
âÂÂOne thing is clear no matter whether you work in law enforcement or the private sector: the importance of evidence obtained from smartphones and other mobile devices has become crucial to all kinds of investigations. Solid foundational knowledge, skills, and techniques in mobile device forensics are no longer optional. Developed by passionate practitioners with a high level of experience in the field, FOR585: Advanced Smartphone and Mobile Device Forensics provides those elements you need to succeed in your investigations and thrive in the rapidly changing mobile device forensics environment.â -Cindy Murphy
âÂÂEighty-five percent of the world's population today has a mobile phone. In the U.S. alone, almost half of these devices are smart phones. The tools and techniques for acquiring and analyzing these devices are changing every day. As the handsets become more sophisticated in the storage and obfuscation of personal user data, the tools and practitioners are in a race to uncover data related to investigations. The concepts covered in FOR585: Advanced Smartphone and Mobile Device Forensics will not only highlight some of the best tools available for acquiring and analyzing the smart devices on the market today, they will also provide examiners with best practices and techniques for delving deeper into smart devices as new applications and challenges arise. FOR585 keeps students ahead of the curve!â -Domenica Crognale
Listen to Heather discuss "Bypassing Locked Smartphones - Are you really locked out? " in this SANS webcast that every DFIR professional should listen to.