FOR526: Memory Forensics In-Depth
Sold Out
Mon, August 27 - Fri, August 31, 2012
Alissa brings memory dumps back to life.

This training opened my eyes for the need to collect memory images, as well as physical images for single computer analysis, such as theft of IP or other employee investigations.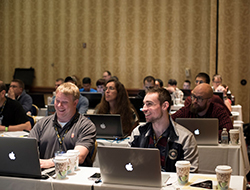 FOR526 - Memory Analysis In-Depth is a critical course for any serious investigator who wishes to tackle advanced forensic and incident response cases. Memory analysis is now a crucial skill for any investigator who is analyzing intrusions.
Malware can hide, but it must run -- The malware paradox is key to understanding that while intruders are becoming more advanced with anti-forensic tactics and techniques, it is impossible to hide their footprints completely from a skilled incident responder performing memory analysis. Learn how memory analysis works through learning about memory structures and context, memory analysis methods, and the current tools used to parse system ram.
Attackers will use anti-forensic techniques to hide their tracks. They use rootkits, file wiping, timestamp adjustments, privacy cleaners, and complex malware to hide in plain sight avoiding detection by standard host-based security measures. Every action that adversaries make will leave a trace; you merely need to know where to look. Memory analysis will give you the edge that you need in order to discover advanced adversaries in your network.
FOR526 - Memory Analysis In-Depth is one of the most advanced courses in the SANS Digital Forensics and Incident Response Curriculum. This cutting edge course covers everything you need to step through memory analysis like a pro.
Course Syllabus
Additional Information
Mandatory Laptop software requirements:
Mandatory Laptop hardware requirements:
CPU: 2.0 GHz or higher is recommended (Multi Core preferred)
DVD/CD Combo drive
Wireless 802.11 B/G/N networking capability
2 Gigabyte of RAM minimum (4GB or higher RAM is recommended)
40 Gigabytes of free space on your laptop hard drive
The student should have the capability to have Local Administrator Access within their host operating system
Install the following items:
If you have additional questions about the laptop specifications, please contact laptop_prep@sans.org.
SANS SIFT Workstation
Course DVD: Loaded with case examples, tools, and documentation
Author Statement
A forensic examiner is defined by their understanding of the technologies they work with. Somebody who understands what is happening under the hood will have an inherent advantage over somebody who does not. Peeking at the underlying data, poking at them manually, and coming to understand what they represent, is what this course is all about. Afterward, there are tools and methods which can automate many of these processes. But the results of those methods are useless if the examiner doesn't understand what they represent. This class will encourage you to try things out and ask questions. The classroom environment is for learning. If you get everything right the first time, you haven't learned anything! Here you will learn by doing, not listening. Memory analysis is the latest frontier in our field and presents opportunities we have not seen in some time. Taking this class is a great way to get started in this exciting new domain. The technologies involved will unlock some valuable doors. We haven't reached the limits of memory analysis by a long shot. In the near future there will be more advanced techniques and available data. It's important to build a strong foundation now!
-- Jesse Kornblum, Kyrus