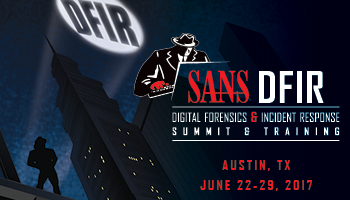 Welcome to DFIR Summit & Training 2017
Two days of in-depth digital forensics and incident response talks
Nine hands-on SANS DFIR courses
DFIR NetWars Tournament and networking events
Opening Summit Keynote by Fred Kaplan, author of Dark Territory: The Secret History of Cyber War.
Save 400 USD when purchasing the Summit & a 4-6 day SANS course. Discount automatically applied at registration.
Or Save 400 USD off any 4-6 day course or save up to 200 USD off the Summit. Enter code "EarlyBird17" & pay by May 10 (offers cannot be combined)

Digital Forensics Summit 2017, Austin, Texas
Summit Co-Chairs: Rob Lee and Phil Hagen CPE Credits: 16 Summit Dates: June 22-23, 2017
Training Course Dates: June 24-29, 2017

The 10th annual SANS Digital Forensics & Incident Response (DFIR) Summit is the most comprehensive DFIR event of the year, bringing together the most influential group of experts, the highest quality training, and the greatest industry networking opportunities in one place. Over the course of this eight-day training event, you'll enjoy:
Highly technical digital forensics and incident response presentations from the industry's top practitioners during the two-day Summit
Nine SANS DFIR courses to choose from to advance your training, build your arsenal of defenses, and learn how to better protect your organization
The opportunity to network with fellow attendees at receptions and community-building events
A DFIR NetWars tournament to sharpen your skills and solve incident-related challenges
Who Should Attend:
All levels of digital forensics and incident response professionals are welcome! Whether you're just starting your career, or are a seasoned forensicator, you will come away from the Summit with a new set of tools and methods to overcome your greatest professional challenges.
Why You Should Attend:
Every year, professionals from around the world attend the SANS DFIR Summit to learn how to overcome their latest obstacles, share methods and strategies proven effective in their investigations, and learn from the top DFIR practitioners in the industry.
You'll also have the opportunity to network with other like-minded DFIR professionals at our community-building events, which are the perfect way to connect in a more casual setting and cultivate relationships--all while having fun!
If you work in digital forensics and/or incident response, the SANS DFIR Summit is a must. Don't miss your opportunity to attend!
2016 DFIR Summit Talk: You Don't Know Jack About .bash_history Hal Pomeranz, Principal, Deer Run Associates; Fellow, SANS Institute
What Attendees Say About Their Summit Experiences:
Attendees tell us one of the greatest takeaways from this Summit is the many industry connections they forge or deepen during their time with us. "The Summit was awesome. Had tons of very relevant topics and information that I could take back to my office."-Bart Sims, Devon Energy "This is a meeting of the greatest minds in DFIR. I was so impressed with the supportive community and feel I have made long-lasting friends plus fellow security partners." - Pete Hainlen, Mayo Clinic
Digital Forensics Summit Advisory Board
The Digital Forensics Summit Advisory Board evaluates proposed talks, mentors selected speakers, and works to develop an agenda that delivers actionable content.