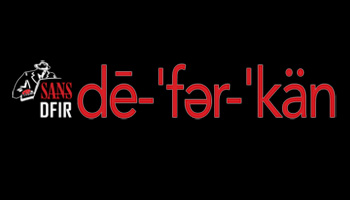 Digital Forensics and Incident Response Training
7 courses
9 instructors
2 disciplines
Brand New for 2014 - a SANS Digital Forensics and Incident Response (DFIR) themed training conference -- dē-'fәr-'kän / DFIRCON 2014. The All Forensics Training Event
This unique Digital Forensics and Incident Response (DFIR) event brings our most popular forensics courses, instructors, and bonus seminars together in one place to offer one of SANS most comprehensive DFIR training experiences. This is a must-attend event for you and your team as our leading experts focus on building the DFIR skills that will take you to that next level.
Top 5 reasons to attend:
DFIR Focused Training - The event hosts only DFIR training classes SANS has to offer. In addition, our new courses, Network Forensics (FOR572) and Smartphone Forensics (FOR585), are debuting for the first time. Be the first to see the new content.
Bonus Talks - Evenings are packed with bonus talks covering the most innovative DFIR topics.
Networking - One of the few DFIR-only training events on the SANS calendar! Join the most innovative minds in the industry to tackle advanced DFIR issues.
DFIR NetWars - Free if you sign up for a class: SANS DFIR NetWars is a hands-on, interactive learning environment that enables DFIR professionals to develop and master the skills they need to excel in their field.
SIFT 3.0 - Brand New Release! We are launching the newest version of SIFT, cutting-edge opensource tools that are freely available and frequently updated.
This DFIR focused event has all of your favorite courses and speakers, and will also include special presentations. This is the first SANS DFIR dedicated training event, held in downtown Monterey just steps from the peninsula. As an added bonus, we will include our recently launched NetWars DFIR Tournament over two nights of the event. This is a must-attend event as industry-leading experts focus on helping you take your DFIR skills to new levels. Read More
Nothing beats the SANS live training experience but if you are unable to attend learn how you can
attend remotely
.