FOR498: Battlefield Forensics & Data Acquisition
New
Mon, November 4 - Sat, November 9, 2019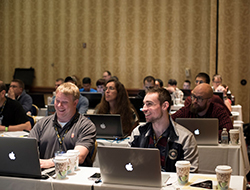 THE CLOCK IS TICKING. YOU NEED TO PRIORITIZE THE MOST VALUABLE EVIDENCE FOR PROCESSING. LET US SHOW YOU HOW
FOR498: Battlefield Forensics & Acquisition Course will help you to:
Acquire data effectively from:

PCs, Microsoft Surface, and Tablet PCs
Apple Devices, and Mac, and Macbooks
RAM and Memory
Smartphones and portable mobile devices
Cloud storage and services
Network storage repositories

Produce actionable intelligence in 90 minutes or less
The first step in any investigation is the gathering of evidence. Digital forensic investigations are no different. The evidence used in this type of investigation is data, and this data can live in many varied formats and locations. You must be able to first identify the data that you might need, determine where that data resides, and, finally, formulate a plan and procedures for collecting that data.
With digital forensic acquisitions, you will typically have only one chance to collect data properly. If you manage the acquisition incorrectly, you run the risk of not only damaging the investigation, but more importantly, destroying the very data that could have been used as evidence.
With the wide range of storage media in the marketplace today, any kind of standardized methodology for all media is simply untenable. Many mistakes are being made in digital evidence collection, and this can cause the guilty to go free and, more importantly, the innocent to be incarcerated. The disposition of millions and millions of dollars can rest within the bits and bytes that you are tasked with properly collecting and interpreting.
An examiner can no longer rely on "dead box" imaging of a single hard drive. In today's cyber sphere, many people utilize a desktop, laptop, tablet, and cellular phone within the course of a normal day. Compounding this issue is the expanding use of cloud storage and providers, and the proper collection of data from all these domains can become quite overwhelming.
This in-depth digital acquisition and data handling course will provide first responders and investigators alike with the advanced skills necessary to properly respond to, identify, collect, and preserve data from a wide range of storage devices and repositories, ensuring that the integrity of the evidence is beyond reproach. Constantly updated, FOR498 addresses today's need for widespread knowledge and understanding of the challenges and techniques that investigators require when addressing real-world cases.
Numerous hands-on labs throughout the course will give first responders, investigators, and digital forensics teams practical experience needed when performing digital acquisition from hard drives, memory sticks, cellular phones, network storage areas, and everything in between.
During a digital forensics response and investigation, an organization needs the most skilled responders possible, lest the investigation end before it has begun. FOR498: Battlefield Forensics & Acquisition will train you and your team to respond, identify, collect, and preserve data no matter where that data hides or resides.
Course Syllabus
Additional Information
!!IMPORTANT - BRING YOUR OWN SYSTEM CONFIGURED USING THESE DIRECTIONS!!
Many of the activities involved in this course will be performed on your live computer, and not inside the virtual machine. As a result, you risk damaging or destroying data on your host if you do not follow directions exactly.
Per instructions regarding system setup that students received prior to class, you should not be using a system that has data you cannot afford to lose. You do so at your own risk.
SANS and its instructors are not responsible for any damage caused to student systems.
A properly configured system is required for each student participating in this course. Before coming to class, carefully read and follow these instructions exactly.
MANDATORY FOR498 SYSTEM HARDWARE REQUIREMENTS:
CPU: 64-bit Intel i5/i7 (4th generation+) - x64 bit 2.0+ GHz processor or more. A recent processor is mandatory for this class
BIOS settings for Intel-VT enabled. Being able to access your BIOS (if password protected) is also required in case changes are required.
8 GB (Gigabytes) of RAM or higher is required for this class to run two VMs at the same time.
Wireless 802.11 Capability
USB 3.0
200 Gigabytes of Free Space on your System Hard Drive - Free Space on Hard Drive is critical to host the VMs we distribute
Student must provide a minimum 500 GB spinning hard drive (no SSD), 2.5" SATA, 7200 RPM. This is to be a bare drive such as can be viewed HERE.
Students should have Administrator-level Access to both the laptop's host operating system and system-level BIOS/EFI settings
Disable Credential Guard if enabled. Hyper-V required for Credential Guard will conflict with VMware products required for the course.
MANDATORY FOR498 HOST OPERATING SYSTEM REQUIREMENTS:
Host Operating System: Fully patched and updated Windows (8+) or Mac OSX (10.12+)
Update your host operating system prior to the class to ensure you have the right drivers and patches installed to utilize the latest USB 3.0 devices.
PLEASE INSTALL THE FOLLOWING SOFTWARE PRIOR TO CLASS:
Please download and install VMware Workstation 14, VMware Fusion 10, or VMware Workstation Player 14 or higher versions on your system prior to class beginning. If you do not own a licensed copy of VMware Workstation or Fusion, you can download a free 30-day trial copy from VMware. VMware will send you a time-limited serial number if you register for the trial at their website
Install 7Zip on your host OS
IN SUMMARY, BEFORE YOU BEGIN THE COURSE YOU SHOULD:
Bring the proper system hardware (64bit/8 GB+ ram, 200GB free drive space) and operating system configuration
Bring a supported host OS
Install VMware (Workstation, Player, or Fusion) and 7zip
Microsoft Office 2013 version or newer.
Bring 500GB spinning hard drive
If you have additional questions about the laptop specifications, please contact laptop_prep@sans.org.
Federal agents and law enforcement personnel who want to master proper acquisition methodologies and ensure that all data are collected properly and in a defensible manner.
First responders who attend to a scene where digital equipment seizure may take place. It is crucial at this point to perform proper scene management, identification, preservation, and acquisition.
Digital forensic analysts who want to consolidate and expand their understanding of data storage and acquisition in today's digital storage world.
Information security professionals who want to learn the acquisition and triage skills needed to begin Windows digital forensics investigations.
Incident response team members who need to preserve indicated computers for digital forensics to help solve their Windows data breach and intrusion cases.
Media exploitation analysts who need to collect and preserve systems in Document and Media Exploitation (DOMEX) operations on systems used by an individual.
Department of Defense and intelligence community professionals tasked with rapid collection and triage of systems.
Anyone interested in an understanding of the proper preservation of systems and who has a background in information systems, information security, and computers.
SANS Windows SIFT Workstation
This course uses the SANS Windows DFIR Workstation extensively to teach first responders and forensic analysts how to respond to, acquire, and investigate even the most time-sensitive cases.
DFIR Workstation that contains hundreds of free and open-source tools, easily matching any modern forensic commercial suite
A virtual machine is used with many of the hands-on class exercises
Windows 10
VMWare Appliance ready to tackle forensics
F-Response Consultant Covert
Enables practitioner to access remote systems and physical memory of a remote computer via the network
Gives any forensics tool the capability to be used remotely
Perfect for network and cloud data acquisition and visibility
Deployable agent to remote systems
SIFT Workstation compatible
Vendor neutral - works with just about any tool
The six-month license allows it to continue to be used and benchmarked in your environment at work/home
Fully working licenses for 90 days:
Course USBs
Two USBs loaded with case images, memory captures, DFIR Workstation, tools, and documentation
Empty USB drive for in class exercises
SANS DFIR Exercise Workbook
Exercise book with detailed step-by-step instructions and examples to help you master Battlefield Forensics
UltraDock Hardware Write Blocking Device
SATA to USB 3 adapter for 2.5" bare hard drives
SANS DFIR Cheatsheets to Help Use the Tools in the Field
FOR498: BATTLEFIELD FORENSICS & ACQUISITION WILL PREPARE YOUR TEAM TO:
Learn and master the tools, techniques, and procedures necessary to effectively locate, identify, and collect data no matter where it is stored
Handle and process a scene properly to maintain evidentiary integrity
Perform data acquisition from at-rest storage, including both spinning media and solid-state storage
Identify the numerous places that data for an investigation might exist
Perform Battlefield Forensics by going from evidence seizure to actionable intelligence in 90 minutes or less
Assist in preparing the documentation necessary to communicate with online entities such as Google, Facebook, Microsoft, etc.
Understand the concepts and usage of large-volume storage technologies, including JBOD, RAID storage, NAS devices, and other large-scale, network addressable storage
Identify and collect user data within large corporate environments where it is accessed using SMB
Gather volatile data such as a computer system's RAM
Recover and properly preserve digital evidence on cellular and other portable devices
Address the proper collection and preservation of data on devices such as Microsoft Surface/Surface Pro, where hard-drive removal is not an option
Address the proper collection and preservation of data on Apple devices such as MacBook, MacBook Air, and MacBook Pro, where hard-drive removal is not an option
Properly collect and effectively target email from Exchange servers, avoiding the old-school method of full acquisition and subsequent onerous data culling
Properly collect data from SharePoint repositories
Access and acquire online mail stores such as Gmail, Hotmail, and Yahoo Mail accounts
FOR498: BATTLEFIELD FORENSICS & ACQUISITION COURSE TOPICS
Advanced use of a wide range of best-of-breed, open-source tools in the SANS Windows 10 environment, as well as other external tools to perform proper data acquisition and evidence handling
Rapid incident response collection of artifacts to quickly further the investigation without waiting for completion of a forensic image
Remote and enterprise digital evidence collection
Windows live artifact collection
Memory collection
Volume shadow copy acquisition
Understanding advanced storage containers such as RAID, EMC, and JBOD
Examination of file systems and how they hold data
Advanced understanding of proper evidence collection and scene management
Identifying data storage devices and locations
Properly identifying a vast array of interface styles and adapter usage
Gaining access to storage media using non-destructive methods
Accessing and collecting cloud-based storage containers, including online email such as Gmail and Outlook.com
Instruction specific to the acquisition of Apple devices
Methodologies for accessing and acquiring data from portable and cellular devices, as well as nontraditional devices such as GPS units and Internet of Things devices
Author Statement
"During my time as a Special Agent with the FBI, it became evident that the digital forensics community needed better methods to look at large amounts of data in an efficient manner to be able to get to answers quickly. As storage capacities increased, more traditional means began to take longer from a collection and analytical perspective. For this reason, I began creating triage software for use by the law enforcement community (and beyond). This problem has not changed since I left the FBI; in fact it has only continued to grow. For this reason, I decided to take a new approach to this problem, but this time in a way that could be given away to everyone in the digital forensics community. The result of this work is KAPE, which allows for rapid collection and analysis as determined by an incident responder. Of course, processing the data is only part of the equation, so this course spends a significant amount of time talking about acquisition--that is, how to get digital data from the devices we encounter. We not only talk about specific techniques for specific devices and situations, but for many of the topics covered, we provide the framework for how you can be successful when you encounter new devices. This course will focus on two key areas: getting the data that have the answers and extracting the answers from the data. We look forward to seeing you in class!" --Eric Zimmerman
"My digital forensics experience started in the mid 1990s. Back then, a hex editor was the most important tool that an examiner had. You had to understand data at rest in its most fundamental levels if you wanted to be effective at forensics. Fast forward to today and there is a myriad of tools to perform most any task that a forensic examiner might want to do. The by-product of this is that an examiner can be overwhelmed with not only the amount of tools available, but the amount of data that needs review. We recognized that the industry needed a more focused approach at the most important information on a hard drive, to the exclusion of the vast amounts of unnecessary noise. We also recognized that examiners need a better understanding of deleted data and how to extract some of the most important information that we have been missing. Finally, in recent years we have taken notice of the number of devices in use today that contain storage that cannot be removed from the machine. Couple this with live response and data that is encrypted at rest and we must recognize that certain approaches have to change. Thus FOR498 was born. We certainly hope you enjoy taking this class is much as we've enjoyed writing it, and our sincere hope is that this information allows you to become more effective at your craft." --Kevin Ripa