FOR518: Mac Forensic Analysis
New
Mon, February 23 - Sat, February 28, 2015
I have not encountered a Mac class this in-depth that covers the file structure so well.

There exist very few Mac forensics courses and none containing as much detail as this one.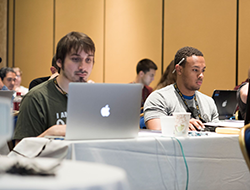 Digital forensic investigators have traditionally dealt with Windows machines, but what if they find themselves in front of a new Apple Mac or iDevice? The increasing popularity of Apple devices can be seen everywhere, from coffee shops to corporate boardrooms, yet most investigators are familiar with Windows-only machines.
Times and trends change and forensic investigators and analysts need to change with them. The new FOR518: Mac Forensic Analysis course provides the tools and techniques necessary to take on any Mac case without hesitation. The intense hands-on forensic analysis skills taught in the course will enable Windows-based investigators to broaden their analysis capabilities and have the confidence and knowledge to comfortably analyze any Mac or iOS system.
Forensicate Differently!
The FOR518: Mac Forensic Analysis Course will teach you:
Mac Fundamentals: How to analyze and parse the Hierarchical File System (HFS+) file system by hand and recognize the specific domains of the logical file system and Mac-specific file types.
User Activity: How to understand and profile users through their data files and preference configurations.
Advanced Analysis and Correlation: How to determine how a system has been used or compromised by using the system and user data files in correlation with system log files.
Mac Technologies: How to understand and analyze many Mac-specific technologies, including Time Machine, Spotlight, iCloud, Versions, FileVault, AirDrop, and FaceTime.
FOR518: Mac Forensic Analysis aims to form a well-rounded investigator by introducing Mac forensics into a Windows-based forensics world. This course focuses on topics such as the HFS+ file system, Mac specific data files, tracking user activity, system configuration, analysis and correlation of Mac logs, Mac applications, and Mac exclusive technologies. A computer forensic analyst who successfully completes the course will have the skills needed to take on a Mac forensics case.
FOR518 Will Prepare You To:
Parse the HFS+ file system by hand, using only a cheat sheet and a hex editor.
Determine the importance of each file system domain.
Conduct temporal analysis of a system by correlating data files and log analysis.
Profile an individual's usage of the system, including how often they used the system, what applications they frequented, and their personal system preferences.
Determine remote or local data backups, disk images, or other attached devices.
Find encrypted containers and FileVault volumes, understand keychain data, and crack Mac passwords.
Analyze and understand Mac metadata and their importance in the Spotlight database, Time Machine, and Extended Attributes.
Develop a thorough knowledge of the Safari Web Browser and Apple Mail applications.
Identify communication with other users and systems though iChat, Messages, FaceTime, Remote Login, Screen Sharing, and AirDrop.
Conduct an intrusion analysis of a Mac for signs of compromise or malware infection.
Acquire and analyze memory from Mac systems.
Acquire iOS and analyze devices in-depth.
Course Topics
In-Depth HFS+ File System Examination
File System Timeline Analysis
Advanced Computer Forensics Methodology
Mac-Specific Acquisition and Incident Response Collection
Mac Memory Acquisition and Analysis
File System Data Analysis
Metadata Analysis
Recovery of Key Mac Files
Volume and Disk Image Analysis
Analysis of Mac Technologies, including Time Machine, Spotlight, and FileVault
Advanced Log Analysis and Correlation
iDevice Analysis and iOS Artifacts
Course Syllabus
Additional Information
!! IMPORTANT - BRING YOUR OWN SYSTEM CONFIGURED USING THESE DIRECTIONS !!
Mac System Setup Guide: https://www.sans.org/security-resources/for518-mac-system-setup-guide-v1.3.pdf
It is critical that you follow the pre-class setup guide for your Mac found here: https://www.sans.org/security-resources/for518-mac-system-setup-guide-v1.3.pdf. This pre-class Mac system setup guide is crucial to follow prior to attending class the first day. The guide is a detailed step-by-step walk through of a variety of downloads and configuration steps needed to prep your system for an in-depth and exciting week of Mac forensics. Please follow all of the steps correctly otherwise your enjoyment of the class could be impacted. We recommend setting up your system at home as hotel internet might not be adequate to finalize the setup prior to class. Please do not wait until the night before class to follow the setup guide.
A properly configured Mac system is required for each student participating in this course. Before coming to class, carefully read and follow these instructions exactly.
MANDATORY FOR518 SYSTEM HARDWARE REQUIREMENTS:
Apple Mac Laptop with the following minimum configuration:

CPU: Intel Core i5/i7 Series (a high-end Intel 2.8Ghz+ Core 2 Duo may also suffice)
Wireless 802.11 Capability
4 gigabyte of RAM minimum (8GB RAM or more is recommended)
200 Gigabytes of free space on your system hard drive, or external hard drive.
USB 2.0 port(s) or higher
The student should have the capability to have Local Administrator Access within their host operating system.
MANDATORY FOR518 SYSTEM SOFTWARE REQUIREMENTS:
Host Operating System: Mac OS X 10.7 or higher
A virtualized (VMware Fusion 6+ or Parallels 8+ for USB 3.0 compatibility) operating system (10.7-10.9) may be used with the same specifications above.
Install the following on your host machine:
Install Xcode 4.1+
If you have additional questions about the laptop specifications, please contact laptop_prep@sans.org.
Experienced Digital Forensic Analysts who want to solidify and expand their understanding of file system forensics and advanced Mac analysis.
Law Enforcement Officers, Federal Agents, or Detectives who want to master advanced computer forensics and expand their investigative skill set.
Media Exploitation Analysts who need to know where to find the critical data they need from a Mac system.
Incident Response Team Members who are responding to complex security incidents/intrusions from sophisticated adversaries and need to know what to do when examining a compromised system.
Information Security Professionals who want to become knowledgeable with Mac OS X and iOS system internals.
SANS FOR408, FOR508, FOR526, FOR610, FOR585 Alumni looking to round out their forensic skills.
90-Day Trial for BlackBag Technologies BlackLight Forensic Analysis Software
Mac OS X and iOS Internals: To the Apple's Core Book
Course USB loaded with case examples, tools, and documentation.
"Really excellent course. Fantastic resource in the classroom material. Forensic challenge the last day was very fun" - Anonymous
"Best Mac class anywhere." - Eric Koebelen, Incident Response US
"It was very interesting to learn that certain 'forensic' tools could report data as being encrypted even though one could still get other data." - Gary Titus, Stroz Friedberg LLC
"Best course I know about on Mac Forensic. Like the use of mostly 'ghetto' tools." - Anonymous
"Solid background for investigations new to Mac." - Eric Mak, Google
"Best of any course I've ever taken. I love the idea of being able to bring home and review." - Eric Koebelen, Incident Response US
"The depth of time exercise was outstanding. One can tell the amount of work that went into it." - Gary Titus, Stroz Friedberg LLC
"Wow. Sarah is awesome." - Anonymous
"With so much focus on Windows forensics, the Mac class is really necessary." - Paul Sieberth, Tulane University
"I have not encountered a Mac class this in-depth that covers the file structure so well." - Craig Goldsmith, OCSD
Author Statement
This course is designed to allow an analyst comfortable in Windows-based forensics to perform just as well on the Mac. The Mac market share is an ever increasing and popular platform for many companies and government entities.
I believe a well-rounded forensic analyst is an extremely well-prepared and employable individual in a Windows forensics world. Windows analysis is the base education in the competitive field of digital forensics. Any additional skills you can acquire can set you apart from the crowd, whether it is Mac, mobile, memory, or malware analysis.
Mac forensics is truly a passion of mine that I genuinely want to share with the forensics community. While you may not work on a Mac investigation every day, the tools and techniques you learn in this course will help you with other investigations including Windows, Linux, and mobile. -Sarah Edwards