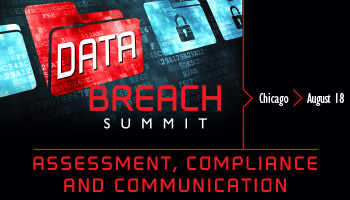 Welcome to Data Breach Summit
1 courses
0 instructors
0 disciplines
Data Breach Summit:
Assessment, Compliance & Communication
For every organization, data breach is a major risk. It's not a matter of whether your organization will be breached; it's when, and - most importantly - how bad the damage will be. You likely have a response plan in place. But your response in the first hours after initially discovering the "incident," which is later confirmed to be a "breach," will be crucial to mitigating financial and reputation damage. Is your response plan battle tested?
At the Summit, you and your team will participate in advanced exercises and in-depth discussions around data breach scenarios. The Summit brings together CISOs, risk managers, communication execs, insurers, attorneys, and security professionals to discover best practices for breach preparation and response.
Summit Discussion Topics:
Lessons from real data breach cases
The executive management decision-making process
Gathering and assessing evidence of incidents and breaches
Data breach law and confidentiality
Implications and obligations of involving the FBI or other law enforcement
Determining the significance of a security incident
Effectively partnering with your cyber insurer
Advanced Exercises:
You'll have the unique opportunity to participate in hypothetical data breach scenarios where you discover the worst has happened: your organization has been breached and sensitive data is at risk. This is your chance to put your response plan to the test!
How do you respond?
Whom must you notify, and when?
What steps must you take to comply with laws and industry standards?
How do you communicate to your many stakeholders - customers, partners, employees, those whose PII may have been affected?
What is the role of your cyber insurer?
What are the roles of in-house counsel and outside counsel?
Save $200 off each registration for groups of 3 or more! Email summit@sans.org for a group discount code.)
Who Should Attend the Summit?
Chief Information Officers (CIO)
Chief Information Security Officers (CISO)
Cyber Security Professionals
Risk Managers
Communication Executives
Insurers
Attorneys
Privacy Officers
Summit Sponsors
The Data Breach Summit will feature vendor partners showcasing some of the best security solutions available. Take advantage of the opportunity to interact with the people behind the products and learn what they have to offer you and your organization.