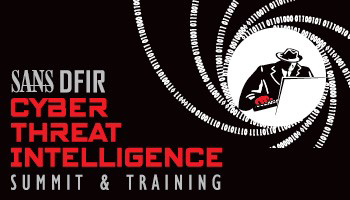 Welcome to Cyber Threat Intelligence Summit
6 courses
8 instructors
1 disciplines
Cyber Threat Intelligence Summit 2017, Arlington Virginia
  Cyber Threat Intelligence Advisory Board: Rebekah Brown, Mike Cloppert, Rick Holland, Rob Lee, Robert M. Lee, Kyle Maxwell, Scott J. Roberts, and Jake Williams
Summit Dates: January 31, 2017 and February 1, 2017
Training Course Dates: January 25-30, 2017
Join SANS at this innovative Summit as we focus on enabling organizations to build effective cyber threat intelligence analysis capabilities.
The Cyber Threat Intelligence Summit & Training is back for another year of in-depth talks, world-class SANS Training, DFIR NetWars, and exclusive networking opportunities! This year's Summit aims to provide specific analysis techniques and capabilities that can be utilized to properly create and maintain Cyber Threat Intelligence in your organization.
While Cyber Threat Intelligence is a relatively new field, we can draw upon classic intelligence approaches to better secure our organizations. Throughout the Summit, we'll be going old school by examining traditional intelligence methods and techniques; and applying them to cyber threat intelligence.
The Summit & Training will explore the following:
How classic intelligence approaches are applied to CTI analysis and production
Interesting perspectives and case studies that challenge CTI assumptions and result in a shift in understanding
Classic methods of producing Cyber Threat Intelligence
Implementing and making decisions based off of intelligence
Case studies on the application of cyber threat intelligence to a security or business problem
Innovative ways to utilize or analyze CTI with classic techniques
New tools developed to support or enable CTI
"One of very few venues/events devoted solely to tradecraft of cyber threat analysis and intelligence. Essential to both newcomers and seasoned practitioners, and neither too fast nor too slow for either." -Patton Adams, Verisign iDefense
CTI Summit Advisory Board
The CTI Summit Advisory Board evaluates proposed talks, mentors selected speakers, and works to develop an agenda that delivers actionable content to help you better gather, analyze and act on cyber threat intelligence.

Nothing beats the SANS live training experience but if you are unable to attend learn how you can attend remotely.