SEC524: Cloud Security Fundamentals
Wed, December 10 - Thu, December 11, 2014
Great outline for cloud security checks & risk assesment.

I believe this is the best cloud security out there that is extremey well balanced with relevant labs and provides a solid understanding of cloud security risks as more organizations are moving towards cloud.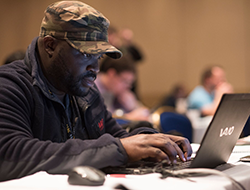 Many organizations today are feeling pressure to reduce IT costs and optimize IT operations. Cloud computing is fast emerging as a viable means to create dynamic, rapidly provisioned resources for operating platforms, applications, development environments, storage and backup capabilities, and many more IT functions. A staggering number of security considerations exist that information security professionals need to consider when evaluating the risks of cloud computing.
The first fundamental issue is the loss of hands-on control of system, application and data security. Many of the existing best-practice security controls that information security professionals have come to rely on are not available in cloud environments, are available but stripped down in many ways, or cannot be controlled by security teams. Security professionals must become heavily involved in the development of contract language and service-level agreements when doing business with cloud service providers (CSPs). Compliance and auditing concerns are compounded. Control verification and audit reporting within CSP environments may be less in-depth and frequent than that required by audit and security teams.
SEC524: Cloud Security Fundamentals starts out with a detailed introduction to the various delivery models of cloud computing, ranging from Software as a Service (SaaS) to Infrastructure as a Service (IaaS) and everything in between. Each of these delivery models represent an entirely separate set of security conditions to consider, especially when coupled with various cloud types, including public, private and hybrid. An overview of security issues within each of these models will be covered with an in-depth discussion of the risks involved. The course will go in-depth on architecture and infrastructure fundamentals for private, public and hybrid clouds, including a wide range of topics such as patch and configuration management, virtualization security, application security and change management. Policy, risk assessment and governance within cloud environments will also be covered, with recommendations for both internal policies and contract provisions. This path leads to a discussion of compliance and legal concerns. The first day will wrap up with several fundamental scenarios for students to evaluate.
The second day will start with coverage of audits and assessments for cloud environments. The session will include hands-on exercises for students to learn about new models and approaches for performing assessments, as well as for evaluating audit and monitoring controls. Next, the class will turn to protecting the actual data. New approaches for data encryption, network encryption, key management and data lifecycle concerns will be covered in detail, as will be the challenges of identifying and accessing management in cloud environments. The course will move into disaster recovery and business continuity planning using cloud models and architecture. Intrusion detection and incident response in cloud environments will also be covered, along with how best to manage these critical security processes and the technologies that support them given that most controls are managed by the CSP.
You Will Learn:
Foundations of cloud policy and contracts
Cloud risks, including threats and vulnerabilities
The 14 domains of the Cloud Security Alliance's cloud security research
Best practices for securing multiple layers of the cloud stack
How to adapt security architecture, tools, and processes for use in cloud environments
Course Syllabus
Dave Shackleford
Wed Dec 10th, 2014
9:00 AM - 5:00 PM
---
Topics
Introduction to Cloud Computing
Delivery models: Software as a Service (SaaS), Platform as a Service (PaaS), and Infrastructure as a Service (IaaS)
Cloud types (public, private, hybrid)
Explaining the Jericho Cloud Cube Model
Security Challenges in the Cloud
Introduction to the topic: Why is this hard?
Virtualization and multi-tenancy
Risk assessment for cloud migration
Infrastructure Security in the Cloud
Patch and configuration management
Change management
Network and virtualization security
Application security for SaaS, PaaS, and IaaS
Policy and Governance for Cloud Computing
Internal policy needs
Contract requirements for security
Service-level agreements
Governance models for the cloud
Compliance and Legal Considerations
Compliance challenges for the cloud
Legal and geographic jurisdiction
Privacy concerns
Disaster Recovery and Business Continuity Planning in the Cloud
Dave Shackleford
Thu Dec 11th, 2014
9:00 AM - 5:00 PM
---
Topics
Risk, Audit, and Assessment for the Cloud
Risk management
Auditing the cloud
Remote
Onsite
CloudAudit A6
Assessments for the cloud
Penetration testing the cloud
Internal assessments
Data Security in the Cloud
Encryption types and availability
Key management and encryption architectures
Data/information lifecycle
Retention
Disposal
Classification
Identity and Access Management (IAM)
IAM architecture and relevance to the cloud
Authentication and authorization standards
Account management and provisioning
Federation
Intrusion Detection and Incident Response
Incident detection for different cloud models
Managing Intrusion Detection System/Intrusion Prevention System (IDS/IPS) and alerting
The event management feedback loop
Conclusion
Additional Information
SEC524 requires a Windows 7/8 computer with the following minimum hardware requirements:
1.5 GHz 64-bit processor (higher is recommended)
4GB RAM (More memory is highly recommended)
25 GB free hard disk space
DVD-ROM drive
VMware Workstation or Player
Wireless network adapter
Microsoft Office or OpenOffice and a PDF reader application
If you have additional questions about the laptop specifications, please contact laptop_prep@sans.org.
Security personnel who are currently tasked with assessing the technical risks of cloud computing
Network and systems administrators who currently manage private clouds or need to leverage hybrid and/or public cloud services
Technical auditors and consultants who need to gain a deeper understanding of cloud computing and security concerns
Security and IT managers who need to understand the risks of cloud computing and advise business management of the risks and various approaches involved
Build a risk-based assessment program for cloud providers' controls
Understand the key areas to focus on in cloud contracts
Evaluate the various layers of cloud infrastructure
Develop a cloud disaster recovery and business continuity plan
Perform vulnerability assessments in a cloud environment
Integrate encryption and identity management services in a cloud environment
Improve your incident response and monitoring capabilities in the cloud
Author Statement
The cloud is everywhere! Well, that is what the marketing folks would have us believe, anyway. Migrating systems, applications and data to the cloud presents a new set of challenges for security professionals to tackle. What kind of policies do we need, and how can we work with legal teams to incorporate language into contracts? How can we protect sensitive data with encryption, intrusion detection and prevention, and host and network access controls? Can we extend identity and access management tools and processes into the cloud?
Fundamentally, the cloud represents a move into environments where security teams are giving up some measure of control over how data and applications are protected. Due to capital and operational cost savings issues, cloud-based services are becoming more attractive to business and organization leaders, and security teams will need to understand their options when presenting the risks to management. Our goal with SEC524: Cloud Security Fundamentals is to arm security teams with the knowledge they need to assess risks in moving to the cloud. Managers, auditors, and systems and network administrators will also benefit, as we will delve into the technologies available for securing cloud-based assets while covering all the policies, processes and compliance considerations that go along with this major technology shift.
- Dave Shackleford