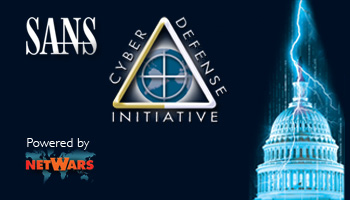 Welcome to Cyber Defense Initiative® 2014
23 courses
23 instructors
5 disciplines
Information Security Training in Washington DC
Information security training in Washington DC from SANS Institute, the global leader in information security training. At SANS Cyber Defense Initiative ® 2014 (CDI), SANS offers hands-on, immersion-style security training courses taught by real-world practitioners. The site of SANS Cyber Defense Initiative ® 2014, December 10-19, is the Grand Hyatt Washington, located in the Penn Quarter.
Make your plans now to attend SANS Cyber Defense Initiative ® 2014 on December 10-19. This is your opportunity to:
Understand how the newest cyber attacks work and what you can do to prevent them or mitigate the damage.
Ensure that your tools are up to the task of finding, blocking, and deciphering hacking attacks.
Get the training you need to make your organization cyber secure.
Read More
Nothing beats the SANS live training experience but if you are unable to attend learn how you can
attend remotely
.