AUD444: Auditing Security and Controls of Active Directory and Windows
Thu, December 12 - Sat, December 14, 2013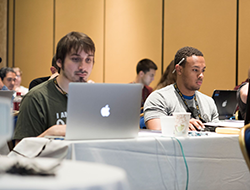 Auditors need to be able to understand how Active Directory operates and the key business risks that are present. This course was written to teach auditors how to identify and assess those business risks. Active Directory and Windows systems are typically well known and utilized within organizational infrastructures. However, they can be difficult to audit since there are a large number of settings on the end system. This course provides the tools and techniques to effectively conduct an Active Directory and Windows audit, and while doing so identify key business process controls that may be missing. Students have the opportunity to look at the business process controls and then how those can be verified by looking at Active Directory and the Windows systems that exist. Plus, students are taught how to add additional value to their audits by being able to identify the technology risks that may have been overlooked. The hands-on exercises reinforce the topics discussed in order to give students the opportunity to conduct an audit on their own Windows systems, as well as understand the different security options that Windows provides.
Course Syllabus
Tanya Baccam
Thu Dec 12th, 2013
9:00 AM - 5:00 PM
---
Overview
In order to properly audit Active Directory, auditors have to have an understanding of the Active Directory architecture and the role AD plays for an organization. These foundations are more are covered in provide a solid foundation to build rom throughout the course.
Topics
Windows Foundational Concepts
Workgroups versus Domains
Common protocols
Querying registry data
Active Directory Concepts
Conducting an inventory of systems
Active Directory Design and Topology
Scoping considerations for an Active Directory and Windows Audit
Active Directory Responsibilities
Auditing the authentication process
Trusts
Domain Controllers Audit Steps
Active Directory Audit Steps
Group Policy
GPO application
Organizational Units
Global Catalog Best Practices Audit Steps
Schema Master Audit Steps
Operation Master Audit Steps
RODC
Domains and Forests
Delegation of Authority
Tools designed to query data from AD such as csvde, dsquery and more
Physical, Environment and Availability Controls
Facility controls
Data center controls
Physical Security Audit Steps for DCs
Fault Tolerance Audit Steps
Cabling Physical Security Controls
Backup controls
Tanya Baccam
Fri Dec 13th, 2013
9:00 AM - 5:00 PM
---
Overview
During this day we will add to the foundational concepts we covered in the first day and get in to a number of the technical details for auditing including access controls, change and patch management, encryption and vulnerability management. We also discuss key services such as DNS, IIS, SQL Server and RDS.
Topics
Network controls
Ports, Services and Protocol Stacks
IPv6 considerations
Network Segmentation Audit Steps
IDS and IPS considerations
Network Access Protection
Wireless best practices for Windows
Application controls
Controlling Software
Software Restriction Policies
AppLocker or Application Control Policies
Auditor Service Tips
DNS Audit Steps for AD
IE Security considerations
Remote Desktop Services
Change Control, Patching & Vulnerabilities
Managing and Auditing for IT vulnerabilities
Configuration Controls
Change Management
Patch Management
Vulnerability Management Audit Steps
Signs of Poor Vulnerability Management Processes
MBSA
Nmap Scripting Engine
Microsoft Support Lifecycle
Access Controls
Job Roles and Responsibilities
SOD Considerations
User Management Controls
Required Policies/Processes for Users and Groups
Account Recommendations for Administrators
Permissions
Ownership
Mandatory Integrity Control
User Account Control
High Risk Groups and Users
User, accounts and group management
Anti-virus and Malware Controls
Password Controls
Using tools to extract audit data for users and groups
Password Cracking and Audits
Authentication Alternatives
Kerberos and NTLM
Governance Controls
Tanya Baccam
Sat Dec 14th, 2013
9:00 AM - 5:00 PM
---
Overview
The final day of the course covers the last steps to include in an Active Directory and Windows effective audit program. Topics such as enabling successful auditing on the system, reviewing privileges, availability considerations, application control and service auditing are discussed.
Topics
Access Controls
Encryption Controls
Cryptography
Encrypting File System (EFS)
BitLocker
Hard Drive Encryption
Syskey
IPSec Best Practices
Shares
Identifying Changes
File Integrity Controls
Security Options and which ones are important to auditors
Security Option Audit Recommendations
Privileges
Categorizing Privileges according to risk
High Risk Right Recommendations
Audit Recommendations for Remaining Rights
Logging and Monitoring
Logging on the end system
Windows Logs
Centralized Logging
Signs of an Intrusion
Key Audit Event IDs
Logging for Availability Considerations
Recommended Logging Controls
Logging for Domain Controllers
Continuous Auditing
System Configuration, Continuous Auditing & Tools
System configuration audit checklist items
Using wmic for audit purposes
Security Configuration and Analysis
Using templates for auditing
Administrative Templates GPOs
Additional Information
Students need to bring a laptop computer with an Ethernet network card and a CD-ROM drive. Students should use Windows 7 professional, and need to have Administrative access, including the capability to disable security features such as anti-virus software.
If you have additional questions about the laptop specifications, please contact laptop_prep@sans.org.
Internal Auditors
IT Specialist Auditors
IT Auditors
IT Audit Managers
Information System Auditors
Information Technology Auditors
Information Security Officers
Other Courses People Have Taken
Other Courses People Have Taken
Any of the other audit courses.
The course CD includes audit scripts and tools that will assist in conducting an Active Directory and Windows audit.
Author Statement
As an auditor, Active Directory is one of the key systems that I audit regularly. Many other organizational systems rely on Active Directory and the security settings and controls it enforces to properly mitigate the risks to those systems. Therefore, auditors need an indepth understanding of Active Directory and the controls it provides. During this course, we give the student the knowledge and tools to audit Active Directory and Windows, and be able to identify key business and process risks. Plus, we also provide the student will information to add additional value to organizations by being able to understand and make recommendations as it relates to these risks.. -Tanya Baccam