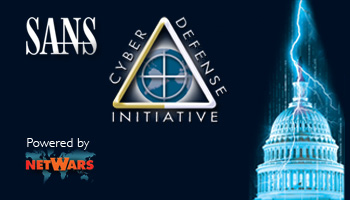 Welcome to Cyber Defense Initiative® 2013
21 courses
20 instructors
4 disciplines
Discover the SANS Cyber Defense Initiative ® 2013 training event in Washington DC at the Washington Hilton on December 12-19. With over 25 courses to choose from the following areas:
Since SANS Institute was established in 1989, it has trained over 165,000 security professionals around the world. Our instructors are both experts in their own fields as well as real-world practitioners.
If you have any questions, please call us at (301) 654-SANS (7267) or email us at info@sans.org.