FOR508: Advanced Computer Forensic Analysis and Incident Response
New
Sun, December 9 - Fri, December 14, 2012
Cutting edge expertise taught by world class experts.

This is the real deal where real-world attacks are broken down with tools you can use come Monday.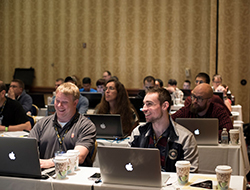 NEW FOR508!
-This course focuses on providing incident responders with the necessary skills to hunt down and counter a wide range of threats within enterprise networks, including economic espionage, hactivism, and financial crime syndicates. The completely updated FOR508 addresses today's incidents by providing real-life, hands-on response tactics. Don't miss the NEW FOR508!
Overview
DAY 0: A 3-letter government agency contacts you to say that critical information was stolen from a targeted attack on your organization. Don't ask how they know, but they tell you that there are several breached systems within your enterprise. You are compromised by an Advanced Persistent Threat, aka an APT - the most sophisticated threat you are likely to face in your efforts to defend your systems and data.
Over 90% of all breach victims learn of a compromise from third party notification, not from internal security teams. In most cases, adversaries have been rummaging through your network undetected for months or even years. Gather your team - it's time to go hunting.
FOR508: Advanced Computer Forensic Analysis and Incident Response will help you determine:
How did the breach occur?
What systems were compromised?
What did they take? What did they change?
How do we remediate the incident?
The updated FOR508 trains digital forensic analysts and incident response teams to identify, contain, and remediate sophisticated threats-including APT groups and financial crime syndicates. A hands-on lab-developed from a real-world targeted attack on an enterprise network-leads you through the challenges and solutions. You will identify where the initial targeted attack occurred and which systems an APT group compromised. The course will prepare you to find out which data was stolen and by whom, contain the threat, and provide your organization the capabilities to manage and counter the attack.
During a targeted attack, an organization needs the best incident responders and forensic analysts in the field. FOR508 will train you and your team to be ready to do this work.
Course Will Prepare You To:
Detect unknown live, dormant, and custom malware in memory across multiple windows systems in an enterprise environment
Find malware beaconing outbound to its command and control (C2) channel via memory forensics, registry analysis, and network connection residue
Identify how the breach occurred by identifying the beach head and spear phishing attack mechanisms
Target anti-forensics techniques like hidden and time-stomped malware, along with utility-ware that the attackers uses to move in your network and maintain their presence
Use memory analysis and forensic tools in the SIFT Workstation to detect hidden processes, malware, attacker command-lines, rootkits, network connections, and more
Track user and attacker activity second by second on the system you are analyzing through in-depth timeline and super-timeline analysis
Recover data cleared using anti-forensic techniques via Volume Shadow Copy and Restore Point analysis
Learn how filesystems work and discover powerful forensic artifacts like NTFS $I30 indexes, journal parsing, and detailed Master File Table analysis
Identify lateral movement and pivoted within your enterprise and show how attackers transition from system to system without being detected
Understand how the attacker can acquire legitimate credentials, including domain administrator rights in a locked down environment
Track data movement as the attackers collect critical data and shift it to exfiltration systems
Recover and analyze rar archive files used by APT-like attackers to exfiltrate sensitive data from the enterprise network
Course Topics
Advanced Use of the SIFT Workstation in Incident Response and Digital Forensics
Responding to an APT group, Organized Crime Hackers, and Hackivists
Incident Response and Intrusion Forensics Methodology
Threat and Security Intelligence
Remote and Enterprise IR System Analysis
Windows Live Incident Response
Memory Analysis
Timeline Analysis
System Restore Points and Volume Shadow Copy Exploitation
File System Analysis
In-depth Windows NTFS File System Examination
Advanced File Recovery and Data Carving
Recovering Key Windows Files
Discovering Unknown Malware on a System
Adversary Threat Intelligence Development, Indicators of Compromise, and Usage
Step-by-Step Methodologies to Respond to and Investigate Intrusion Cases
Course Syllabus
Additional Information
!!IMPORTANT - BRING YOUR OWN SYSTEM CONFIGURED USING THESE DIRECTIONS!!
A properly configured system is required for each student participating in this course. Before coming to class, carefully read and follow these instructions exactly.
You can use any version of Windows, MAC OSX, or Linux as your core operating system that also can install and run VMware virtualization products.
Please download and install VMware Workstation 8, VMware Fusion 5.0, or VMware Player 5.0 or higher versions on your system prior to class beginning. If you do not own a licensed copy of VMware Workstation or Fusion, you can download a free 30-day trial copy from VMware. VMware will send you a time-limited serial number if you register for the trial at their Web site. VMware Player is a free download that does not need a commercial license. Most students find VMware Player adequate for the course.
In this class we will be using the SIFT Workstation as our analysis platform. Please download the latest version of the SIFT Workstation prior to class beginning. Download the latest version of the SIFT Workstation here: http://computer-forensics.sans.org/community/downloads
The SIFT Workstation is a VMware appliance, pre-configured with the necessary tools to perform detailed digital forensic examination in a variety of settings. It is compatible with Expert Witness Format (E01), Advanced Forensic Format (AFF), and raw (dd) evidence formats. The brand new version has been completely rebuilt on an Ubuntu base with many new capabilities and tools such as log2timeline that provides a timeline that can be of enormous value to investigators.
MANDATORY FOR508 SYSTEM HARDWARE REQUIREMENTS:
CPU: 64bit x64 2.0 GHz or higher is recommended (Multi Core Preferred)
DVD/CD Combo Drive
Wireless 802.11 B/G/N Networking Capability
4 Gigabyte of RAM minimum (More RAM is recommended due to virtual machine requirements)
200 Gigabyte Host System Hard Drive minimum
100 Gigabytes of Free Space on your System Hard Drive
MANDATORY FOR508 SYSTEM SOFTWARE REQUIREMENTS:
Host Operating System: Any version of Windows, MAC OSX, or Linux operating system that also can install and run VMware virtualization products
Install VMware Workstation 8, VMware Fusion 5.0, or VMware Player 5.0 (higher versions are ok)
Download and install 7Zip
Bring pre-configured Windows OS Virtual Machine
If you attended FOR408 please bring your copy of the FOR408 - Windows 7 SIFT Workstation Virtual Machine
OR create a new Windows 7 OS Virtual Machine Workstation (any Win7 versions)
Install the following on your host Windows machine (If MAC/Linux host Install inside Windows VM)
Install MS Office 2010 (Demo Version for 60 Day Free Trial - You need EXCEL 2007 or higher for this class - No exceptions)
Bring/install any other forensic tool you feel could be useful (EnCase, FTK, etc). For the final challenge, you can utilize any forensic tool, including commercial capabilities, to help you and your team. If you have any dongles, licensed software, you are free to use it.
If you have additional questions about the laptop specifications, please contact laptop_prep@sans.org.
Information Security Professionals who respond to data breach incidents and intrusions
Incident Response Team Members who respond to complex security incidents/intrusions from an APT group / advanced adversaries and need to know how to detect, investigate, recover, and remediate compromised systems across an enterprise.
Experienced Digital Forensic Analysts who want to solidify and expand their understanding of file system forensics, investigating technically advanced individuals, incident response tactics, and advanced intrusion investigations targeting APT groups.
Federal Agents and Law Enforcement, who want to master advanced intrusion investigations, incident response, and expand their investigative skill beyond traditional host-based digital forensics
Red Team Members, Penetration Testers, and Exploit Developers who want to learn how their opponents can identify their actions. Discover how common mistakes can compromise operations on remote systems, and how to avoid them. This course covers remote system forensics and data collection techniques that can be easily integrated into post-exploit operating procedures and exploit testing batteries.
SANS FOR408 and SEC504 Graduates looking to take their skills to the next level
HANDS-ON APT Enterprise Intrusion Lab
One of the biggest complaints that many have in the digital forensics and incident response community is the lack of realistic intrusion data. Most real-world intrusion data is simply too sensitive to be shared.
Starting a year ago, course authors created a realistic scenario based on experiences surveyed from panel of responders who regularly respond to targeted APT attacks. They helped review and guide the targeted attack "script" used to create the scenario. As a result, the authors created an incredibly rich and realistic attack scenario across multiple enterprise systems. This APT attack lab forms the basis for training during the week. The network was setup to mimic a standard "protected" enterprise network using standard compliance checklists.
Full auditing turned on per recommended FISMA guidelines
Windows DC set up and configured. DC not tightened down the network more than what is expected in real enterprise networks
Systems installed and have real software on it that is used (Office, Adobe, Skype, Tweetdeck, Email, Dropbox, Firefox, Chrome)
Fully patched (Patches are automatically installed)
Enterprise Incident Response agents

Enterprise A/V and On-Scan capability based on DoD's Host Based Security System - HBSS

McAfee Endpoint Protection -Anti-virus, Anti-spyware, Safe surfing, Anti-spam, Device Control, Onsite Management, Host Intrusion Prevention (HIPS)

Firewall only allowed inbound port 25 and outbound ports 25, 80, 443 only.
This exercise and challenge will be used to show real adversary traces across host systems, system memory, hibernation/pagefiles and more.
Phase 1 - Spearphishing attack and malware C2 beacon installation
Phase 2 - Lateral movement to other systems, malware utilities download, install additional beacons, and obtain domain admin credentials
Phase 3 - Search for intellectual property, profile network, dump email, dump enterprise hashes
Phase 4 - Collect data to exfiltrate and copy to staging system. Archive data using rar and a complex passphrase
Phase 5 - Exfiltrate rar files from staging server, perform cleanup on staging server.
In the end, we will have created authentic memory captures on each box, network captures, malware samples, in addition to full disk images w/Restore Points (XP) and VSS for (Win7 and Win2008) systems
SIFT Workstation Virtual Machine used with many of the class hands-on exercise

This course uses the SIFT Workstation to teach incident responders and forensic analysts how to respond to and investigate sophisticated attacks. SIFT contains hundreds of free and open source tools, easily matching any modern forensic and incident response tool suite.

TACTICAL enables incident responders to access remote systems and physical memory of a remote computer via the network
Gives any IR or forensic tool the capability to be used across the enterprise
Perfect for intrusion investigations and data breach incident response situations

Best-selling book "File System Forensic Analysis" by Brian Carrier
Course DVD loaded with case examples, tools, and documentation
"THE SANS508 COURSE EXCEEDED MY EXPECTATIONS IN EVERY WAY. IT PROVIDED ME THE SKILLS, KNOWLEDGE, AND TOOLS TO EFFECTIVELY RESPOND TO AND HANDLE APTS AND OTHER ENTERPRISE WIDE THREATS." -Josh Moulin NSTEC/NNSA/DOE
"THE EXAMPLES IN THE COURSE RELATE TO WHAT I NEED TO KNOW TO DEAL WITH REAL WORLD THREATS." -Tim Weaver, Digital Mtn. Inc.
"I WAS SURPRISED AND AMAZED AT HOW EASY IT IS TO DO MEMORY ANALYSIS AND HOW HELPFUL IT IS." - Brian Dugay, Apple
"THE LEVEL OF DETAIL IS AMAZING. THE METHODOLOGY IS CLEARLY EFFECTIVE AT FINDING PERTINENT ARTIFACTS." - no name
FULL REVIEW AND WRITE UP OF FOR508 BY DAVID NIDES, KPMG-
PRESS ARTICLES ABOUT THE NEW FOR508 COURSE:
Author Statement
"There are people smarter than you, they have more resources than you, and they are coming for you. Good luck with that." Matt Olney said when describing the Advanced Persistent Threat and advanced adversaries. He was not joking. The results over the past several years clearly indicate that hackers employed by nation states and organized crime are racking up success after success. The Advanced Persistent Threat has compromised hundreds of organizations. Organized crime organizations, utilizing botnets are exploiting ACH fraud daily. Similar groups are penetrating banks and merchants, stealing credit card data daily. Fortune 500 companies are beginning to detail data breaches and hacks in their annual stockholders reports.
The enemy is getting better, bolder, and their success rate is impressive.
We can stop them, but in order to do so we need to field more sophisticated incident responders and digital forensic investigators. We need lethal digital forensic experts that can detect and eradicate advanced threats immediately. A properly trained incident responder could be the only defense your organization has left during a compromise. Forensics 508: ADVANCED COMPUTER FORENSIC ANALYSIS AND INCIDENT RESPONSE is crucial training for you to become a lethal forensicator so that you can step up to these advanced threats. The enemy is good. We are better. This course will help you become one of the best. - Rob Lee