SEC566: Implementing and Auditing the Critical Security Controls - In-Depth
Wed, August 14 - Sun, August 18, 2013
Leaving the class with a great mind set for evaluating current environment and controls.

Excellent instructions. James is very experienced and presents content very well. Good stories!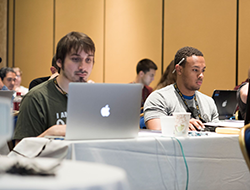 Cybersecurity attacks are increasing and evolving so rapidly that is more difficult than ever to prevent and defend against them. Does your organization have an effective method in place to detect, thwart, and monitor external and internal threats to prevent security breaches?
As threats evolve, an organization√ʬ¬s security should too. To enable your organization to stay on top of this ever-changing threat scenario, SANS has designed a comprehensive course on how to implement the Twenty Critical Security Controls, a prioritized, risk-based approach to security. Designed by private and public sector experts from around the world, the Controls are the best way to block known attacks and mitigate damage from successful attacks. They have been adopted by the U.S. Department of Homeland Security, state governments, universities, and numerous private firms.
The Controls are specific guidelines that CISOs, CIOs, IGs, systems administrators, and information security personnel can use to manage and measure the effectiveness of their defenses. They are designed to complement existing standards, frameworks, and compliance schemes by prioritizing the most critical threat and highest payoff defenses, while providing a common baseline for action against risks that we all face.
The Controls are an effective security framework because they are based on actual attacks launched regularly against networks. Priority is given to Controls that (1) mitigate known attacks (2) address a wide variety of attacks, and (3) identify and stop attackers early in the compromise cycle.
The British government√ʬ¬s Center for the Protection of National Infrastructure describes the Controls as the √ʬ¬baseline of high-priority information security measures and controls that can be applied across an organisation in order to improve its cyber defence.√ʬ¬
SANS√ʬ¬ in-depth, hands-on training will teach you how to master the specific techniques and tools needed to implement and audit the Critical Controls. It will help security practitioners understand not only how to stop a threat, but why the threat exists, and how to ensure that security measures deployed today will be effective against the next generation of threats.
The course shows security professionals how to implement the controls in an existing network through cost-effective automation. For auditors, CIOs, and risk officers, the course is the best way to understand how you will measure whether the Controls are effectively implemented.
The Top 20 Critical Security Controls subject to collection, measurement, and validation are:
Inventory of Authorized and Unauthorized Devices
Inventory of Authorized and Unauthorized Software
Secure Configurations for Hardware and Software on Laptops, Workstations, and Servers
Continuous Vulnerability Assessment and Remediation
Malware Defenses
Application Software Security
Wireless Device Control
Data Recovery Capability (validated manually)
Security Skills Assessment and Appropriate Training to Fill Gaps (validated manually)
Secure Configurations for Network Devices such as Firewalls, Routers, and Switches
Limitation and Control of Network Ports, Protocols, and Services
Controlled Use of Administrative Privileges
Boundary Defense
Maintenance, Monitoring, and Analysis of Security Audit Logs
Controlled Access Based on the Need to Know
Account Monitoring and Control
Data Loss Prevention
Incident Response Capability (validated manually)
Secure Network Engineering (validated manually)
Penetration Tests and Red Team Exercises (validated manually)
Course Syllabus
Additional Information
SANS courses consist of instruction and hands-on sessions. The hands-on sessions are designed to allow students to utilize the knowledge gained throughout the course in an instructor-led environment. Students will have the opportunity to install, configure, and use the tools and techniques that they have learned. CD/DVDs will be provided that contain all of the tools required for the exercises.
Students attending this course are required to bring their own laptops that are properly configured. There is not enough time in class to help you install your laptop. Please note that your laptop must be properly installed and configured before you come to class. Students are also required to test their systems (as described below) prior to coming to class or they may lose out on the opportunity to fully participate in all of the hands-on exercises.
NOTE: Do not bring a regular production laptop for this class! When installing software, there is always a chance of breaking something else on the system. Students should assume that all data could be lost.
NOTE: It is critical that students have administrator access to the operating system and all security software installed.
NOTE: Changes will likely need to be made to personal firewalls and other host-based software in order for the labs to work. Any anti-malware software may need to be disabled in order to install some of the tools. Therefore students must also be able to uninstall any anti-malware software or have the specific anti-malware software administrator passwords prior to coming to class.
RECOMMENDATION: For maximum flexibility, students can run both Microsoft Windows and Linux operating systems under virtual machines as long as the hardware on the laptop can support this. The host operating system can be Windows, Linux, or Apple OSX, as long as it supports to most recent version of VMware software (Player, Workstation, or Fusion depending on the OS).
Bring a laptop loaded with either Microsoft Windows XP SP3, Microsoft Windows Vista, or Microsoft Windows 7 or create a Microsoft Windows virtual machine, according to the instructions. This should be a default installation of the operating system with all of the options loaded. This system should be up to date on operating system patches prior to coming to class, including all updates for the .NET Framework and Microsoft Windows PowerShell. Either 32-bit or 64-bit systems will work fine for class, but the student should know which version of the operating system they have with them.
For the Linux portion of the exercises, Linux can be run from VMware image that will be provided in class. VMware can be downloaded/purchased from the vmware website. For students bringing a laptop with Microsoft Windows as the host operating system, they may either choose to download the latest version of the free VMware Player software (3.x or later) or bring the latest version of VMware Workstation (6.x or later). For students bringing a laptop with Apple OSX as the host operating system, they should download and install the latest version of VMware Fusion instead. Other virtualization hypervisors are not supported at this time.
Your laptop should also have a properly configured CD-ROM drive, (optional) 802.11 wireless card that works only under the host operating system, and Ethernet NIC (network interface card). In addition, the system should have a minimum of 1GB of hardware RAM, but the more RAM that is available, the easier it will be for students to complete the hands-on exercises. Be sure to check that the CD-ROM and Ethernet card work properly under the appropriate operating systems. Prior to coming to class, the network interfaces should be tested to prove that they can be configured and that all of the proper drivers have been installed.
The other requirement for this course is an understanding of both Microsoft Windows (XP, Vista, and 7) and Linux. We provide a document that introduces you to both of these operating systems. The document also gives an overview of the commands you need to understand for the class. This document is available here. You should review this document before attending the class and ensure that you know how to run the commands on your laptop.
In summary, before you arrive at the conference you should:
Have a properly configured system CD-ROM drive and NIC
Run the proper tests
It is critical that you work through the documents before class so that you arrive with a properly configured laptop and a base understanding of Microsoft Windows and Linux.
By properly preparing, we know that you will have a knowledge rich and enjoyable hands-on session.
If you have additional questions about the laptop specifications, please contact laptop_prep@sans.org.
Who Should Attend:
Information assurance auditors
System implementers or administrators
Network security engineers
IT administrators
Department of Defense (DoD) personnel or contractors
Federal agencies or clients
Private sector organizations looking to improve information assurance processes and secure their systems
Security vendors and consulting groups looking to stay current with frameworks for information assurance

Alumni of
Apply a security framework based on actual threats that is measurable, scalable, and reliable in stop- ping known attacks and protecting organizations√ʬ¬ important information and systems
Understand the importance of each control, how it is compromised if ignored, and explain the defesive goals that result in quick wins and increased visibility of network and systems
Identify and utilize tools that implement controls through automation
Learn how to create a scoring tool for measuring the effectiveness of each controls the effectiveness of each control
Employ specific metrics to establish a baseline and measure the effectiveness of security controls
Understand how critical controls map to standards such as NIST 800-53, ISO 27002, the Australian Top 35, and more
Audit each of the critical security controls, with specific, proven templates, checklists, and scripts provided to facilitate the audit process
Author Statement
As we've had the opportunity to talk with information assurance engineers, auditors, and managers over the past ten years, we've seen frustration in the eyes of these hardworking individuals who are trying to make a difference in their organizations by better defending their data systems. It has even come to the point where some organizations have decided that it's simply too hard to protect their information, and many have started to wonder, is the fight really worth it? Will we ever succeed? We see companies and agencies making headway, but the offense keeps pushing. The goal of this course is to give direction and a realistic hope to organizations attempting to secure their systems.
The 20 Critical Security Controls: Planning, Implementing, and Auditing offers direction and guidance from those in the industry who think through the eyes of the attacker as to what security controls will make the most impact. What better way to play defense than by understanding the mindset of the offense? By implementing our defense methodically and with the mindset of a hacker, we think organizations have a chance to succeed in this fight. We hope this course helps turn the tide.
- Eric Cole, Ph.D. and James Tarala