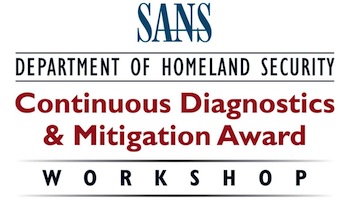 Welcome to Continuous Diagnostics & Mitigation
3 courses
2 instructors
1 disciplines
SANS DHS Continuous Diagnostics & Mitigation Award Workshop - PART II
Date:

August 1, 2014

Venue:

Washington Hilton
1919 Connecticut Ave. NW
Washington, DC 20009 US
202-483-3000
This SANS CDM event provides government security managers the opportunity to get the latest status on the DHS Continuous Diagnostic and Mitigiation program and to learn how the early adopters in government are using CDM to increase security, reduce the cost of FISMA compliance and deliver more secure services to the citizen. Featuring SANS experts (e.g., John Pescatore, Tony Sager, Alan Paller). on continuous monitoring, the Critical Security Controls and other similar initiatives, the workshop will also connect attendees with solution providers, system integrators, Continuous Monitoring as a Service providers as well as some of key players in the overall program including DHS and government CISOs. The workshop will bring continued awareness of this important program, provide thought leadership around cybersecurity risks, showcase key solution capabilities/customer success stories and provide connections with interested potential customers.
Agenda:
| Time | Event |
| --- | --- |
| 7:30am - 8:30am | Registration & Networking |
| 8:30am - 9:00am | Opening Remarks plus Keynote John Pescatore, SANS Director of Emerging Security Trends, will discuss the results of the SANS CDM and Critical Security Controls survey and highlight progress in Continuous Monitoring John Pescatore, SANS Director of Emerging Security Trends |
| 9:00am - 10:00am | CDM Update John Pescatore will interview a representative from the CDM Program to discuss the Latest Status, Progress to Date, Mechanics of the Program and Future Roadmap Interviewer: John Pescatore, SANS Director of Emerging Security Trends Interviewees: John Streufert, Director Federal Network Resilience                      George Moore, Technical Director Federal Network Resilience                      Kimberly Watson, IT Specialist Federal Network Resilience |
| 10:00am - 10:30am | Networking Break |
| 10:30am - 11:30am | Phase I Panel Hear real-world experiences from federal, state and local users of products within the scope of CDM Phase 1 Moderator: Alan Paller, SANS Director of Research Panelists: Wallace Sann, Federal CTO, ForeScout Technologies                  Mark Hafner, Endpoint Manager Technical Lead - CDM, IBM                  Douglas Austin, Sr. Scientist, CSC - Cyber Research & Development |
| 11:30am - 12:15pm | Integrator Case Study/Interview with Kratos Defense & Security Solutions Hear how Kratos has assisted customer agencies in pursuing the objectives of CDM in an end-to-end fashion...from initial assessment/scoping through implementation Inteviewer: Tony Sager, SANS Director Inteviewee: Pat Howard, Kratos Defense & Security Solutions, Inc. and representatives from the integrated solution team (Dell, Microsoft, ForeScout Technologies) |
| 12:15pm - 1:30pm | Lunch Networking Reception |
| 1:30pm - 2:30pm | Federal CIO Interview John Pescatore and Alan Paller will interview Bob Brese, CIO at the Department of Energy to get his perspective on the challenges of keeping government systems secure while also addressing an uncertain budget environment and demands for mobility, use of cloud and BYOD. We will drill down into the challenges of implementing continuous monitoring and hear both success stories about "What Works" at DoE and lessons learned from what did not. Interviewers: Alan Paller, SANS Director of Research                      John Pescatore, SANS Director of Emerging Security Trends Interviewee: Robert Brese, CIO, US Department of Energy |
| 2:30pm - 3:30pm | Phase II Panel Hear about the solutions (and customer case studies where possible) included within the scope of the CDM Program, Phase 2 Moderator: John Pescatore, SANS Director of Emerging Security Trends Panelists: Mark Seward, Senior Director, Public Sector, Splunk                  Ken Ammon, Chief Strategy Officer, Xceedium |
| 3:30pm - 4:30pm | Closing Remarks Tony Sager from SANS will provide guidance for attendees on how to take advantage of the CDM program and the Critical Security Controls to increase the level of their agency's security and decrease the time spent on certification/accreditation, FISMA reporting and other efforts that detract from the true mission of raising the bar to attackers. Tony Sager, SANS |
Course Fee
This event is FREE to all Government personnel with Discount Code GOV01. The fee is $995 for non- Government.
(Note: To enable the Discount Code, enter GOV01 in the Registration Discount Code block. Pick Check as Payment Method, then click Review Order. $0 fees will be reflected.)
***The SANS DHS Continuous Diagnostics & Mitigation Award Workshop - PART II is a vendor sponsored event. Your contact information will be shared with the sponsoring vendors.***
Speakers
Alan Paller: Alan Paller founded SANS, a college and professional cybersecurity training school that has trained more than 145,000 cybersecurity technologists in 72 countries. He oversees the Internet Storm Center, the annual identification of the "Seven Most Dangerous New Attack Vectors" and a global program that identifies and celebrates people responsible for remarkable improvement in cyber risk reduction. He has testified before the US Senate and House and was an initial member of the President's National Infrastructure Assurance Council. He was chosen by OMB and the Federal CIO Council as the 2005 Azimuth Award winner, a lifetime achievement award recognizing outstanding service of a non-government person to improving federal information technology. In 2010, the Washington Post named him one of seven people "worth knowing, or knowing about" in cyber security. He co-chairs the Secretary of Homeland Security's Task Force on CyberSkills, and serves on the FCC Communications Security, Reliability and Interoperability Council and on the NASA Advisory Council. Earlier in his career Alan helped build one of the first major software companies, took it public, and merged it into a larger company listed on the New York Stock Exchange. His degrees are from Cornell University and the Massachusetts institute of Technology.
John Pescatore: John Pescatore joined SANS as director of emerging security trends in January 2013. He has 35 years experience in computer, network and information security. Prior to joining the SANS Institute, Mr. Pescatore was Gartner's lead security analyst for 13 years, working with global 5000 corporations and major technology and service providers. Before joining Gartner, Mr. Pescatore was Senior Consultant for Entrust Technologies and Trusted Information Systems, where he started, grew and managed security consulting groups focusing on firewalls, network security, encryption and Public Key Infrastructures. Prior to that, Mr. Pescatore spent 11 years with GTE developing secure computing and telecommunications systems. Mr. Pescatore began his career at the National Security Agency, where he designed secure voice systems, and the United States Secret Service, where he developed secure communications and surveillance systems. He holds a Bachelor's degree in Electrical Engineering from the University of Connecticut and is a NSA Certified Cryptologic Engineer. He is also an Extra class amateur radio operator, callsign K3TN.
Tony Sager: Tony Sager is the Chief Technologist and a founding member of the Council on CyberSecurity - an independent, international, non-profit organization whose mission is to identify, validate and sustain best practices in cybersecurity by people, in the application of technology, and in the use of policy. He leads the development of the Top 20 Critical Security Controls, a world-wide volunteer consensus activity to find and support technical practices that stop the vast majority of attacks seen today. Tony also serves as the Director of the SANS Innovation Center, a subsidiary of The SANS Institute.
Tony retired from the National Security Agency in June 2012 after 34 years as an Information Assurance professional. His last job was Chief Operating Officer of the Information Assurance Directorate. Before that he created and led the Vulnerability Analysis and Operations Group (VAO), which was responsible for some of NSAs most important advancements in cyber