Special Event:
CompTIA CASP is now an approved certification under DoD 8570! Please join Eric Conrad for a webcast on how to prepare for CASP Exam on Tuesday, May 14th. For more information please visit the SANS Webcast page.
SEC528: SANS Training Program for the CompTIA┬« Advanced Security Practitioner (CASP) Certification┬
Beta
Mon, July 22 - Fri, July 26, 2013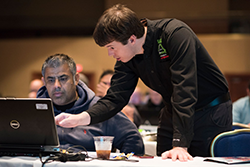 SANS' Training Program for the new CompTIA« Advanced Security Practitioner Certification™ is designed to prepare you to pass the CASP™ (CompTIA« Advanced Security Practitioner™) exam. The CASP™ exam is an advanced hands-on vendor-neutral exam. In addition to multiple choice questions, the exam tests hand-on knowledge via simulation questions. The simulations may feature the use of command-line encryption tools, applying firewall ACLs, placing secure devices onto a live network map, and much more.
This SANS CompTIA« training provides courseware custom-built to pass the exam; it was designed by SANS instructors who have taken and passed the CASP™ exam. Numerous hands-on exercises will prepare you both for the exam and for the real world.
Exercises include: configuring a live NAS (Network Attached Storage) server, configuring a VoIP server, multiple encryption exercises including applying digital signatures, network design scenarios, configuring and using IPv6, and much more.
Security 528 includes a CASP™ quiz after each section. The instructor will discuss every question and explain the rationale for each right and wrong answer.
Our goal is not memorization. We will teach students how to understand and analyze complex security challenges and determine the right approach: both on the exam and in the real world.
You will learn skills you can apply directly when they you back to work.
SANS' training program for the new CompTIA« Advanced Security Practitioner Certification™ contains the following domains, weighted per the CASP™ exam objectives:
Enterprise security (40%)
Risk Management, policy/procedure and legal (24%)
Research & analysis (14%)
Integration of computing, communications, and business disciplines (22%)
Course Syllabus
Additional Information
Laptop with:
x86-compatible 2 Ghz CPU Minimum or higher
DVD Drive (not a CD drive)
4 Gigabyte RAM minimum or higher
Ethernet adapter
802.11 Wireless adapter
10 Gigabyte available hard drive space
Software: VMWare Player, Workstation, or Fusion.
Host OS: Windows Vista/7, or recent Linux such as Ubuntu 11.04+, or Mac OS X (Snow Leopard or Lion).
If you have additional questions about the laptop specifications, please contact laptop_prep@sans.org.
Security professionals who are interested in passing the CASP™ exam
System, security, and network administrators who want to understand the pragmatic applications of the CASP™ domains
Security professionals and managers looking for practical ways advanced information security concepts can be applied to their current job
In short, if you desire a CASP™ certification or your job requires it, SANS' CompTIA« training, SEC528, is the training for you
The main prerequisite is a Security+™ certification or similar knowledge. Since both SEC401:SANS Security Essentials Bootcamp Style and MGT512: SANS Security Leadership Essentials For Managers with Knowledge Compression™ are approved Security+™ courses, they can serve as appropriate background knowledge needed for this course.
Other Courses People Have Taken
Other Courses People Have Taken
Since this class is a third party certification it would be applicable to anyone from the other courses looking to obtain this certification. Most applicable would be the alumni of any of the core SANS 400 and 500 level courses.
Author Statement
The CompTIA« Advanced Security Practitioner exam is an advanced vendor-neutral exam. It blends engineering and management challenges that require both theoretical and hands-on experience to pass. The focus is on real-world application of advanced information security concepts. Security 528 is custom-built to give you the theory and hands-on practice required to pass the CASP™ exam. This knowledge and experience will not only serve you well on the exam, but also help you in your information security career. I invite you to expand your information security career by mastering the domains of the CASP™ exam.