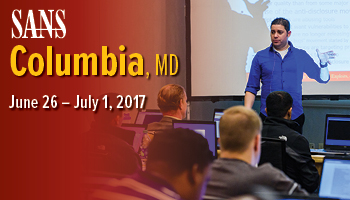 Train in Columbia, Maryland
7 hands-on information security courses taught by the industry's top instructors
Advance your career and develop skills to better protect your organization
Learn valuable skills applicable to your security role, which you will be able to implement immediately
Information Security Training in Columbia, MD
Cyber attackers are targeting you. Do you have the skills needed to defeat them? At SANS Columbia, MD 2017 (June 26-July 1), you will learn the tools and techniques required to protect your organization. Don't miss this opportunity to learn from the best instructors in the industry.
"Top-notch training from industry experts!" - Matthew George, Inmarsat Government
Take advantage of these opportunities to get the most out of your training:
Distinguish yourself as an information security leader by preparing for your GIAC Certification.
Network with like-minded security professionals facing similar challenges.
Attend evening bonus sessions led by SANS instructors and gain insight into the latest cybersecurity topics.
Extend your SANS course by four months with an OnDemand Bundle.
Register now and get practical training you can put to work immediately.
Download the SANS Columbia, MD 2017 event brochure for general information, course descriptions, instructor biographies, bonus sessions and more.
"The training enables you to learn the basic concepts as clear and as understandable as possible, without compromising the quality and content." - Abraham Latimer Camba, Trend Micro Inc.
To follow or tweet about this event, use hashtag #SANSColumbia. Follow SANS at http://twitter.com/SANSInstitute