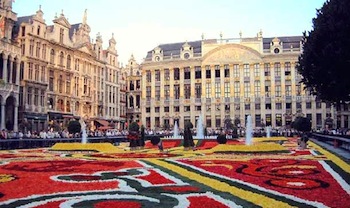 Welcome to Brussels Winter 2017
5 courses
5 instructors
2 disciplines
Cyber Security Training In Brussels 2017
SANS Brussels Winter 2017 takes place on the 16th to the 21st of January and offers five courses from across SANS' Pen Test, Digital Forensics and Incident Response, and Cyber Defence Curricula.
Prepare for GCIA, GCIH, GWAPT, GCFA or GREM Certification.
Take training from SANS course authors and co-authors.
Training takes place in a classroom-like environment and is led by a SANS Instructor.
Centrally located, the training venue is near Brussels' Grand Place and the Bozar building.
Training takes place at the Radisson Blu Hotel, Brussels.
Instructors teaching at SANS Brussels Winter 2017
The following Instructors are leading training at this event:
Johannes Ulrich

- As Dean of Research for the SANS Technology Institute, Johannes is currently responsible for the SANS Internet Storm Center (ISC) and the GIAC Gold program. He founded DShield.org in 2000, which is now the data collection engine behind the ISC.

Bryce Galbraith

- Bryce has held security positions at global ISPs and for Fortune 500 companies. He is an author, speaker, and security business owner.

Micah Hoffman

- Micah has been working in the information technology field since 1998 supporting US government, commercial, and internal customers in their searches to discover and quantify information security weaknesses within their organisations.

Mattias Fuchs

- Mathias works currently for Mandiant as an Incident Response Consultant. As a security practitioner Mathias brings experience from real world cases into the DFIR curriculum.

Jess Garcia

- With 20 years of experience, Jess is an internationally recognised expert in the fields of digital forensics, incident response, and malware analysis.