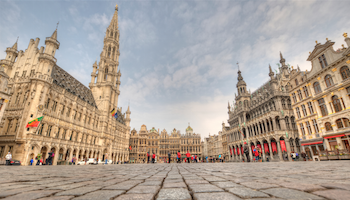 Welcome to Brussels Autumn 2016
4 courses
4 instructors
2 disciplines
Cyber Security Training In Brussels 2016
SANS Brussels Autumn 2016 takes place on 5 - 10 September and offers four courses from across our Pen Test, Digital Forensics and Incident Response, and Cyber Defence Curricula.
Prepare for GCED, GMON, GPEN, or GCFA Certification.
Take training from SANS course authors and co-authors.
Training takes place in a classroom-like environment and is led by a SANS Instructor.
Centrally located, the training venue is near Brussel's Grand Place and the Bozar building.
Training takes place at the Radisson Blu Hotel, Brussels.
Instructors teaching at SANS Brussels Autumn 2016
The following Instructors are leading training at this event:
Ted Demopoulos - Ted has over 25 years of IT security experience and has worked as an independent consultant for 20+ years. He is the recipient of a Department of Defense Award of Excellence.
Ismael Valenzuela - Ismael works currently for Intel, in an incident response and forensics capacity. He holds a GIAC Security Expert Certification.
Erik Van Buggenhout: Erik is head of technical security services for a Brussels-based IT security firm. Previously Erik was a manager at Ernst & Young where he delivered security advisory advice to major EMEIA financial organisations.
Jess Garcia - With 20 years of experience, Jess is an internationally recognised expert in the fields of digital forensics, incident response, and malware analysis.

Prove Skills - Get Certified

Preparing for and achieving a GIAC Certification is a reliable means of ensuring skills are kept up-to-date and aligned with the current threat landscape.

All courses at SANS Brussels Autumn 2016 align with GIAC Certifications.